Thu, 10/11/2016 - 12:36pm
Remember the holidays you had as a kid – running free, making friends and enjoying the sunshine, instead of sitting around watching TV? At Plantation Island, they do. That's why the popular Fijian resort has created a kids' wonderland, with state-of-the-art facilities, exciting activities and an emphasis on safety.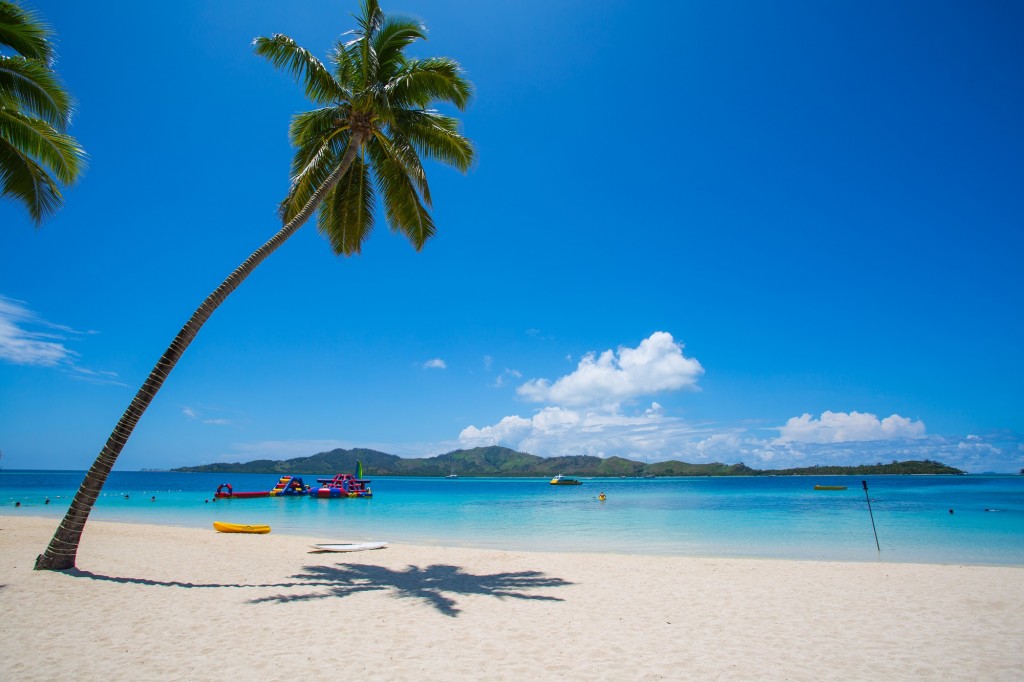 Plantation Island, Fiji. Photo: Plantation Island Resort.
Kids clubs
At Plantation Island, they've got boredom busting down to a fine art. The resort offers a head-spinning variety of activities for children of all ages, run by enthusiastic staff who genuinely enjoy kids and will make the effort to learn their names. The Coconut Club runs a daily program of scavenger hunts, fish feeding, craft making and games, and holds kids movie screenings every evening. For 12 to 16 year olds, the Lairo Club organises activities and games, including kayaking, touch rugby, beach soccer and water polo. Both clubs also offer the chance to learn about Fijian culture, be it through short language lessons and craft sessions or learning and performing a traditional meke dance. For those too young for organised activities, Plantation Island has a well-stocked and staffed creche (children 3 and under must be accompanied by a parent or babysitter).
Bula Bikes
Ask families what the highlight of their Plantation Island trip was, and many reply "That's easy – the bikes". Bike hire outfit Bula Bikes are stocked with easy to ride, single-gear cruiser bikes in a variety of sizes, with options including baby seats, trailers and 'tag along' bikes. Thanks to its flat geography and myriad of trails and sandy pathways, Malolo Lailai island is ideal for cycling; with a Bula bike the island's other beaches, and the nearby Musket Cove resort, are all within reach.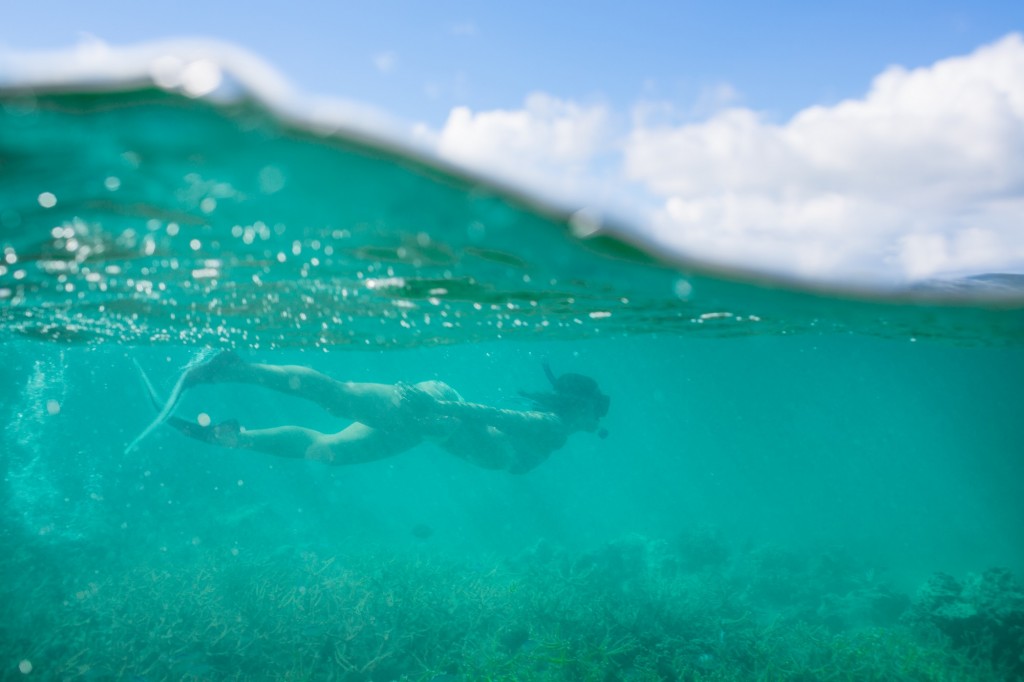 Enjoy some great snorkeling. Photo: Plantation Island Resort.
Tours and day trips
Between the kids clubs, the water park, the playground and beach, there's not much chance kids will run out of things to do on site. But for families wanting to explore further afield, Plantation Island offers a host of options. The Island Hopper service, primarily aimed at visitors travelling between resorts in the area, makes a great day trip. You'll travel northwest to Mana Island, via tiny Treasure and Beachcomber Islands, then onto Castaway Island and back home. Along the way there's plenty of time for excellent snorkeling, swimming and lunch.
Daily boat services whisk visitors to surfing, snorkeling and scuba diving spots, while others head on dolphin safari or semi-submersible tours of nearby reefs. Or catch a speedboat to Cloud 9, the spectacular floating bar, and spend the afternoon drinking cocktails and soaking in the sun. It's a perfect excuse to park the kids with one of Plantation Island's very reasonably priced child minders for a few hours.
Dining
One of the most popular aspects of Plantation Island is the variety of meal options, allowing families to choose the style of dining that best suits them. With four restaurants (including the adults-only Flame Tree restaurant located at Lomani Island Resort next door), a cafe, snack bar and supermarket, you'll find something to satisfy the pickiest of children. Unsurprisingly, the central Ol' Copra buffet is the resort's most popular restaurant, especially with kids, and many families purchase meal plans covering full board (breakfast, lunch and dinner), half board (breakfast and dinner) or breakfast-only. A great plus to the Plantation Island meal plans is that they're valid at all restaurants, not just the buffet. This means parents can feed the kids at the buffet, get them settled at the kids movie, then head to one of the a la carte restaurants for a romantic meal on their own.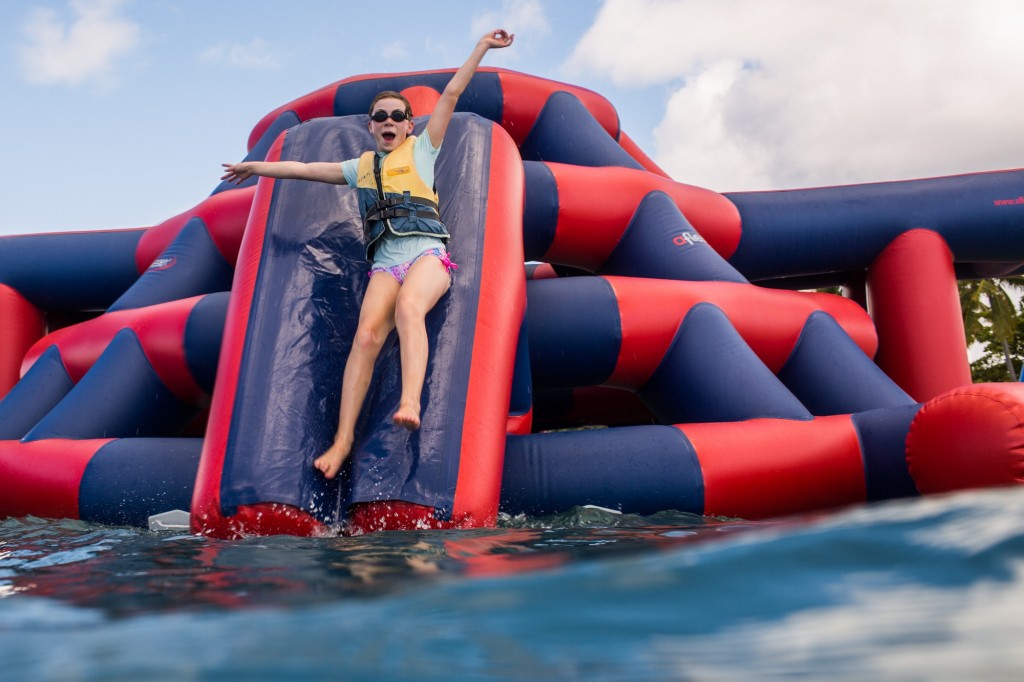 The Water Park at Plantation Island Resort. Photo: Plantation Island Resort.
On the water
Whether you're young or old, a Fiji holiday means being in, on, or near the water. Plantation Island makes the most of its spectacular setting (the resort likes to bill itself as a "3 star resort in a 5 star location") with a huge variety of water sports and attractions. The star of the show is the Water Park launched in February 2016, with six modules of safe kids' fun including a spring-free aqua trampoline. Elsewhere, the resort boasts three pools, one with a waterslide, plus water sports like paddle boarding (a complimentary activity for all guests), parasailing and wake boarding.