Bula: We Tell You The Best Time To Take A Trip To Fiji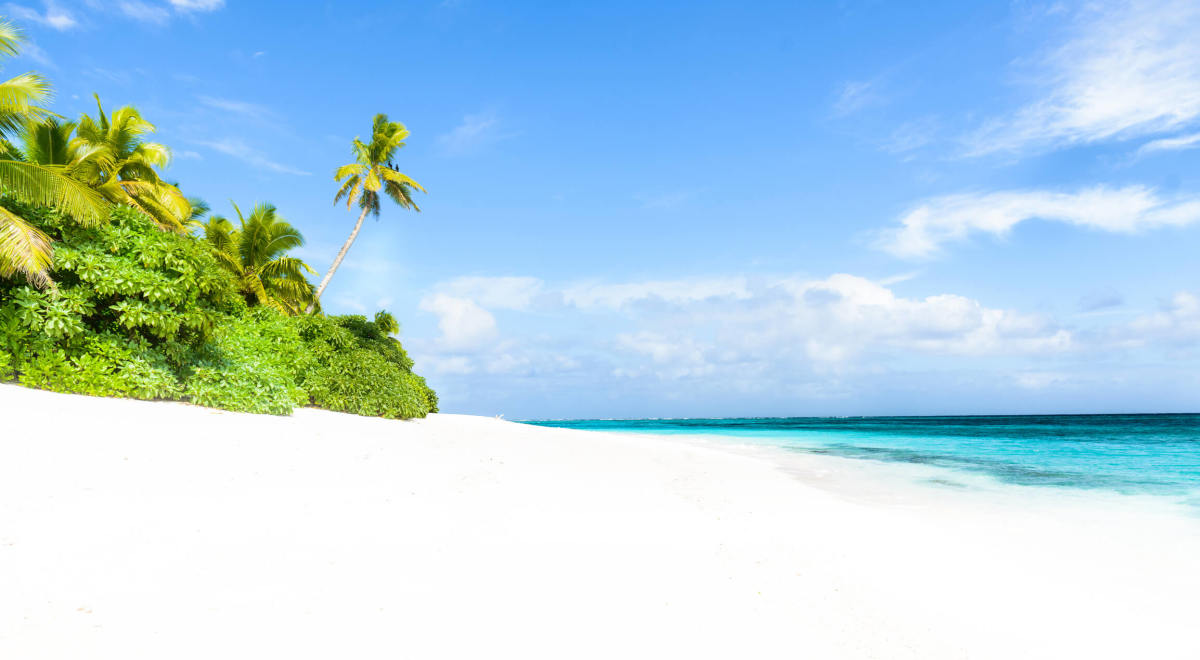 ---
---
If you are like most people on Earth, you would love to have a holiday in the beautiful islands of Fiji. White sand, crystal clear water, and a year round heat that makes it the perfect escape from Winter's chill. Sounds great, right?
Right.
So now you just need to figure out the best time to go. Thankfully this is largely a matter of preference, as Fiji will always be a stunning location to get away to whenever you choose to visit. In saying that, however, there are plenty of factors that may influence what time of year would fit in perfectly with your travel plans.
Considerations around cost, how busy it is, what events you can check out, and what the weather will be like, are just a few that may sway your decision. Also, who you are travelling with, if anyone at all, can make the difference between going right in the busiest season or waiting until things quiet down.
So, let's break it down into two time periods to make it easy. November through to April, which is Fiji's wet season, and April through to October, which is Fiji's dry season.
Bliss (Photo: Shutterstock)
November - April

Travelling in this time of year puts you into Fiji's wet season, which is the equivalent of its summer as it is when the country is at its hottest. Being a tropical climate, this period also brings with it the most rain and humidity, so it is not uncommon to experience a short and intense burst of rain in the afternoon. This does not mean it is the wrong time to visit, however, as the days are long and there is still plenty of sunshine to enjoy. The water in the wet season will also be at its warmest, getting up to over 30 degrees celsius at some points!
The weather woes of the wet season aren't enough to hold back the large amounts of travellers that head to Fiji in mid-December through to mid-January. In fact, being the festive season, this is one of the busiest times of year and is when you can expect to see some of the highest prices. If planning a trip at this time, consider that it gets more difficult to book places to stay unless done well in advance.
People spending their Christmas and New Year holiday period in Fiji can expect to be a part of plenty of celebrations and frivolity. There are numerous churches that many local Fijians will spend Christmas day in, singing and dancing to celebrate the national holiday, and resorts will host their own functions for guests. For New Year's Eve there is a large street party in Suva that will entertain any of those wanting to celebrate until the early morning.
For those who would prefer to stay in the comfort of their resort, this doesn't mean you have to skip the celebrations. There are pockets of partying all over the country on this night as many resorts put on fireworks displays and have kava ceremonies on the beach. Take the opportunity to be involved in a local tradition, and have fun while you're at it!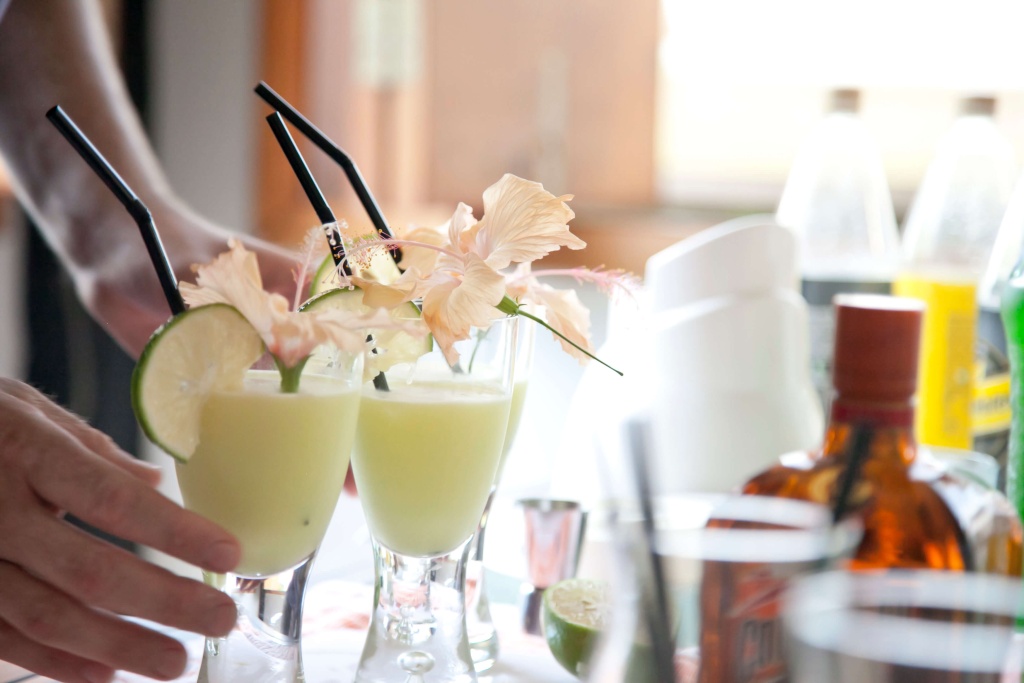 Nothing says Happy New Year like tropical cocktails. (Photo: Shutterstock)
If all this talk of crowds and parties doesn't sound like you, then you might be swayed to visit during the quieter months of late October to November, or February to March.
The weather in late October and November is seen as some of the most temperate of the year, and the prices of getting to and staying in Fiji have not yet reached their peak. This is due to the numbers of travellers not being as high at this time, so you'll have more space on the beach for yourself!
Diwali is celebrated by the Hindu population of Fiji every year, and is even a national holiday. So if you find yourself around in late October you will be sure to see the many beautiful candles and lanterns decorating people's houses, and fireworks exploding all around.
February to March is the quietest period of the year, and so for those who are travelling on a budget it is worth knowing that this time is also the cheapest. Resorts are known to have great offers as well to encourage travellers to stay, so if you want to avoid the crowds and snap up a good deal this may just be the time for you. For those travellers looking for a tranquil and private vacation, this may be the perfect opportunity. 
Also if you time it well you can catch the celebration of Holi at the beginning of March.The festival represents the arrival of spring, the blossoming of love, and for many a festive day to play and laugh. Part of this celebration involves crowds of people gathering to throw multi-coloured powder at each other which is a great experience to be part of.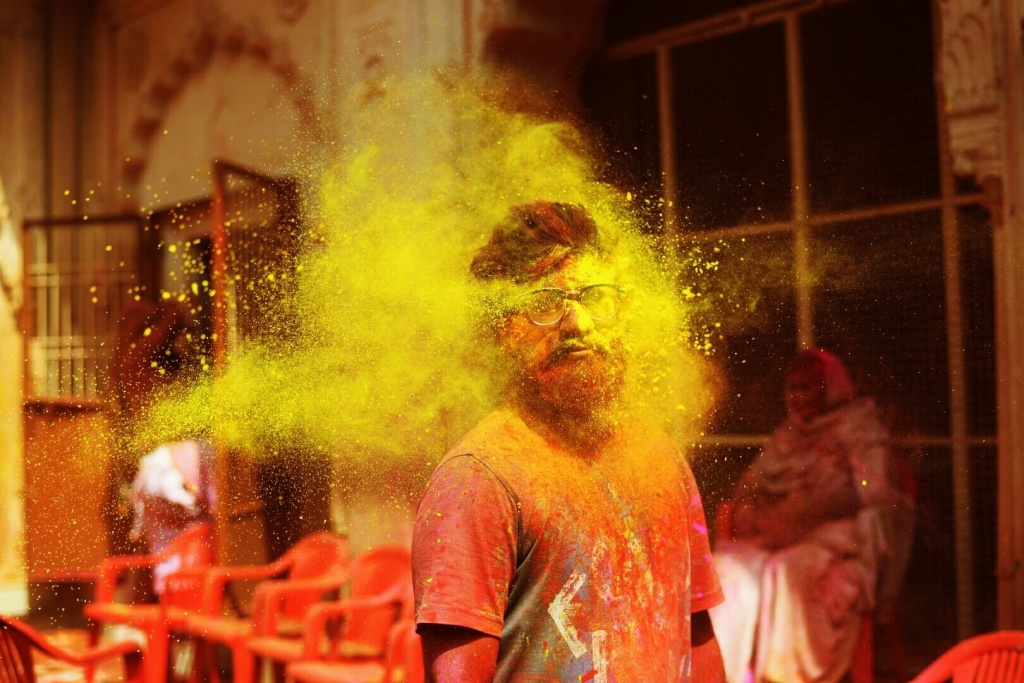 You might want to bring a change of clothing! (Photo: Shutterstock)
May - October

The other notable season in Fiji is the dry season, which is characterised by a lack of rain, slightly shorter days, and cooler weather. This half of the year is much more mild, but still sees regular sunshine and the temperature rarely drops lower than 20 degrees celsius. Fiji really is the gift that keeps on giving!
If you're weighing up those benefits of this time period in Fiji and thinking it sounds like the ideal time to go, you would be in good company. This half of the year is consistently busier than the wet season, but that doesn't mean it is too crowded to consider. There are hundreds of islands in Fiji and many resorts that can spread the amount of happy vacationers around. You should still be able to find a place to lay down your towel!
If travelling in May and June, you can manage to avoid the busiest parts of the dry season and get in before the large amounts of New Zealanders and Australians hit the country's shores for school holidays. May/June is when the temperature lowers, rains have decreased, and humidity levels have dried up to be much more comfortable. This combination of factors makes it a good time for anyone wishing to do some of the many beautiful hikes that the jungles and mountains have to offer. For those who aren't restricted to travelling with their children in the school holiday period, this is a great time to choose.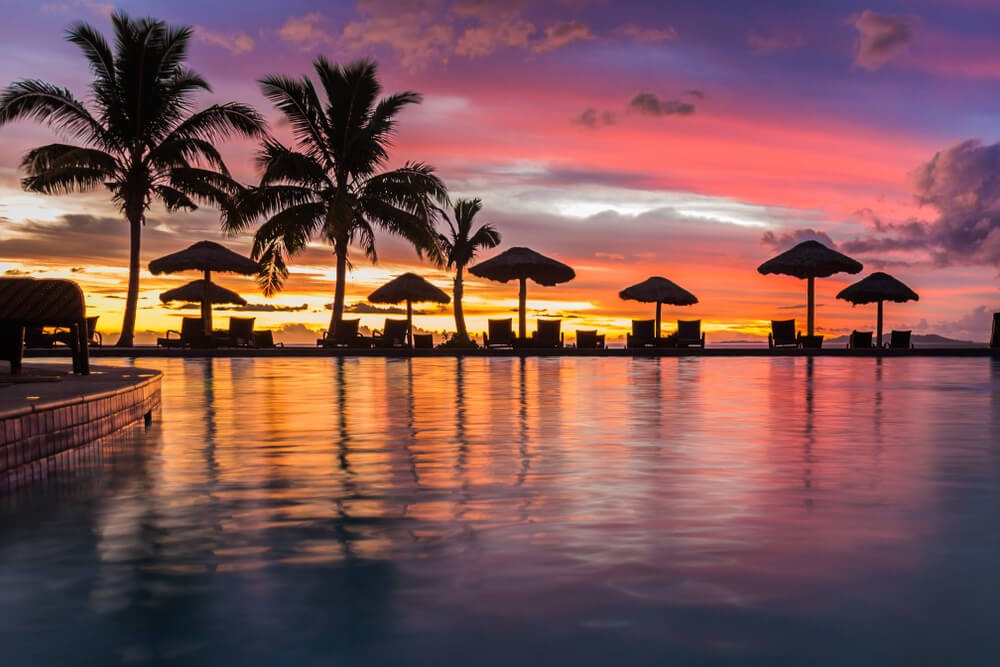 The dry season is also known for producing some spectacular sunsets. (Photo: Shutterstock)
For those living in New Zealand and Australia, it has become extremely popular to capitalise on the July school holidays and escape the grip of winter. Many families choose to spend this time swimming, snorkelling, sunbathing and relaxing in paradise by heading to Fiji, and who can blame them! July is a very busy month for the country, and for anyone planning a trip it is necessary to book far in advance. Prices at this time are once again higher to reflect the increased demand.
If you are looking to head to Fiji with the family, there are many resorts and services that cater to your needs specifically. Nadi and Denarau both have a great range of family friendly places to stay that have the added bonus of being close to the airport, so if you are looking for an easier transit these may be for you. There are also kids clubs at many resorts where children can meet others their own age to play with, or even local nannies who can look after young children while parents explore the range of activities available.
From August through to early October, you can expect Fiji to be consistently busy. August sees another spike in tourists as Europeans visit during their holidays, so once again keep this in mind for all your bookings! It is a wonderful time of year for the weather, often sticking around the mid to high 20's, and the ocean is usually a great temperature for swimming. For anyone who is keen on snorkelling or diving, this is the time of year to go. The ocean is calm and so there is great visibility.
Take our word for it, this is awesome! (Photo: Shutterstock)
Fiji is beautiful, and has positive things to consider any time you want to go. Just make sure you keep in mind what you want out of the trip, as this can make the difference between travelling in peak season to be among other families, or waiting until things quiet down and getting a bit more space for yourself.
If you want to make sure there will be other children for your kids to make friends with, a trip in July will ensure this is the case. Maybe you want to see what it's like to party in the South Pacific, if so you won't be disappointed with a trip over New Year's. For those just wanting to go hiking and enjoy the beautiful scenery, June may be perfect for you. Alternatively if you're after the cheapest prices and craving as much solitude as possible, head over in February.
All in all, the perfect time to travel to Fiji is whenever you can make it happen! Enjoy your trip and have a tropical juice on the beach for all of us back home.