Thu, 29/09/2016 - 6:54pm
With its bright, clean flavours and generous use of herbs and vegetables, Vietnamese food is widely considered one of the world's healthiest and most delicious cuisines. Less well known is the fact that Vietnamese food differs widely from region to region, thanks to the country's unique geography and diverse culture, including Chinese, French and Japanese influences.
The best way to discover more? With some good walking shoes, an adventurous attitude and an empty stomach. Eat where the locals eat, and don't be afraid to take a few culinary risks. You'll get to know the difference between banh mi and banh cuon, or bun cha and bun bo Hue in no time.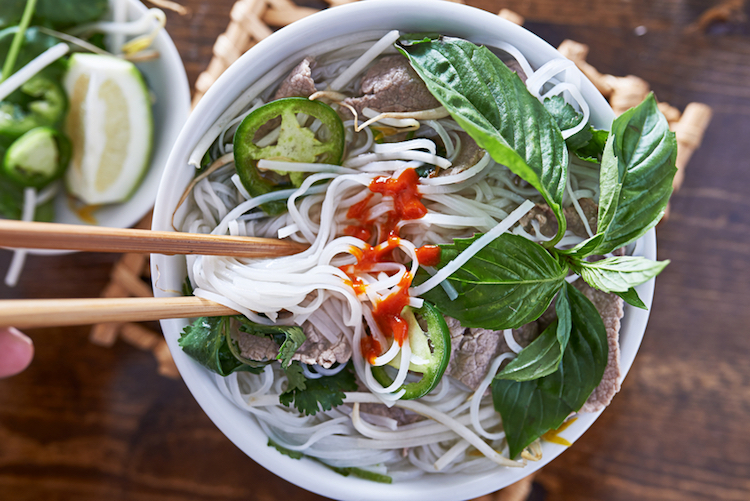 Vietnamese beef pho (noodle soup). Photo: iStock
Hoi An
Hoi An's combination of a World Heritage-listed townscape and the easygoing beach scene at nearby An Bang conspires to make the central Vietnamese riverside town one of the country's favourite destinations. While you're waiting for a Hoi An tailor to rustle you up something special in silk or linen, grab a map and navigate a very tasty path around Hoi An's culinary maze.
Inspired by centuries of Japanese influence and trade, the town's signature dish is cao lau, combining thicker udon-style noodles with fresh herbs, roast pork and crunchy croutons; more adventurous foodies should seek out a bowl of lemongrass and chilli-steamed snails – which is a lot nicer than it sounds!! Make sure you leave room for a Vietnamese baguette sandwich from Banh Mi Phuong, a favourite stall of arch-foodie traveller, Anthony Bourdain.
Street food vendor, Hanoi. Photo: iStock
Hanoi
Tucking into street food in Hanoi's Old Quarter while perched precariously on a tiny blue plastic chair is a classic Vietnamese travel experience, but the sheer volume of sidewalk eats in the country's northern capital can be confounding. Find your footing with northern culinary classics including pho bo (beef noodle soup) and bun cha (grilled pork with fresh herbs and vermicelli), then graduate to lesser-known local dishes like ga tan - tiny chickens cooked with medicinal herbs in a Coke can (!!).
You can easily spend most of the day lost in a haze of delicious street-side grazing, but it's worth checking out some bricks-and-mortar eateries too. One to try is Cafe Duy Tri, a classic 80-year old Hanoi cafe. Don't be surprised if ca phe sua chua (iced coffee with yoghurt) becomes your new favourite combination of drink and dessert – simply delicious!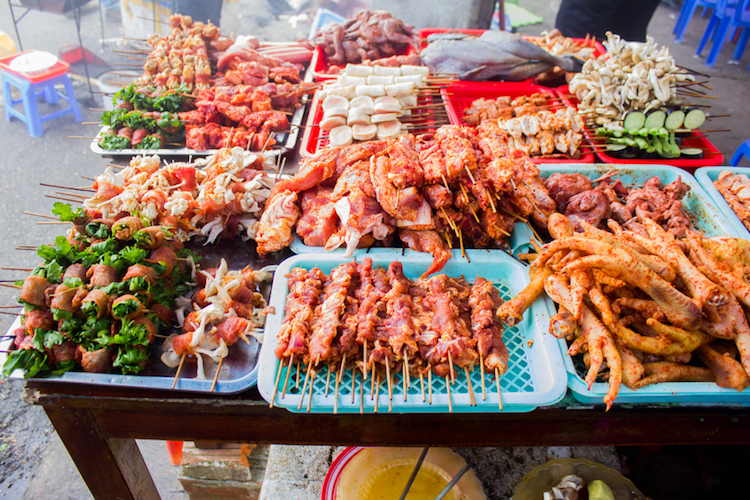 Barbecue street food, Vietnam. Photo: iStock
Danang
The big and bold coastal city of Danang is just 30km from Hoi An's heritage charms – reached via a series of resort-fringed coastal areas that finally segue to the famed China Beach – but the two destinations could not be more different. Sleek towers are rising to line the banks of Danang's Han River, and the biggest show in town is when the city's golden Dragon Bridge breathes fire at 9pm on Saturday and Sunday nights.
Unlike many of Vietnam's more tourist-friendly cities, you're unlikely to encounter much English in Danang, either spoken or on signs, so it's best to know what to look for before you set out. Mi quang is the area's signature noodle dish – turmeric-tinged noodles crammed with shrimp, fresh herbs and sesame crackers – and its barbecued seafood is world-famous-in-Vietnam. Your memories of a night out in Danang will most likely include downing bia hoi (fresh beer) with the friendly locals too!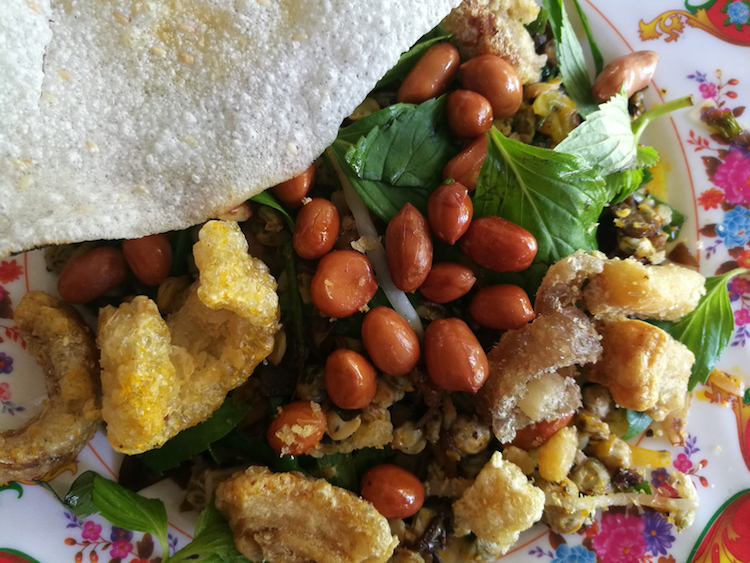 Com hen, or clams cooked with rice, one of Hue's most famous dishes. Photo: iStock
Hue
Like everywhere in 21st-century Vietnam, the motorcycle also rules in the riverside city of Hue, but there's another more languid transport option in the former Imperial capital of Vietnam. Cyclos, or bicycle rickshaws, are still very popular, and they come into their own when exploring the ancient laneways around Hue Citadel, where many of the city's best cheap eats are found. Hue was the seat of Vietnam's emperors for more than 150 years, and intricate dishes developed for the Emperor Tu Duc now underpin local cuisine.
Some of Hue's most beloved delicacies include steamed banh beo, delicate, bite-sized rice cakes topped with dried shrimps; banh khoai are more robust mini-pancakes crammed with prawns and pork belly. Don't forget a dollop of peanut sauce and a few slivers of astringent starfruit. Pork's also the key ingredient in nem lui, and the aroma of the compact torpedoes of meat being grilled on sticks of lemongrass infuses the city's simple eateries from late afternoon. Also flavoured with tart lemongrass, the beefy goodness of bun bo Hue is the city's famed noodle soup.
Other Travel Articles You Might Like...