Mon, 16/12/2013 - 6:25pm
Warm, friendly & welcoming was the verdict of Angela Blazey from Flight Centre Rangiora on her recent Fiji holiday.
Yay I'm in Fiji - the land of smiles! Right from our greeting at the airport we were well looked after wherever we went. Everywhere we heard "BULA!" Even in the coach when we were driving around, people would wave out from their homes or the side of the road; just so friendly.
Fiji is great for a holiday because as a visitor you have the choice of relaxing or being adventurous (eg, diving, snorkelling, zip lining). Denarau is the best area for shopping, offering a range of shops from surf shops, beauty therapy, duty free, restaurants and the famous Jacks of Fiji store for crafts & souvenirs.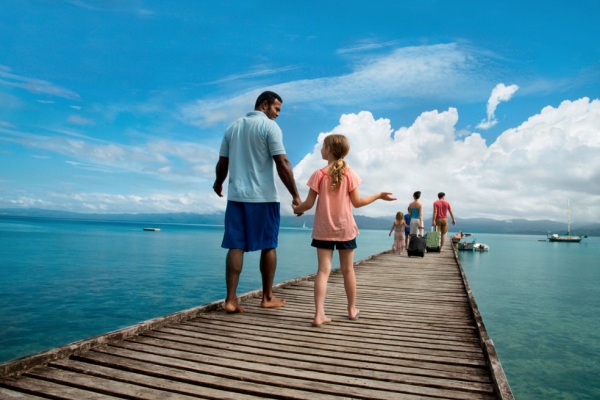 Here are my top Fiji hotel and resort picks:
Uprising Beach Resort (Pacific Harbour)
The hospitality here is second to none and you could tell the staff genuinely loved having you as their guests. The new 1-bedroom Villas are just lovely, with outdoor shower, balcony, air conditioning, swivel TV to watch either in your room or the lounge and small kitchen facilities.
Sofitel
I am a resort girl at heart and just loved the Sofitel. The rooms are gorgeous, all facing the ocean, and there is a lovely big pool with plenty of sun loungers scattered all around. I felt that you could quite easily spend a week at this resort and not actually have to leave as it has everything on site. This property just had such a nice feel about it, and I loved the way it was laid out.
Inter Continental
Luxury at its best, the rooms here are divine! Baths out on the deck with a day bed, complete with complimentary Pure Fiji products. Adults only pool, divine beach (the best on the Coral Coast), amazing golf  course next door - definitely a treat if you want to spend a bit more on your holiday.
BULA!! VINAKA!! Say this with passion and enthusiasm when you visit Fiji!
Need more information on your Fiji holiday? Contact a Flight Centre travel expert - 130 stores nationwide. Phone 0800 24 35 44.
Other Travel Articles You Might Like...