Thu, 31/01/2013 - 8:24pm
Instead of visiting just one of the Fiji islands, Su Lee from Flight Centre Karangahape Road travelled to most of them on her Fiji holidays, and shares her thoughts on the experience with us.
Castaway Island was the first we visited and left a great impression. It is a small resort with only 66 stand alone bures scattered around the property. We had a beautiful lunch, which was probably the best meal we had during our stay. The resort can cater to any specific dietary requirements too, which is a great plus. They have one main restaurant that serves breakfast, lunch and dinner. The restaurant is beachfront and has both an outdoor and indoor dining areas.  There is also the Sundowner Bar, which is upstairs overlooking the sea and serves pizzas.
The resort is nearly 50 years old, but looks very new as they do constant refurbishments. The bures are long and have a double bed at the further end and 2 day beds near the entrance which can be converted into 2 single beds at night. There is a privacy sliding screen door to separate the main bedroom from living area, which is great for families. Some rooms can fit a third single bed to fit 5 people.
The beach is great with clear water and white sand. Non-motorized water sports are free and there are several daily cultural activities. A kids club is available for children aged 3-12 and is also complimentary. There is a big pool with swim-up pool bar and also a very nice family pool with different water features.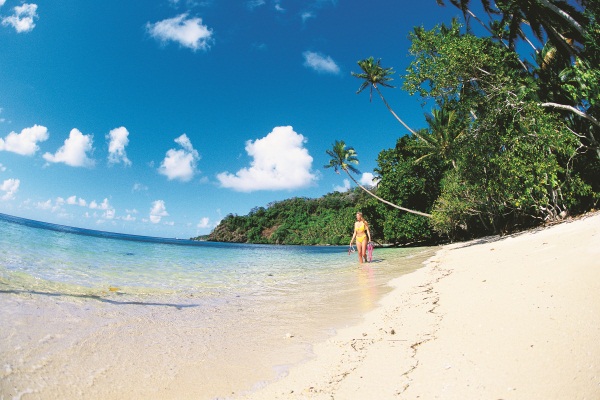 Treasure Island is a smaller island that is popular with families on a budget. All oceanview and beachfront bures are air conditioned and light, with a King bed and single bed, plus a hammock outside! The resort offers different daily activities and a free kids club for kids aged 3-12. The main restaurant has a la carte or buffet depending on the night. There's also a very nice chapel with ocean views for weddings. For those with an environmental interest, the resort has a sustainability programme to grow coral and release turtles into the wild.
The next stop on our Fiji holiday was Beachcomber Island, just a short boat trip from Treasure Island and a budget option popular with younger travellers. The resort has different accommodation ranges depending on budget. The beach bure is standalone and very traditional in style with a deck with chairs and king bed inside. Oceanview have very traditional island décor with a double and single bed. Lodge rooms are more simple in style with 2 single beds. Dorms come in different sizes - both smaller dorms with 4 beds each suitable for groups of friends travelling together, and a bigger dorm with 10 beds.
The resort offers full board in the Sand Bar restaurant plus there is a small takeaway shop which opens late for people who want to eat something outside the main meal times. There is a dive pool for those interested in doing a beginner dive and also several water sports on offer. The island's beach is very beautiful, with white sand and good snorkelling.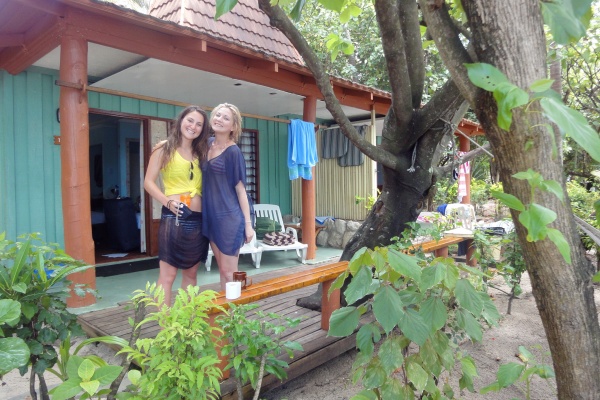 Mana Island was one of my favourites. The island is located approximately 1.5 hours ferry ride from Port Denarau, and has 2 beaches, North and South, with a restaurant at each end. North Beach has Mamanuca buffet restaurant and South Beach has a la carte. We liked South Beach more for swimming but found the snorkelling better on North Beach.
The gardens and grounds are very well kept, which gives a good impression when first arriving in the island. They have a proper jetty so there's no need to be transferred on smaller boats like most of the other islands. Mana is very big and it takes a while to get acquainted with the extensive grounds. They are finishing building a conference centre which will also be suitable for bigger weddings. There is already a beautiful chapel looking out to sea.
The resort caters really well for everyone from families to couples to single travellers; very affordable accommodation, 2 gorgeous pools, a spa facility with pure Fiji products and beautiful treatment rooms, and not too spread out. The resort offers all non motorized sports gear free of charge, plus there's also a dive shop and a lot of options for more active travellers such as fishing and diving.
The Deluxe ocean front suites are multi-level, and feature a big living area downstairs with sofa bed and armchairs, 2 bathrooms(one in each level) and a spacious bedroom upstairs leading onto a private balcony. They have a great feel, suitable for families and couples alike.
Malolo Island is a beautiful resort which also has a jetty so there's no need to be conveyed ashore on smaller boats. It's a much newer resort, less than 15 years old, and had a renovation in 2011 so continues to look great. It's also more westernized, with beautiful house-like rooms, modern and well decorated. There are 3 restaurants (1 adult only), all of which offer very nice food, 2 pools (1 for families and 1 adult only with swim-up pool bar), a free kids club, and wi-fi at the beach bar and reception.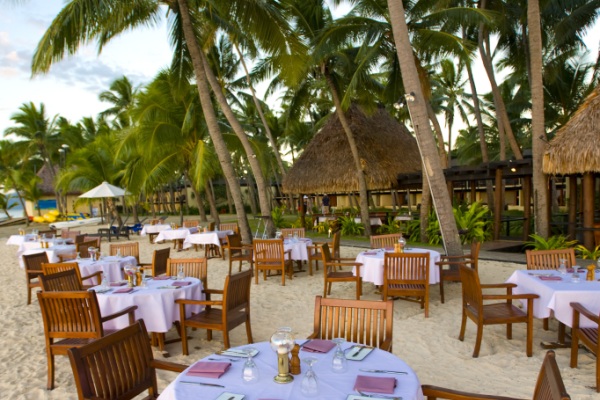 Likuliku was the most luxurious of the Fiji islands we visited. Adults only, with full board included in rates, this is a very exclusive and gorgeous resort. It's tastefully decorated, retaining the island feel but at a higher standard. There are a range of room types including beautiful over water rooms featuring a King bed, sitting area with glass panel on floor, big bathroom with a beautiful bathtub looking out to sea, and a huge deck with chair and direct access to the lagoon. Overall, this is a beautiful resort for special occasions.
We arrived at Musket Cove through their small Marina, which gives a different feel to the other islands we had been so far. This is the only island resort that has self catering accommodation, and though they consider themselves more suitable for couples, a lot of families may find the self catering convenient. The resort is set in a little bay area with a nice beach, although possibly not as good as the other islands, and pool next to the restaurant.
Lomani is an intimate adults only resort with only 17 rooms. It's very cosy with nice facilities, great for couples. There is a very nice beach area plus big lagoon-style pool overlooking the sea, next to the restaurant. Non motorized sports and bikes are available for hire without cost.
Plantation Island is a family focused resort with great facilities for kids, including a free kids club and 3 pools plus a kids pool with slide. This is a fairly big resort of 90 rooms, suitable for families on a budget. They have a mini market, snack bar, small massage room and hair saloon on site. The best rooms are the 1 bedroom garden terrace with separate living and bedroom areas, although the beachfront rooms are nicely situated and have a double bed and living area all in one.
Need more information on Fiji? Contact a Flight Centre travel expert - 135 stores nationwide. Phone 0800 24 35 44.
Other Travel Articles You Might Like...