7-Day Fiji Itinerary: Planning a Relaxing Week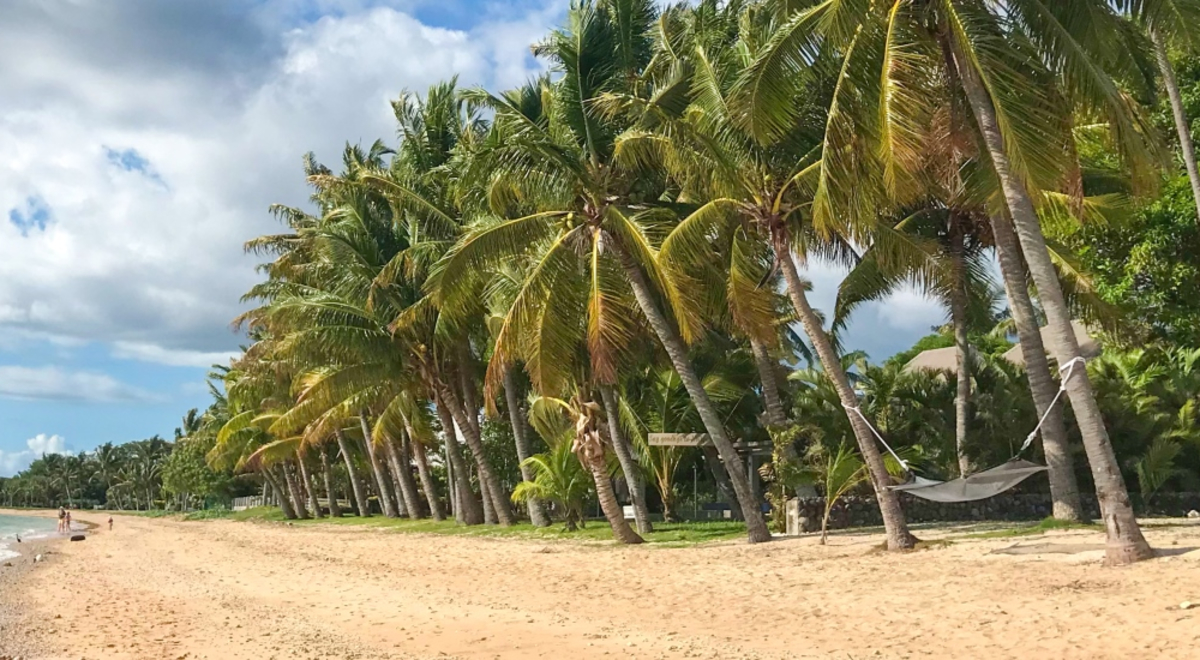 ---
---
Crystal clear waters, palm-fringed beaches, beautiful, friendly people and island time; there's no denying that Fiji is one of the most perfect destinations for that much-needed idyllic beach getaway. To fully disconnect and unwind in island paradise, follow this 7-day itinerary for a relaxing week in Fiji, based on first-hand experience!
Day 1: Bula Nadi!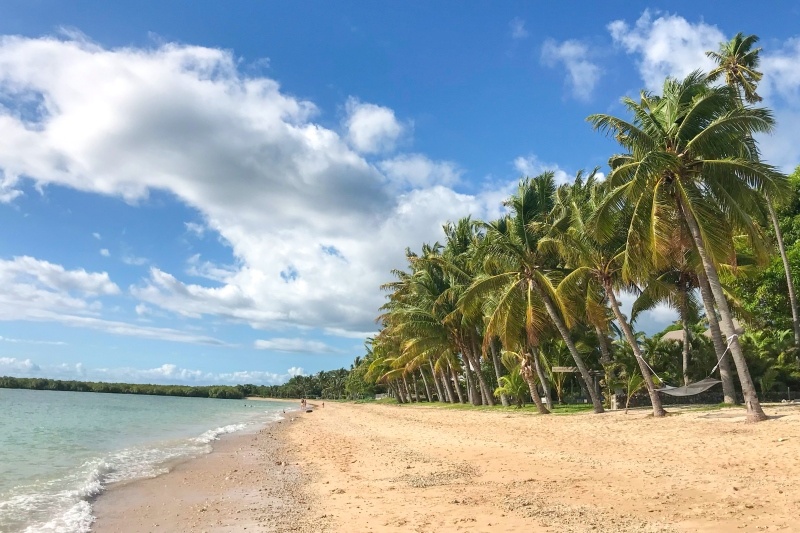 Beachfront at First Landing Resort, Nadi, Fiji. Photo: Lena Taylor
As soon as you step out of the plane, you'll instantly feel the magic of Fiji as you're greeted with incredible traditional singing (as well as the warmth and humidity!). From there, you can just hop in one of the friendly taxis conveniently waiting outside to get you straight to your choice of the many stunning resorts and hotels in Nadi, or better yet, get your Flight Centre travel expert to book transfers for you!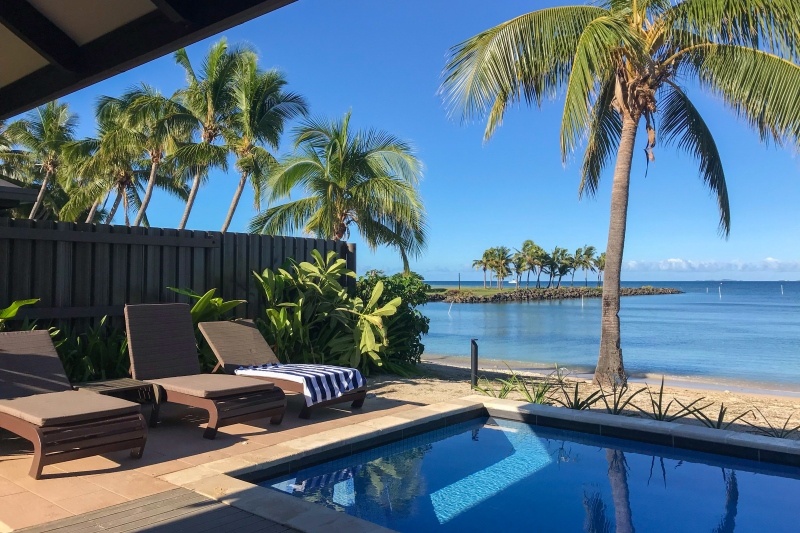 Beachfront Villa at First Landing Resort, Nadi, Fiji. Photo: Lena Taylor
I highly recommend staying at the amazing First Landing Resort! You'll feel well looked after with a drink on arrival, and you'll quickly come to realise why this resort is a 2019 TripAdvisor Hall of Fame Winner. Picture yourself in a modern luxury beachfront villa, with spectacular views over the nearby Mamanuca Islands, and your own private pool. Plus, they have accommodation options to suit all budgets so you can create memorable experiences without breaking the bank. Could it get any better?
Yes, the food is divine! Just take a short walk across the beachfront to their Mai Kana restaurant with a menu full of food from Fiji's diverse ethnic origins. With native Fijian, Indian, Chinese, and European dishes, there's something for everyone. Depending on the day, you'll be accompanied with traditional entertainment as well!
Day 2: Relax, unwind, and make the most of First Landing Resort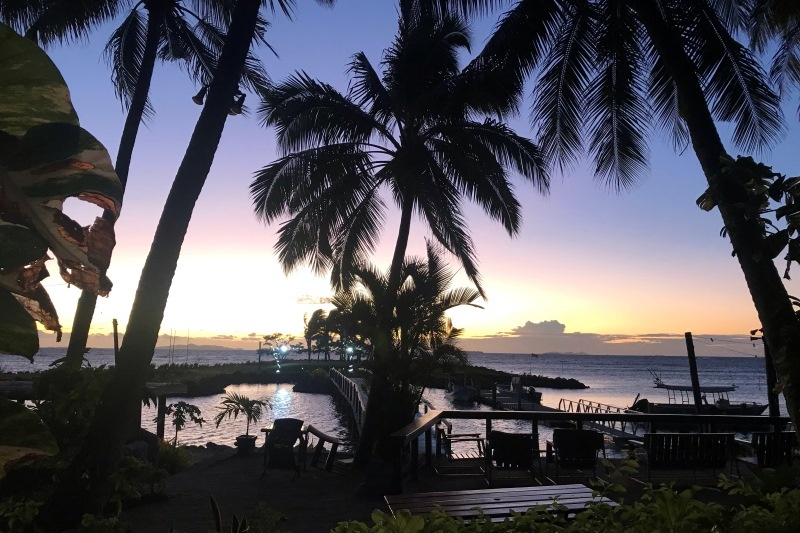 Sunset at First Landing Resort, Nadi, Fiji. Photo: Lena Taylor
One of the best parts about First Landing is that there are so many activities to do without leaving the resort! Take a quick dip in one of the pools or the beach before taking a look at the local market items for souvenirs, then get started on snorkelling!
You can head straight out to sea from the resort beachfront with all equipment provided, and local experts to take you to the best spots past Treasure Island & Beachcomber Island. After getting used to the combination of diving underwater and breathing (which can be quite challenging at first!), swimming around so many different schools of fish is such a surreal experience. You might even get to see a turtle, which they say is a sign of good luck! Make sure you stop at one of the tiny sand islands on the way back to take in the beautiful ocean views and soak up some more sun. It feels like your own private island since you're the only ones on it!
Back at the resort, grab a refreshing cocktail or two before surrendering to the blissful indulgence of the many relaxing treatments at the onsite Dream On Day Spa. Using the world-renowned Pure Fiji products with their unique blend of Fijian plant extracts, lie back, relax and prepare to feel rejuvenated.
Day 3: Explore Nadi, Lautoka & surrounds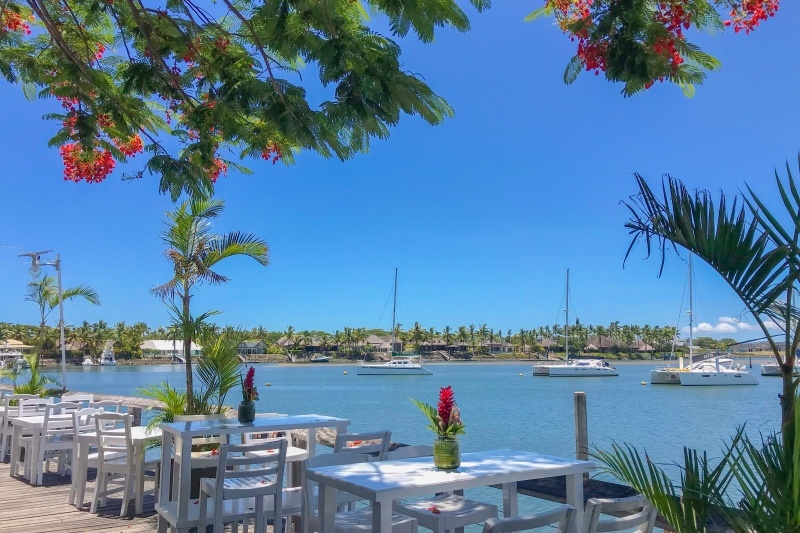 Port Denarau, Fiji. Photo: Lena Taylor
Now it's time to start discovering more of what Viti Levu, the largest island in the entire Fijian archipelago, has to offer! Luckily for Kiwis, Fiji recognises driving licences from English-speaking countries, so you're all good to hire a car if you have a full NZ driver's licence.
Start off with exploring the famous Denarau Island to shop for Fijian clothing and souvenirs, pamper yourself at the spa or even tee off at a game of golf at one of the prestigious golf courses. Don't miss out on grabbing a bite to eat at one of the stunning waterfront restaurants including Neptunes the Food Shack, Waitui Bar & Grill or Koro!
Hit the road with no particular destination to explore and admire the incredible scenery and local culture, or take a visit to the popular Garden of the Sleeping Giant! Wander along the peaceful canopy-covered boardwalk, with the highlight being the 30 - 40 varieties of magnificent orchids. From there, you can take a 20-minute drive to the middle of the tropical rainforest to Sleeping Giant Zipline, Orchid Falls & Jungle Safari for a bit of fun and adventure!
For something to eat when you're heading back to Lautoka, look no further than renowned Bulaccino Café Namaka! With all day menus for breakfast, lunch and dinner as well as a full separate vegan menu, you'll have all the choices you can think of, ranging from delicious seafood delights and pasta to mouth-watering burgers and curries.
Day 4: Day trip to Malamala Beach Club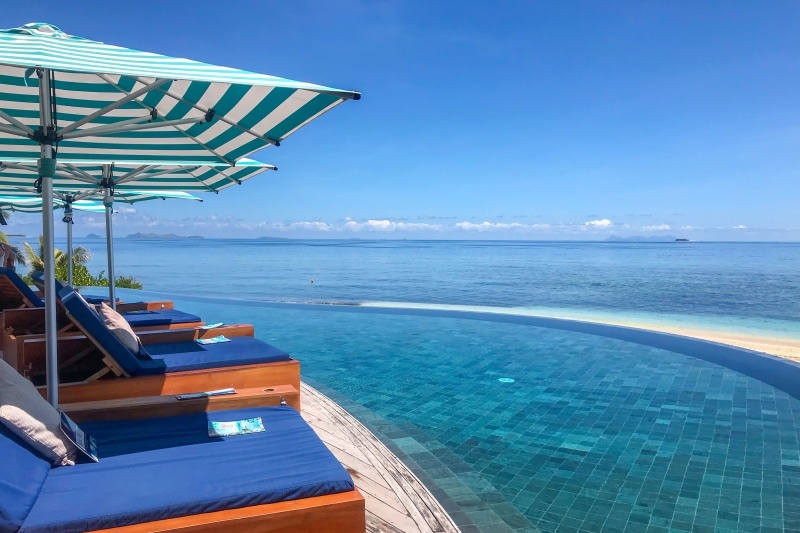 Malamala Beach Club, Fiji. Photo: Lena Taylor
It wouldn't be a true trip to Fiji without visiting the iconic Malamala Beach Club, situated just 25-minute boat ride from Port Denarau. Being the world's first island beach club, make sure you get a Full Day Pass to make the most of this incredible experience!
White sand beaches, beachside cabanas, a resort-style infinity edge pool, and remarkable views - Malamala Beach Club is the definition of pure bliss. Offering a delicious Asian and Pacific inspired a-la-carte menu full of fresh flavours, choose to dine in the open-air restaurant, poolside or one of the other many relaxed areas. Plus, with an extensive beverage menu including an array of hand-crafted tropical cocktails and an international wine list, as well as a club-like atmosphere with upbeat tunes mixed all day long, you'll never want to leave!
Once you've had time to relax and cool off in the pool, take a 20-minute stroll around the entire island or make use of the complimentary paddle boards, kayaks, snorkel gear and more. Your Day Pass also includes complimentary WiFi, towel service, and return coach/vessel transfers (for your first visit) from most hotels and resorts in Nadi and Denarau to make everything as easy for you as possible. Make sure you talk to your Flight Centre expert to book this for you!
Day 5: Ferry to the Yasawa Islands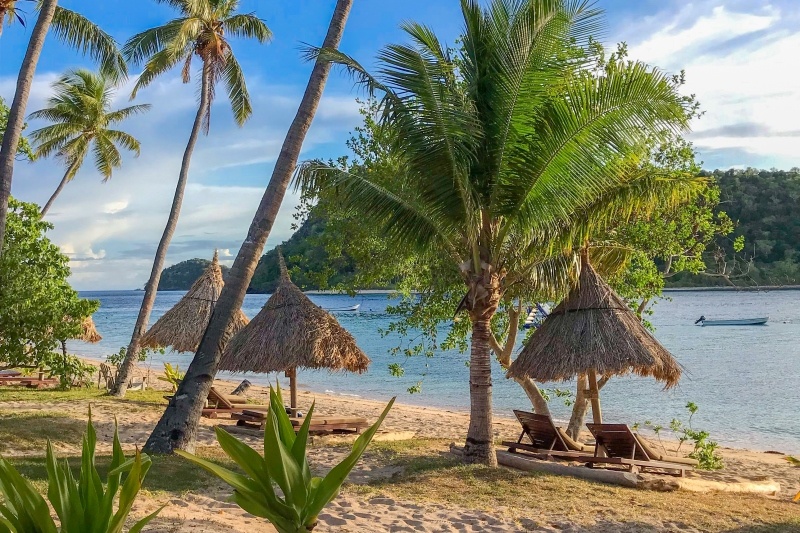 Paradise Cove Resort, Naukacuvu Island, Fiji. Photo: Lena Taylor
Next, stop: Yasawa Islands. Out of approximately 330 islands in Fiji, it can be difficult to decide which islands to go to! But you're guaranteed that anywhere in the Mamanuca and Yasawa Islands group is going to be breathtakingly gorgeous.
How about a 5-star resort on its own island? Let me introduce you to the Paradise Cove Resort. On the island of Naukacuvu, an approximately 3-hour ferry ride from Port Denarau, you'll never feel so much on vacation at the same time as feeling like you're at home. Once you arrive, you'll just want to grab a drink at the bar, sit back in your private hammock or sun hut in front of your beachfront villa and relax. It's basically like having your very own slice of the beach all to yourself!
Day 6: Full day at Paradise Cove Resort, Naukacuvu Island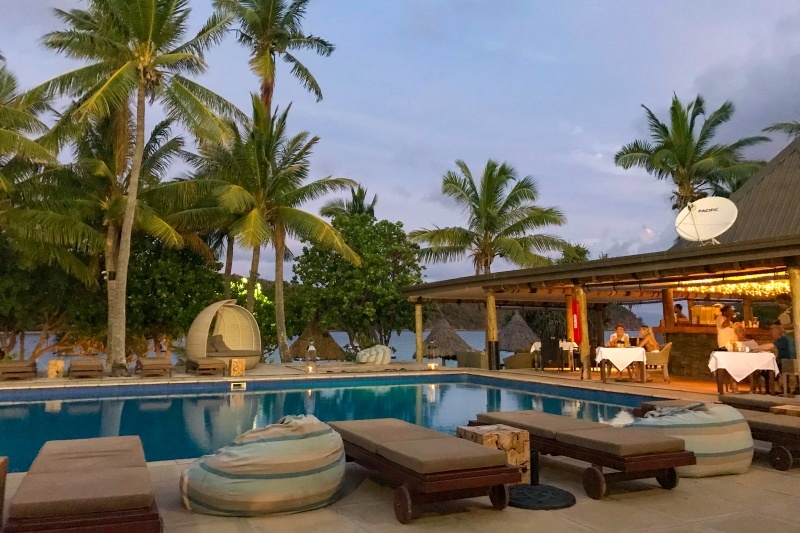 Paradise Cove Resort, Naukacuvu Island, Fiji. Photo: Lena Taylor
Relax. Eat. Drink. Swim. Repeat. At Paradise Cove, you have everything you'll ever need and more. Choose to laze away the day on a sun lounger by the resort pool or take part in the many activities on offer. Go for a snorkel, take a hike to the top of the island, hit the gym, take a Fijian cooking lesson, take part in a Kava ceremony, enjoy the fun-filled traditional Fijian meke (cultural show) with songs, dance and celebration, take a tour to a nearby island, enjoy a massage treatment at the onsite Nauka Spa … you'll never run out of things to do!!
Also, one of the main highlights of the resort is food, food, food. Using mainly local ingredients and with the meal plan cost set to a 24-hour rate to include breakfast, lunch, and dinner, you'll never be hungry or disappointed! For breakfast, select from the a-la-carte menu and the buffet style continental breakfast with all the breakfast foods from your wildest dreams. Fresh seafood and tropical fruit make a regular appearance on the delicious, healthy lunch options alongside Fijian specialities, and you won't get bored with the five-course dinner each night - especially with the menu changing every two days!
Most importantly, the welcoming, friendly staff will always go above and beyond, helping out with anything you need and making you feel like family. There is no doubt that I'll be returning to this special resort.
Day 7: Ferry back to Nadi and fly home
From experience, you'll probably be super exhausted from relaxing too much at this point, as well as the ferry ride back to Port Denarau, and we don't blame you!
Just make sure you get the last of your Fijian goodies at Duty Free, and don't forget to bring back gifts for your friends and family!