Things To Do In Rarotonga - Activities To Add To Your List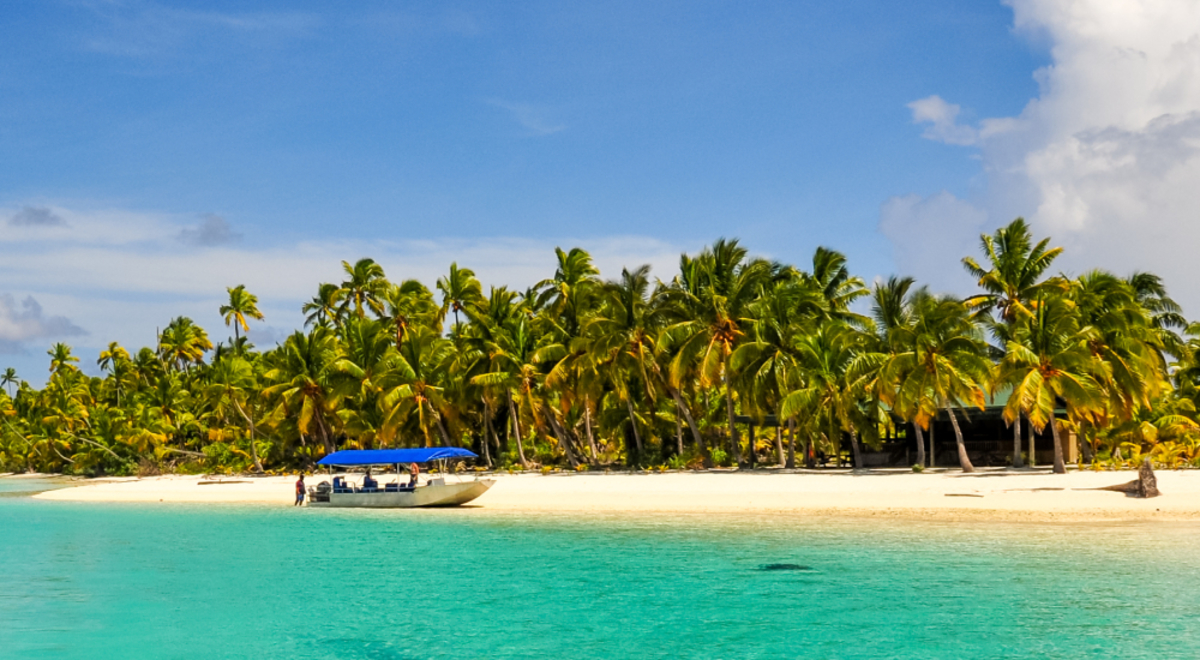 ---
---
Apart from lying on the beach (which of course is amazing in itself!), there are loads of activities and fun things to do in Rarotonga. Here is a selection of our favourite things to see and do in the Cook Islands - some are paid activities and Rarotonga tours, and others are free things to do in Rarotonga so you can start dreaming and planning your next tropical South Pacific holiday!
 

Snorkelling in Rarotonga: Captain Tama's Lagoon Cruizes

 

 
Enjoy a glass-bottom boat cruise with Captain Tama's. Image credit: Captain Tama's Lagoon Cruizes
Discover the crystal blue waters and the amazing marine life around Muri Lagoon with a Captain Tama's lagoon cruise. You will board a glass-bottom boat where you can admire the incredible marine life including giant clams, beautiful coral and schools of colourful fish. Rarotonga snorkelling is world-famous of course, and on this cruise you will be provided with all the snorkelling gear (mask, snorkel, fins and life jackets) so you can explore the reef yourself. After that you will be treated to an amazing fresh fish BBQ lunch on a remote island in the lagoon where you will enjoy the true Rarotongan hospitality. If you love lagoon cruises, this one won't disappoint! 
Rarotonga Markets
Shopping at the Rarotonga Punanga Nui Market. Image credit: David Kirkland (through Cook Islands Tourism).
One of our favourite things to do in Rarotonga is going to the local markets. The biggest market is Punanga Nui Market in Avarua which takes place every Saturday morning (until 12pm)* as well as Thursday evenings when they have a night market (5pm to 9pm)*. This is a great place to get some delicious South Pacific local food - fresh fruit and veges, fresh smoothies and coconuts to drink, amazing homemade poke and more (all at an affordable price). And of course they have great souvenirs, local crafts, artworks and clothing to, so you can get your Rarotonga shopping fix! They also have a main stage on Saturdays at 10am with live music and dancing*.
The other market to check out is the Muri Night Markets on every Tuesday, Wednesday, Thursday and Sunday from 5pm*, located in the Muri Beach Village. If you're looking for where to eat in Rarotonga, this market is a great option for a cheap dinner out with some awesome food trucks offering things like local BBQ meals, curries, amazingly fresh seafood, pizza, wok fried noodles and some sweet treats for dessert too!
 
Te Vara Nui Village - Show & Dinner
Experience the Rarotongan culture at the Te Vara Nui dinner and show. Image Credit: Te Vara Nui Village.
The world-class over-water island night show and dinner at the Te Vara Nui Village is a must do activity in Rarotonga. A spectacular show from Rarotonga's finest dancers and musicians who perform a compelling story of pride, love and celebration follows a delicious Island/Western fusion buffet meal. If you're stuck with what to do in Rarotonga at night, this dinner and show is a must and is suitable for the whole family so it's a great way to spend some quality time together and enjoy an authentic Cook Islands cultural experience!
 
Rarotonga Tours
• Aitutaki Day Tour: For an easy and more affordable way to experience the beauty and charm of Aitutaki island, the Aitutaki Day Tour is a must. This all-inclusive day tour is suitable for all travellers including families with children and is only a short flight from Rarotonga. The Aitutaki Day Tour is designed to showcase all the best places in Aitutaki and fill the day with breathtaking views of the lagoon and its many beautiful islands including One Foot Island. Enjoy a lagoon cruise on board a traditional-style Vaka, including BBQ lunch and some activities like swimming and snorkelling to make the most of this idyllic, island paradise. This day trip is definitely one not to be missed - one of the best lagoon tours!
The absolutely amazing Aitutaki Day Tour! Image credit: The Vaka Cruise.
• Raro Buggy Tours: Looking for an exhilarating way to explore Rarotonga? Join a Raro Buggy Tour! Venture around the island and get off the beaten track as you zoom through the hills in your personal buggy. Don't forget a change of clothes, you will get muddy!
Let the adventure begin!! Image credit: Raro Buggy Tours.
• 4WD Inland Safari Tour: For an off-road experience of Rarotonga, take the 4 Wheel Drive Safari Tour where you will explore the inland roads and heights of the island. The tour guides will give you a glimpse into the Cook Islands history and culture, while you take in a different view of Rarotonga not experienced by most!
 
• Going Troppo Nightlife Tour: Want to experience the Cook Islands by night? Jump on board the Going Troppo Nightlife tour and dance the night away. This tour is a night of fun and music, and is the safest and most entertaining way to visit some of Rarotonga's best nightlife spots. Running on Wednesday and Friday nights*, the nightlife tour does pick up and drop off to your accommodation so makes an easy option to get out and have some fun in Rarotonga! Just note that this tour is not suitable for children.
 
Cross Island Trek & Nature Walk
View from The Needle which can be reached doing the Cross Island Walk. Image credit: Shutterstock.
To really explore the natural beauty of Rarotonga head on a trek or walk with Pa's Treks. The Cross Island Trek heads through the tropical jungle to the base of Te Rua Manga (or "The Needle" mountain) then on to Wigmore Falls. Take in breathtaking views from one side of the island to the other. This trek is a strenuous hike that requires a good level of fitness, so make sure you pack your walking shoes if you want to get out on foot to explore Rarotonga. Another option with Pa's Treks is the Discovery Nature Walk in the mountains where you will explore the rainforest, a noni plantation, taro fields and a sacred Marae. The informative guides will share their knowledge of the native flora and fauna along the way as well as the local history and myths of the island.
You can also do the cross island hike yourself which is a free option to explore the natural scenery of Rarotonga. If you're doing it yourself, it's recommended to do the walk north to south so there is less chance of taking a wrong turn. The walk up to The Needle is the most popular walk to do in Rarotonga.
 
Rarotonga and Cook Islands Beaches
To really make the most of your tropical holiday, spending some time relaxing on the best Rarotonga beaches is a must! Here are some of our top recommendations to enjoy the beaches and the glorious Rarotonga weather!
• Muri Beach & Lagoon, Rarotonga: One of the most popular beaches on Rarotonga is Muri Beach (and it's one of the best white sand beaches!), it's a hub for many fun water activities - you can hire a stand-up paddle board or kayak, book one of the lagoon cruises, or go kitesurfing. Some resorts will also have free use of water activity equipment, so check that out with your Travel Expert when they book your accommodation. If you're looking for where to eat in Rarotonga there is plenty of choices at Muri Beach with many cafés, bars and restaurants right on the beach front.
Stunning Muri Beach. Image credit: Shutterstock
• Titikaveka, Rarotonga: Located south of Muri Beach, another top beach to visit is Tikikaveka with its turquoise blue water, white sand and classic palm trees. It's also a famous Rarotonga snorkelling spot, so make sure you add the Titikaveka Beach area to your list!  
 
• Black Rock Beach, Rarotonga: Positioned on the 'sunset side' of Rarotonga, Black Rock Beach is a favourite for experiencing the stunning sunsets Rarotonga is famous for. Black Rock is also a perfect spot for swimming and snorkelling.
 
• One Foot Island, Aitutaki: Only a short trip from Rarotonga and located in Aitutaki's lagoon is One Foot Island. Accessible by boat, experience a beautiful beach with spectacular snorkelling where you'll see giant clams, colourful tropical fish and corals. Don't forget your passport, you can get it stamped at the local post office hut – a must do Cook Islands experience to show you've been to paradise!
Aerial view of One Foot Island, Aitutaki. Image Credit: Shutterstock.

Aroa Marine Reserve
Considered one of the world's best snorkelling spots, Aroa Marine Reserve is a must-do tropical experience while in Rarotonga. As it's a protected lagoon there is an abundance of reef fish and the crystal clear water will ensure you get an unforgettable snorkelling or diving experience. There is snorkelling gear and diving tours available from the resort on Aroa Beach or the dive centre.
*Timings may have changed due to COVID-19 - we recommend you check these timings with your Flight Centre Travel Expert.