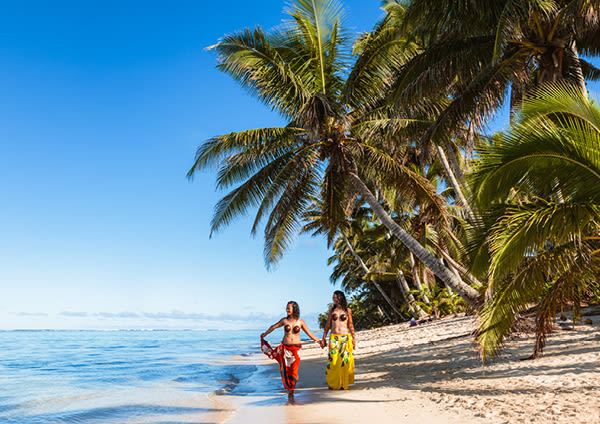 Carve out your own slice of paradise and cleanse your holiday-deprived soul with an escape to the Cook Islands. If you've been dreaming of days spent floating in crystal blue lagoons, rubbing shoulders with turtles and soaking up the sounds and serenity of mother nature, then we recommend booking a Cook Islands holiday, stat. Nestled in the South Pacific, the Cook Islands boast a slew of luxury resorts perfect for family holidays and romantic escapes. Once there, spend your days swimming, snorkeling and exploring the likes of Muri Beach, and treat yourself to a day trip to Aitutaki's breathtaking reef-protected turquoise lagoon. Ready to get your tan on? Check out Flight Centre's range of Cook Islands holidays and start packing those bikinis - we have a feeling you'll need a pair or two for this trip.  
A Travel Expert Service Fee will be applied to bookings made in store, over the phone or via email.
Deals with your name on them...
Explore holidays by interest
Explore Cook Islands
Where to stay in Cook Islands
Where to stay in Cook Islands
If you've been dreaming of an island escape, leave your worries at home and book a Cook Islands hideaway. Whatever your taste in accommodation might be, the Cook Islands has the ideal place for you to lose yourself in paradise; from hostels, self-contained villas and holiday homes, to guest houses and 5-star hotels and resorts.Rarotonga and Aitutaki have an extensive range of award-winning accommodation that's perfect for honeymooners and families alike. Budget-savvy travellers will love finding that cheaper accommodation options, such as homestays and holiday homes, don't lose much splendour. In fact, they provide a completely unique and cultural experience.For an even more secluded holiday, you can venture over to the smaller islands of Atiu, Mangaia and Mitiaro to vacation in villas and friendly homestays.
Read travel guide

Frequently asked questions
What to take on holiday to the Cook Islands?
When you're packing for a trip to the Cook Islands, don't forget the essentials like your visa, passport, chargers, camera, sunblock, some NZD and the correct power adaptor. From there, we recommend packing a towel, plenty of bathing suits, insect repellent, a hat, reef shoes and flip flops, some walking shoes and a great book to relax and read by the water.  
---
Where to go on holiday in the Cook Islands?
The Cook Islands boasts 15 islands just waiting for you to explore. With that in mind, adventure travellers and families tend to opt for the south and west coasts of Rarotonga, while couples and solo travellers opt for the west to enjoy golden sunsets and colourful snorkelling through underwater landscapes.   
---
How do I go about cancelling my Cook Islands holiday package?
---
When is the best time to visit the Cook Islands?
Like any tropical climate, the Cook Islands offers two main seasons – hot and dry, and hot with a little bit of rain (their wet season). The drier weather tends to stick around between April and November, though you can enjoy sunny days, warm waters and lush tropical vibes all year round. 
---
What is there to do in Cook Islands?
Prepare to embrace the tropical vibes and island way of life when holidaying in Raratonga. Spend days soaking up the serenity on picturesque beaches, lazing in a hammock by the pool, snorkelling and exploring an underwater oasis, trying your hand at water sports and getting to know the friendly locals.  
---
How to find the best holiday package to Cook Islands?
Flight Centre's team of Travel Experts have nailed the art of relaxing and embracing island time, so they are the perfect people to ask about your Cook Islands escape. We've worked hard to curate the best Cook Islands holiday packages on the market, and can work to create a package suited to your needs. From luxury resorts to family-friendly holidays and diving expeditions, check out our range of Cook Islands holiday packages in store or online today.  
---
...loading
Popular holiday destinations