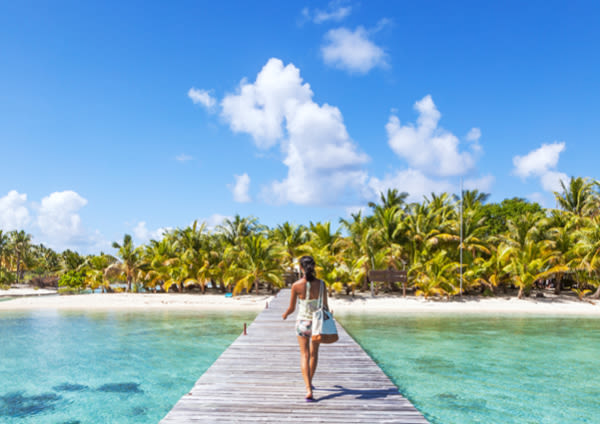 Tahiti, the largest island in French Polynesia, is known for black sand beaches on its east coast and white sand beaches in the west. This tropical paradise offers up green mountains, island-hopping, overwater bungalows, lush jungles and mammoth waterfalls – making for a luxury holiday and ideal honeymoon destination. If Tahiti holidays weren't already on your bucket list, we recommend they should be now. 
A Travel Expert Service Fee will be applied to bookings made in store, over the phone or via email.
Deals with your name on them...
Explore holidays by interest
Explore Tahiti
Where to stay in Tahiti
Where to stay in Tahiti
Unsure about where to stay in Tahiti? From glitzy luxury resorts to gorgeous overwater bungalows, here are a few of our favourites:
Read travel guide
Te Moana Resort Tahiti
Quietly nestled on the western coast of Tahiti, Te Moana Resort enjoys an easy-to-reach location in the Island's capital of Pape'ete. With two restaurants and bars on-site, endless ocean views and a long list of water sports on the go, this beach resort has everything you could want for your island adventure.
Hilton Tahiti Resort
This oceanfront resort boasts an elegant design with finishings mirroring the rich island heritage of French Polynesia. With its central location in downtown Pape'ete, it's a popular choice for travellers wanting to stay close to Tahiti's top attractions. However, with a bounty of on-site facilities (multiple restaurants, and the largest pool on the island!), it might be a little hard to leave.
Intercontinental Tahiti Resort & Spa
Just five minutes' drive from Pape'ete Airport, this beach resort ticks the box for accessibility. It's also well-equipped with all the mod cons to make for a memorable stay. Just picture it: two outdoor pools, swim-up bars, hearty breakfast buffets and exotic overwater bungalows. If there's anything else you need, you're guaranteed to find it here. Ah, bliss!
Frequently asked questions
What is the best island in Tahiti to visit?
Tahiti is full to the brim with some amazing islands. One of our favourites is Bora Bora.
---
Do you need a car in Tahiti?
No, you can easily get around by taxi.
---
When is the best time to visit Tahiti?
Tahiti is a year round destination, although some months are less humid than others. A popular time to visit is between May and October.
---
How do I go about cancelling my Tahiti holiday package?
---
How many days do you need in Tahiti?
A short break between 3-5 days may leave you relaxed, but with so many beaches, water activities and cultural activities - we recommend between 7 and 10 days.
---
What to take on holiday in Tahiti?
When you're packing for your dream trip to Tahiti, don't forget the essentials like your passport, phone, chargers, camera, sunblock, some CFP and the correct power adaptor. From there, we recommend packing a towel, your swimwear of choice, a hat, jandals, some walking shoes and a strong appetite for midday naps and sunset swims.  
---
What is there to do in Tahiti?
Activities in Tahiti are generally centred around pristine views and stunning natural landscapes. Spend your days exploring the deep blue, swimming, snorkelling, fishing, diving, surfing and kayaking through the cerulean waters. Those looking to stay on land can enjoy nature walks, vibrant cultural experiences and day expeditions. Alternatively, pack a book or two and give yourself permission to completely bliss out on the beach or with a view of the ocean.  
---
How to find the best holiday package to Tahiti?
With years of experience under our belts, and a decent tan to show from our time spent relaxing on tropical beaches, our Flight Centre Travel Experts are the perfect people to ask about your holiday package to Tahiti. 
 
---
...loading
Popular holiday destinations