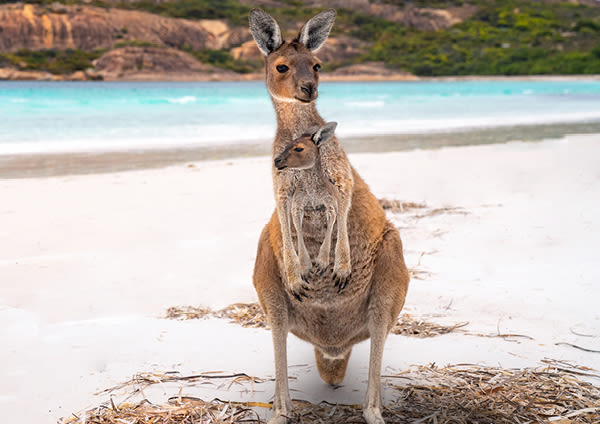 Are you ready to say G'day to a quintessential Aussie trip? From sailing and snorkelling your way through the Great Barrier Reef to exploring the Red Centre with First Nations communities and getting lost in urban cityscapes, Flight Centre's Australian holiday packages offer something for everyone. The vast nature of the continent means, regardless of your travel dates, there will always be a place for you to soak up some vitamin D on picturesque beaches, wine and dine your way through scenic restaurants and vineyards, acknowledge the traditional Aboriginal and Torres Strait Islander people and learn about their rich culture, or simply say cheers to being on holiday over a cold brew at the pub. At Flight Centre, we are proud to offer nothing but the best deals and travel packages to help your plan your trip to this great southern land. So, where ya headed, mate?
A Travel Expert Service Fee will be applied to bookings made in store, over the phone or via email.
Deals with your name on them...
Explore holidays by interest
Frequently asked questions
What to take on holiday to Australia?
When packing for a trip Down Under, don't forget the essentials like your passport, chargers, camera, some AUD and the correct power adaptor. You'll also want your togs, some jandals, walking shoes, a hat, sunglasses and towel so that you're ready for a day at the beach. Australia's a big country, so make sure you're packing to suit the places you're visiting.   
---
Where to go on holiday in Australia?
This great southern land has something to offer every traveller. Visit the Gold Coast and Great Barrier Reef to enjoy endless beaches and a dip in the ocean. Melbourne, Tasmania and Adelaide welcome foodies and wine lovers ready to sip and sample their way through the country. Head to Kakadu and Uluru for an iconic outback experience, and soak in the sights and sounds of Sydney for the ultimate city break.   
---
How do I go about cancelling my Australia holiday package?
---
When is the best time to visit Australia?
Perhaps the best part about Australia is that it boasts incredible weather 365 days a year. If you're keen to soak up the sun, head over between November and March to make the most of summer. Prefer cooler days? Consider visiting between May and August when the temperatures cool down slightly.  
---
What is there to do in Australia?
Swim, hike, snorkel, dive, explore, climb, kayak and ski! Australia has adventure activities for every traveller. You can explore cities with your taste buds on food and wine tours, come face-to-face with cute and cuddly creatures at Australia Zoo, enjoy a spot of RnR at luxury resorts and soak up the best nature has to offer. Perhaps an easier question to answer would be, 'what can't you do in Australia?'  
---
How to find the best holiday package to Australia?
Flight Centre's team of Travel Experts know Australia like the back of their hand and have worked hard to curate the best Australian holiday packages on the market. Check out what we have available online or in store today! 
 
---
...loading
Popular holiday destinations