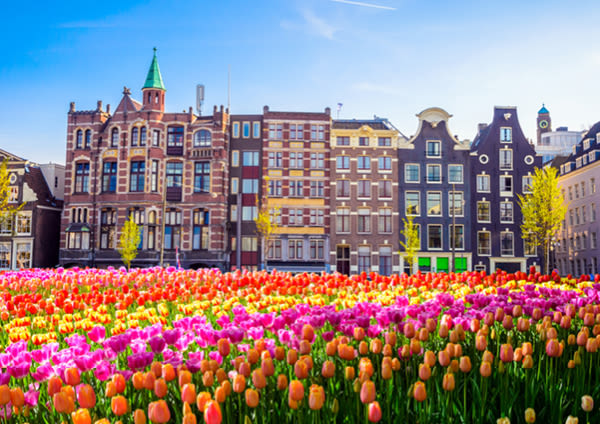 If frolicking through a field of tulips isn't something you ever thought possible, we have good news for you. The Netherlands are one of the biggest international exporters of tulips with peak season kicking off in April. Many flock to Noordoostpolder and the coast of The Hague to enjoy the colourful bulbs. There is heaps of history to absorb too. View the works of Van Gogh at the Museum dedicated to his work or pay a visit to the historic Anne Frank House. And while you're in Amsterdam, be sure to cruise down their World Heritage-listed canals. Want to book? Nether-fear, our Travel Experts will make planning your holiday in The Netherlands easy.
A Travel Expert Service Fee will be applied to bookings made in store, over the phone or via email.
Deals with your name on them...
Explore holidays by interest
Frequently asked questions
Which city is most beautiful in the Netherlands?
Amsterdam is undeniably the most beautiful city in the Netherlands with stepped-gable houses alongside the canals - it's picture perfect.
---
What are the most visited cities in the Netherlands?
Amsterdam, Utrecht, Maastricht & Delft are the most visited cities in the Netherlands.
---
When is the best time to visit Netherlands?
September to November is when the leaves change and the festive season emerges.
---
What is there to do in Netherlands?
Explore the canals of Amsterdam, visit the Zaanse Schans or hire a bike & ride through the cities.
---
How to find the best holiday package to Netherlands?
Flight Centre's Travel Experts know Netherlands like the back of their hand and have worked hard to curate the best Netherland holiday packages on the market. Check out what we have available online or in store today!
---
Why is Netherlands a good place to visit?
The Netherlands is rich in both natural and cultural dynamism with lush countryside, wild shorelines & medieval towns.
---
What to take on holiday to Netherlands?
Don't forget your universal power adaptor, passport & the most comfortable pair of shoes you own to explore. For main character vibes, we recommend headphones & a great playlist!
---
Where to go on holiday in Netherlands?
The Hague is full of vibrant nightlife or you can explore the museums in Eindhoven but definitely add Rotterdam to your itinerary.
---
How do I go about cancelling my Netherlands holiday package?
---
...loading
Popular holiday destinations