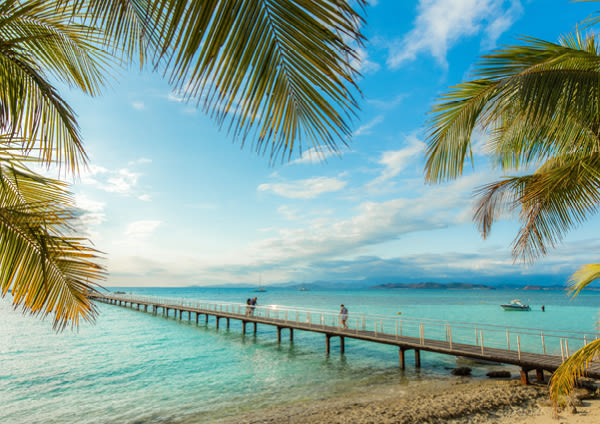 Hidden in the ocean's blue expanse is a small but mighty archipelago considered to be the France of the South Pacific. New Caledonia exudes tropical beauty and serene island vibes and acts as a melting point for French, Melanesian, Asian and South Pacific cultures. Whether exploring the capital of Noumea, island hopping between Lifou, Ouvea, Mare and Isle of Pines, spending your days swimming with marine life or strolling along the postcard-perfect white sand beaches, a New Caledonia holiday is sure to be one for the books. Ocean lovers will be drawn to Grande-Terre in the south, home to reef-protected waters and pristine beach resorts, while others may prefer to cruise along the Loyalty Islands, meeting locals and slipping into the ease of island time. Regardless of how you like to travel, you're guaranteed to find the perfect New Caledonia holiday package with our Travel Experts at Flight Centre.
A Travel Expert Service Fee will be applied to bookings made in store, over the phone or via email.
Deals with your name on them...
Explore holidays by interest
Explore New Caledonia
Where to stay in New Caledonia
Where to stay in New Caledonia
Each island of the French archipelago has its own unique charm and character. The sprawling main island of Grand Terre, with its tropical metropolis of Noumea, is a place where French architecture and dining clash spectacularly with native culture. Meanwhile, the intense wild allure of the eastern islands is inexplicable and unforgettable. Lush forests give way to pristine stretches of white sand and crystal-clear waters, creating the most surreal and uninhibited natural beauty. New Caledonia is unlike anything you have ever experienced, and you'll love your holiday here no matter where you stay.
Read travel guide

Noumea
The gorgeous city of Noumea is a gem of wealth and culture in the South Pacific. New Caledonia's capital city, located on Grand Terre Island, is the true artistic centre of the country. French fashion, dining and sophistication soaks into almost every hotel, restaurant, and bar. Inviting beaches are home to hives of activity and the perfect places to lounge after a day of indulgence.
Grand Terre
The main island of Grand Terre is the absolute encapsulation of everything you are bound to love about New Caledonia. To the east, explore the breathtaking central mountain range and lush rainforests. To the west, discover the sublime World Heritage-listed lagoon and spectacular reef. The ancient earth and waterfalls of the Great South are a dazzling palate of red and blue.
Isle of Pines
Located in New Caledonia's south, the Isle of Pines is as close as you can get to paradise on earth. Marvel at the pristine white sands and clear turquoise waters. Trek through the ruins of the first penal colony, which stands hauntingly in the overgrowth of the forests. Then relax in the serene natural seawater swimming pool. The isle is extravagant and effortlessly breathtaking.
Loyalty Islands
The Loyalty Islands are a place of culture and harmony. The native Kanak tribes that inhabit the island are warm and welcoming. Stay overnight in a traditional tribal village and live as the locals do, in a charming timber bungalow. Feast on local cuisine as you're regaled with tales of myth and legend, handed down for generations. The Loyalty Islands are truly a place of magic.
Frequently asked questions
What to take on holiday to New Caledonia?
When you're packing for a trip to New Caledonia, don't forget the essentials like your passport, phone, chargers, camera, sunblock, some CFP Francs and the correct power adaptor. From there, we recommend packing a towel, plenty of bathing suits, insect repellent, a hat, jandals, some walking shoes and a great book to enjoy as you relax by the water.
---
Where to go on holiday in New Caledonia?
New Caledonia's island archipelago is the perfect place to enjoy idyllic ocean life and a unique mix of European and Melanesian culture. During your stay, experience the French island city of Noumea, go snorkeling and surfing in Bourail and head inland to enjoy river hikes and adventures in Dumbea.
---
How do I go about cancelling my New Caledonia holiday package?
---
When is the best time to visit New Caledonia?
The best time to dive into postcard-perfect weather and enjoy calm ocean waters in New Caledonia is between September and November. Just keep in mind that everyone loves coming at this time, so those keen to avoid crowds may prefer to visit between February and July. 
---
What is there to do in New Caledonia?
Spend your days in New Caledonia hitting the reset button and submitting to life in the slow lane. Nature lovers can live their best life snorkelling, hiking, paddle boarding, diving and enjoying a bevvy of water and land-based activities. Beyond that, foodies will delight at the fusion of French and Melanesian cuisine, while history lovers can explore museums and architecture to learn more about Kanak culture. 
 
---
How to find the best holiday package to New Caledonia?
With years of experience under our belts, and a decent tan to show from our time spent relaxing on tropical beaches, our Flight Centre Travel Experts are the perfect people to ask about your holiday package to New Caledonia. From family holidays to adventure trips, cruise stopovers and romantic stays, we can easily curate a New Caledonian holiday package to meet your needs.  
---
...loading
Popular holiday destinations