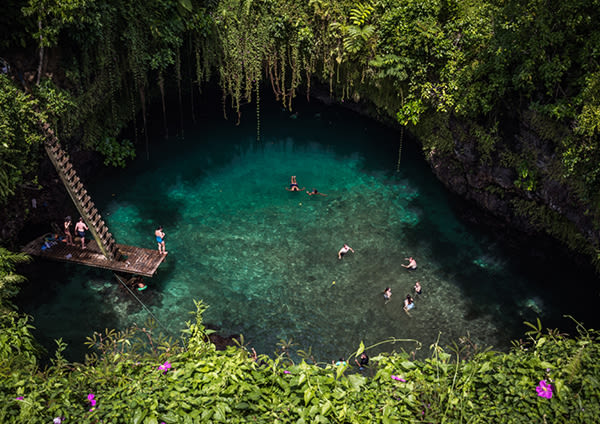 If you're on the hunt for your next coastal holiday oasis, may we throw Samoa's name in the ring? Made up of two islands - Apia and Savai'i, Samoa is a true treasure in the South Pacific. The island's unique landscape allows you to experience rugged mountain ranges born from volcanic activity, pristine and secluded white sandy beaches, lapping turquoise waves and vibrant coral reefs. Beyond the natural wonder, Samoa offers the chance to learn about the warm and friendly culture while spending your days succumbing to island time and perfecting the art of doing nothing. Whether you're seeking a simple ocean escape or the ultimate tropical pamper at a spa resort, Flight Centre's range of Samoa holiday packages will ensure your stay is nothing short of perfect.  
A Travel Expert Service Fee will be applied to bookings made in store, over the phone or via email.
Deals with your name on them...
Explore holidays by interest
Explore Samoa
Where to stay in Samoa
Where to stay in Samoa
Samoa is made up of nine islands but four are inhabited. The two largest islands are Savai'i and Upolu. If you're wondering where to stay in Samoa, there are three main tourist hubs in this Polynesian paradise: the capital city of Apia; the broader Upolu Island; and Savai'i Island. Where you decide to stay will depend largely on the priorities in your itinerary.
Read travel guide
Apia
Immerse yourself in Samoan culture, rub shoulders with the locals and get your entertainment fix in Apia, just 40 minutes away from the airport. Perched on a tropical hillside, Dave Parker Eco Lodge is handy to a variety of interesting attractions, including Apia Park and the Robert Louis Stevenson Museum. It's small, intimate and excellent for travellers on a budget. Moanalisa Hotel is another laid-back option with bright, sunny rooms and a complimentary continental breakfast included in your room rate.
Savai'I Island
Looking to get as close to the beach as possible? Va-i-moana Seaside Lodge is nestled in a small cove on the island of Savai'i with gorgeous views of Asau Bay. Babysitting services are available if you're holidaying with a young familylooking for some you time to enjoy a hard-earned break. Then there's the award-winning Savai'i Lagoon Resort offering a variety of rooms depending on your budget, from garden bungalows to beachfront bungalows. Be sure to settle into a sunset cocktail or three at its barefoot beach bar and restaurant right on the beach.
Upolu Island
If you're keen on a secluded holiday, but still want to be close to the action, Le Vasa Resort is one of the most sought-after resorts on the island, perfect for couples (including loved-up honeymooners) and families alike. It features a private beach and sea-facing bungalows. But when luxury is a non-negotiable, we highly recommend the four-star Saletoga Sands Resort & Spa. Imagine checking in to  your own island villa, soaking in an outdoor stone bathtub, champagne glass in hand, before enjoying  some heavenly pampering at the spa.
Frequently asked questions
What to take on holiday to Samoa?
When you're packing for a trip to Samoa, don't forget the essentials like your passport, phone, chargers, camera, sunblock, some Samoan tālā and the correct power adaptor. From there, we recommend packing a towel, plenty of bathing suits, insect repellent, a hat, reef shoes and jandals, some walking shoes and a strong affinity for naps. 
---
Where to go on holiday in Samoa?
With its prime position in the Pacific and relatively small size, it's hard to go wrong with your choice of holiday location in Samoa. You can easily travel and explore the island nation or park up at one of the beautiful beaches like Lalomanu, Sa'Moana and Salamumu for some laid-back island vibes. 
---
How do I go about cancelling my Samoa holiday package?
---
When is the best time to visit Samoa?
If you're keen to visit Samoa and avoid any rain, we recommend booking your trip between April and October when the weather is dryer and humidity isn't as high. You'll still have a great time between November and March - there may just be a few more showers about.
---
What is there to do in Samoa?
Beyond embracing tropical island life, a trip to Samoa offers the perfect opportunity to learn more about Polynesian culture and experiences. Immerse yourself in the dance, food, culture, music and customs while embarking on a range of activities out in nature.
---
How to find the best holiday package to Samoa?
With years of experience under our belts, and a decent tan to show from our time spent relaxing on Samoan beaches, our Flight Centre Travel Experts are the perfect people to ask about your holiday package to Samoa. From family holidays to adventure trips and romantic stays, we can easily curate a Samoan holiday package to your needs. 
---
...loading
Popular holiday destinations