Wed, 04/03/2015 - 5:12pm
Swimming pools are one of the most thought of aspects when going on holiday. If you're looking to stay in a place with an incredible swimming pool, then read on to find out our top picks.
The Tank - Las Vegas, USA
The Golden Nugget hotel in Viva Las Vegas has an amazing swimming pool called 'The Tank'. Inside the tank are some of the world's sleekest & deadliest creatures, 'sharks', that practically swim with you! For a thrilling experience, climb 30 feet to the top of the three-story water slide to let gravity take you through an exciting ride in the aquarium tank!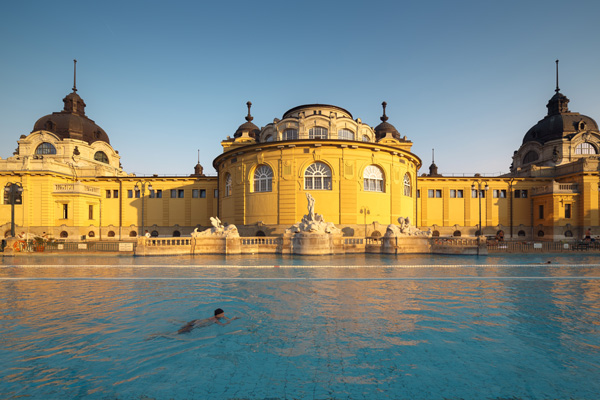 Gellert Baths – Budapest, Hungary
Awarded the title "Spa City" is Gellert Baths. Step back in time as you walk through the magnificent marble stone décor doors, admiring the high ceiling & impressive architecture. Gellert Baths is the perfect place for thermal spa treatments, massage therapies & warm spring water pools, offering a high quality relaxing experience.
Tropical Islands Resort – Krausnick, Germany
Where else in the world other than Krausnick, Germany will you experience snow & sun in the same place? It's hard to think that while you'll be basking in the hot sun, others will be fighting for warmth against the wintery cold. The Tropical Islands Resort in Krausnick is incredible for its originality. From white sandy beaches, warm waters & tropical rainforests to first-class entertainment, wonderful food , saunas & spas offers fun for everyone. Discover the delights of Tropical Islands all year round in Krausnick, Germany!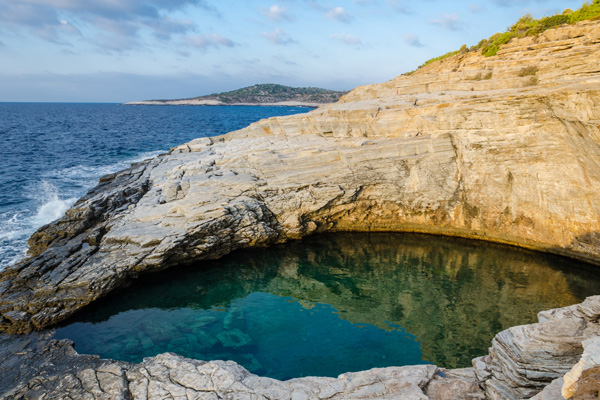 Giola Lagoon – Thassos, Greek Islands
For the most beautiful looking natural swimming pool in the world, go to the lagoon in the rock located on the Greek Island of Thassos. There's no need for a pool maintenance man to fill the pool as the water from the Aegean Sea rises & splashes against the shore, filling the lagoon. Surrounded by rocky terrain, this beautiful Greek lagoon is a definite must see.
Sanctuary Swala's Pool - Tanzania, Africa
It's not every day that you'll see a herd of elephants walk past you as you laze around in a pool. Try Sanctuary Swala's pool in Tanzania, Africa! For contemporary African design, stay in the outback with a swimming pool overlooking the nearby waterhole, visited by elephants as well as the big cats that are often seen. Sanctuary Swala is the perfect place to escape from everyday city life to do a spot of game viewing.
Hanging Gardens Pools – Ubud, Bali
For jaw-dropping scenery, visit the Hanging Gardens' world-famous swimming pools in Ubud, Bali. With its surrounding jungle, dense forest & beautiful sunsets, Hanging Garden's swimming pools are of the most photogenic & photographed pools around the world.  And with its free form stunning split-level design, this swimming pool gives swimmers the immersive feeling of swimming high above the treetops in the clouds.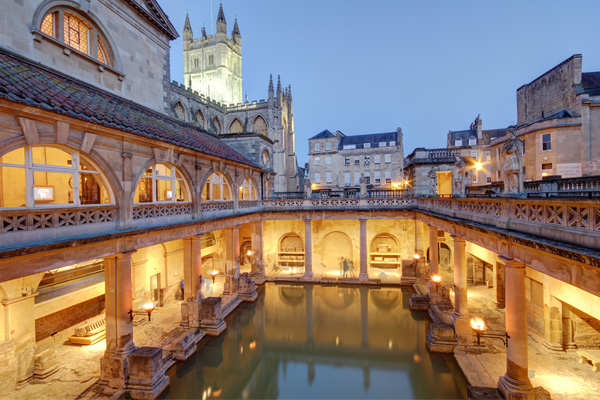 The San Alfonso del Mar Seawater Pool - Algarrobo, Chile
For an artificial mini ocean, you won't want to miss sight of San Alfonso del Mar Seawater pool in Algarrobo, Chile! It is the LARGEST swimming pool in the world with record-breaking dimensions. All the water is pumped from the Pacific Ocean, filtered, & treated into the pool. To swim a length in this pool would take you a lot longer than usual in a normal sized pool. You won't have to worry about deadly sea creatures or getting lost at sea, but only enjoying the never-ending crystal clear blue dazzling waters. And if you're not a fan of swimming, why not paddle, kayak or sail your way through the pool. Whatever floats your boat, the pool is your ocean!
Blue Lagoon Geothermal Resort Pool - Grindavík, Iceland
Recognized as one of the wonders of the world is the Blue Lagoon Geothermal Resort pool in Grindavík, Iceland. As well as an ideal water temperature, Blue Lagoon is a lagoon with a huge difference. Why? It is a geothermal spa filled by water from a nearby geothermal plant! It sits on a lava field, surrounded by lava rock walls. With relaxing music & a rejuvenating atmosphere, this lagoon is a must visit.
For more information on these destinations, contact a Flight Centre travel expert – 130 stores nationwide. Phone 0800 24 35 44.
Other Travel Articles You Might Like...