11 Best Beach Holiday Destinations for a Relaxing Getaway [2022]
---
---
There aren't many of us that would pass up a white sandy beach and crystal clear, warm waters year-round, so we thought we would give you a list of the best beach holiday destinations in the world for Kiwis to travel to! Whatever your budget or preferences, there's a sandy paradise to suit you. 
1. Samoa Beaches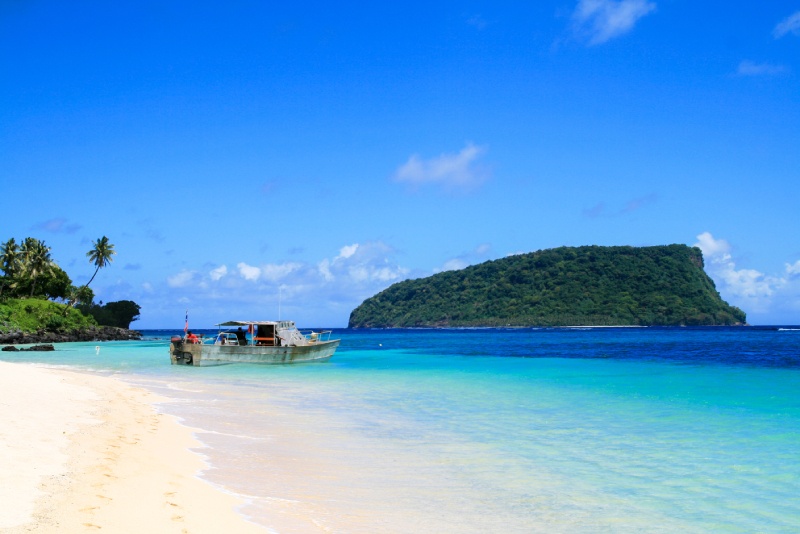 Lalomanu Beach in Samoa. Image credit: Getty Images
Only a few hours from New Zealand, this close-to-home island in the South Pacific is always a winner and also a good choice for a cheap beach holiday destination. One of our favourite beaches in Samoa is Lalomanu Beach which is on the island of Uplou, with the whitest sand and the clearest waters you've ever seen! Or if you go to the island of Savai'i, try Manase Beach which is also a stunner! 
A prime surfing destination, Samoa offers quality waves and stunning reef breaks (probably not for beginners though, so best if you're experienced), thanks to the tropical trade winds that lap the coastline. One of the best and most well-known surf breaks in Samoa is Boulders in Uplou, which can get pretty huge! Coconuts is another good break, reachable by boat. Otherwise in Savai'i, try Agona Beach on the East coast, which you can paddle out to from the beach.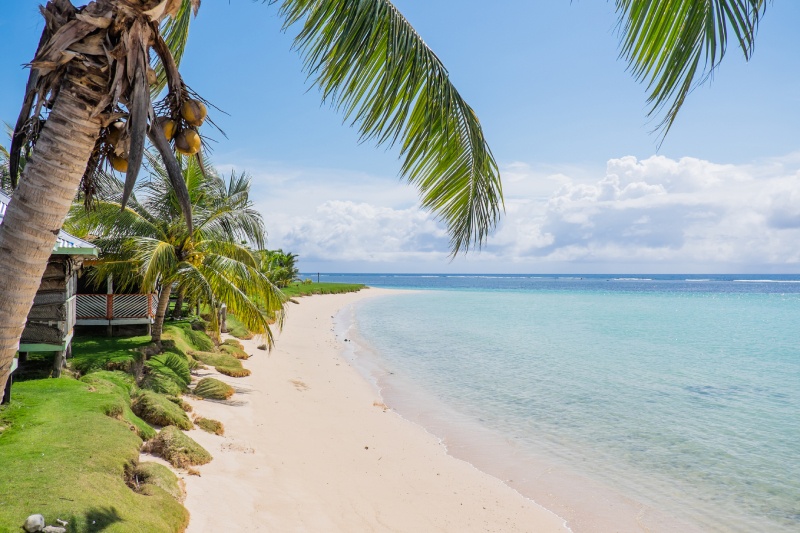 Manase Beach, Savai'i, Samoa. Image credit: Getty Images
Other than surfing and relaxing on the beach, you'll have no trouble finding things to do in Samoa. Consider joining one of the guided Samoa tours, where locals will reveal some of the best kept secrets on the islands.
Take an excursion to an Instagram-worthy natural wonder like the To Sua Ocean Trench, a 30m deep swimming hole surrounded by bush and accessible only by ladder (or, at high tide only, by a brave leap from the cliff top but not for the faint hearted!). Hire a car from Apia and take a laidback road trip around Upolu, the main island, or hop on a ferry to Savai'i, the bigger, less-populated island that many call the 'real Samoa'. 
Venture into the interior of Savai'i to see the legacy of long-term volcanic activity in the form of cones and lava fields, as well as cultivated farmlands and lush rainforests – the summit of the Matavanu Crater in Safotu village reveals unparalleled views of Savai'i below.
Make sure you also check out our blog on the top places to stay in Samoa, when planning your trip. 
 
2. Fiji Beaches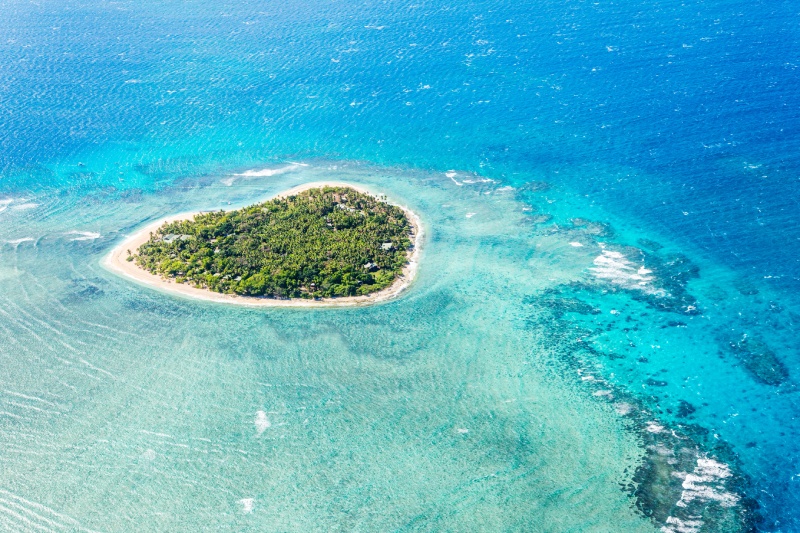 Aerial view of Tavarua, heart shaped island, Mamanucas, Fiji. Image credit: Getty Images
A great sweep of reefs, sand and forest in the South Pacific, Fiji is a cluster of more than 300 islands and definitely one of the best relaxing beach holiday destinations in the world. Only about one third of these volcanic remnants are inhabited though, leaving miles of unexplored paradise. Fiji serves up a variety of things to do, most of which make this a water-lovers' haven - plus it's only a 3-hour flight from Auckland! 
Surfers can head to the Mamanuca Islands for waves, and you could also jet boat up the Sigatoka River on Viti Levu, tour a Fijian village or try the famous local drink, kava. 

The dreamy Yasawa Islands are a good choice for a quieter holiday, especially if you've ever wanted to see hundreds of giant manta rays (the Yasawas are one of the best places on earth to experience manta ray season). If time in the sun is your priority, however, stay around Port Denarau – move fast and you'll be on your sunlounger within an hour of leaving the airport!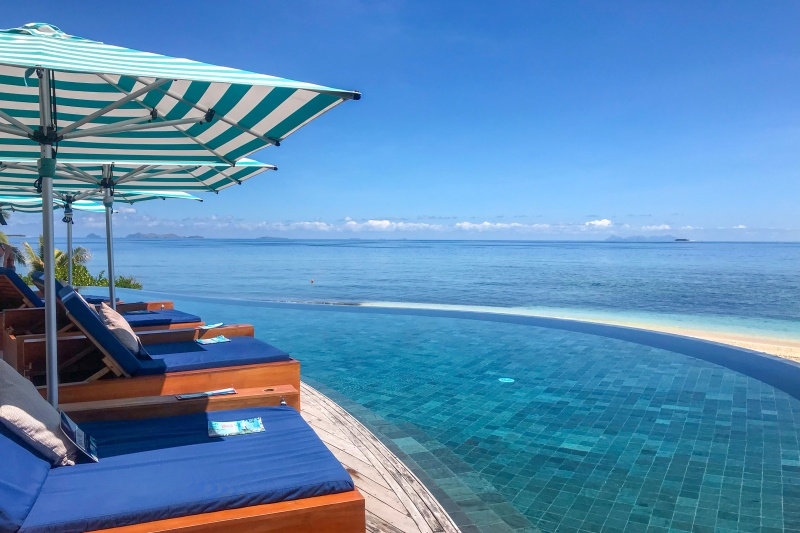 Malamala Beach Club, Fiji. Image credit: Lena Taylor
Plus, if you're looking for some serious relaxation you simply must go to Malamala Beach Club, the world's first island beach club! It's an easy day trip by boat from Port Denarau and it's just stunning! Think infinity pool, amazing food, cool cocktails, sun loungers, and crystal-clear waters surrounding it all! 
For a tropical beach holiday destination, Fiji has it all - beautiful scenery, friendly locals and tropical waters. Relax. Enjoy it.
 
3. Bali Beaches
Sunset at Seminyak Beach Bali, Indonesia. Image credit: Getty Images
If you're looking for a beach holiday that is a little further from home, why not try one of Kiwi travellers' favourite Asian destinations – Bali. Fringed by a combination of white and black sand beaches and boasting a lush green interior, Bali is blessed with stunning natural beauty.
Adventure opportunities include bike rides through local villages and rice fields, snorkelling, hiking and more. Shopping for authentic local craft is popular in Ubud, the town renowned as the place to purchase traditional Balinese crafts as mementos or gifts. Or simply relax on some of the many idyllic beaches Bali offers.

If you're looking for a beach to swim in and you're not afraid of crowds, try Kuta or Seminyak. Otherwise for something a bit more secluded, try Thomas Beach in Uluwatu - it is only accessible down a steep path down a cliff though so don't attempt this one unless you know you can (not so good for kids!).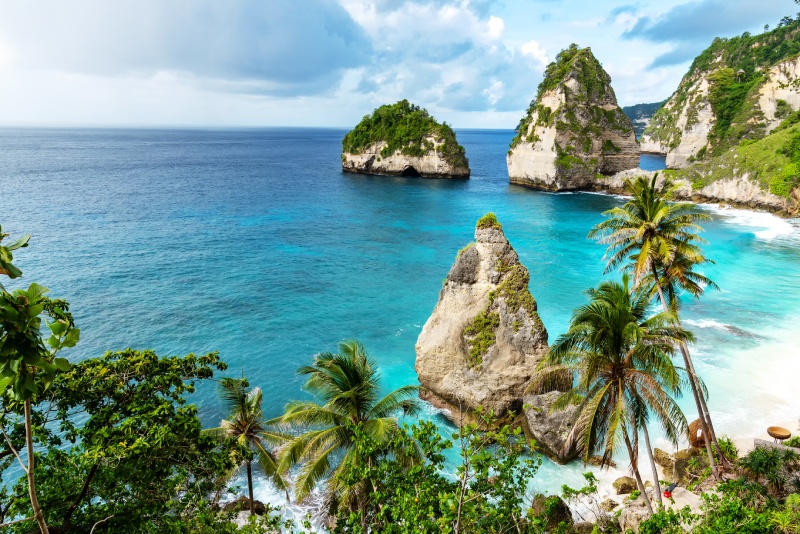 Otherwise, another one of the most beautiful beaches in Bali has to be Diamond Beach in Nusa Penida, with stunning white sand and some cool rock formations (be aware though, this is a favourite spot for Instagrammers so you might have to dodge a few selfies along the way!). 
And of course, Bali is a paradise for surfers. If you're advanced, try Uluwatu or Bingin (definitely do not attempt though if you are not advanced!), for intermediate spots, try Balangan (the beach there is also amazing, with white sand and it's very remote so highly recommended) or if you're a beginner you can try direct on Kuta Beach or Dreamland (which is also a very cool beach to hang out at too).
4. Cook Islands Beaches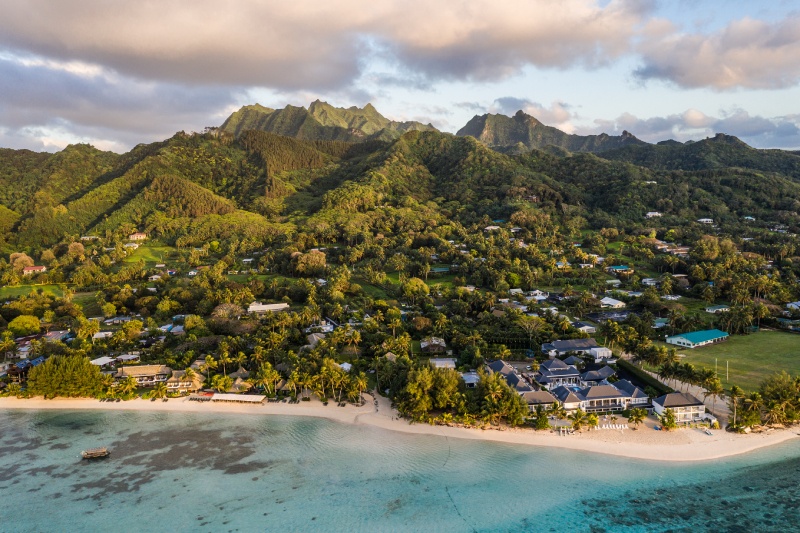 Sunrise over Muri Beach with mountains in the background, Rarotonga. Image credit: Getty Images.
The Cook Islands is an island paradise in the South Pacific, encompassing 15 unique and equally beautiful islands. With as much space as Western Europe, but only 15,000 residents, the Cook Islands gives you that rare and wonderful feeling of being distanced from the world.
Whether you're someone who likes to keep an itinerary or a free spirit who wants to throw away all plans, you won't be disappointed by this diverse country. For a great introduction to the country, start off with a tour through Rarotonga's undeveloped mountains. Then head out onto the water with a lagoon cruise, snorkelling or scuba diving tour.

Take advantage of your newly acquired knowledge of the area by hiring a scooter to explore the back roads of the Cook Islands, here you can meet locals and taste traditional South Pacific cuisine such as Mahi Mahi and Wahoo sourced straight off fishing boats.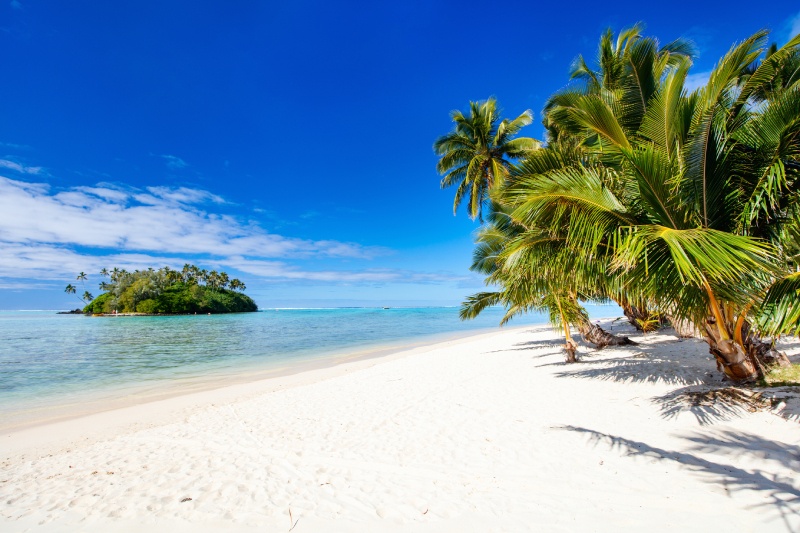 Muri Beach, Rarotonga, Cook Islands. Image credit: Getty Images
And when it comes to beaches, you won't be short on choices - here is a list of the best beaches in the Cook Islands:
- Muri Beach, Rarotonga: Sitting on the edge of a lagoon on Rarotonga's east coast, Muri is one of the island's most popular destinations for great swimming, snorkelling and water sports. Young ones will love the safe and tranquil shallows, while bigger folk can easily swim across the bay to tiny Koromiri motu – or even wade there at low tide (reef shoes recommended).
- Aroa Beach, Rarotonga: A relatively undiscovered beach on Raro's southwest coast, Aroa has it all. With its sugar-white sand and azure water, Aroa is a fantastic place for swimming and sunbathing. As for snorkelling, this is widely regarded as the best spot on the island, with masses of marine life – brightly coloured butterflyfish, unicorn fish and triggerfish, plus octopus and Moray eels – just a short paddle from shore.
 
- Ootu Beach, Aitutaki: The stunning Ootu Beach lies at the southern end of the Ootu Peninsula, a thin stretch of land that borders the northeastern edge of Aitutaki's famous triangular lagoon. Most locals agree that it offers Aitutaki's best swimming, and thanks to its out-of-the-way location, it's often near-empty.
- Motorakau: This tiny uninhabited island in the Aitutaki atoll has a starry history, having served as the location for both Survivor: Cook Islands and the British reality show Shipwrecked. It's not hard to see what drew the TV cameras: Motorakau is the picture-postcard version of a tropical island, all swaying palm trees and shimmering blue water.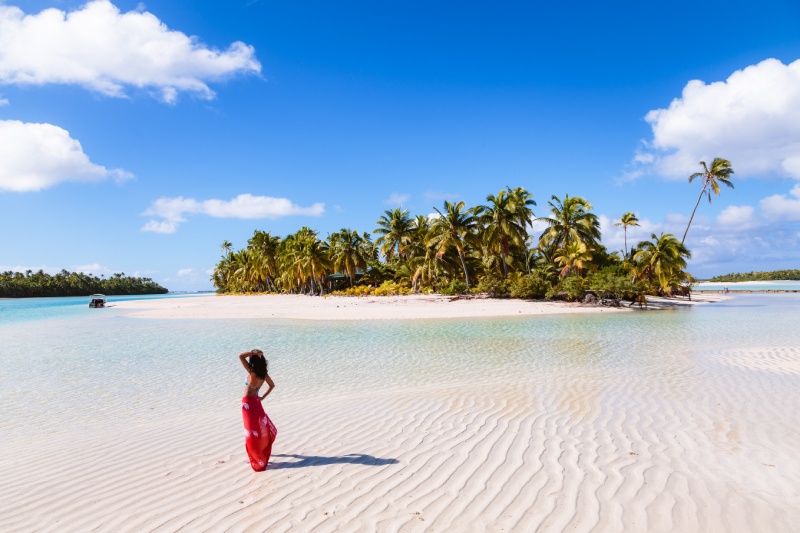 One Foot Island, Aitutaki, Cook Islands. Image credit: Getty Images
- One Foot Island: Another of the Cook Islands' utterly perfect islets, Tapuaetai - known commonly as One Foot Island - is a must-do day trip for anyone staying on Aitutaki. It's home to the famous One Foot Island 'post office' (more of a post box, really) where you can buy and send postcards and get your passport stamped as a memento of your visit.
- Taungaroro, Atiu: For a magical, utterly secluded beach holiday, Atiu can't be beat. The Cooks' third largest island attracts few visitors, and with its 500-strong population concentrated inland, Atiu's 28 beaches are nearly always empty. The top pick is Taungaroro, a dramatically beautiful place with powdery white sand, great swimming at high tide, and shallow seawater pools, or grottos, in the coral cliffs overlooking the beach.

5. Gold Coast Beaches, Queensland, Australia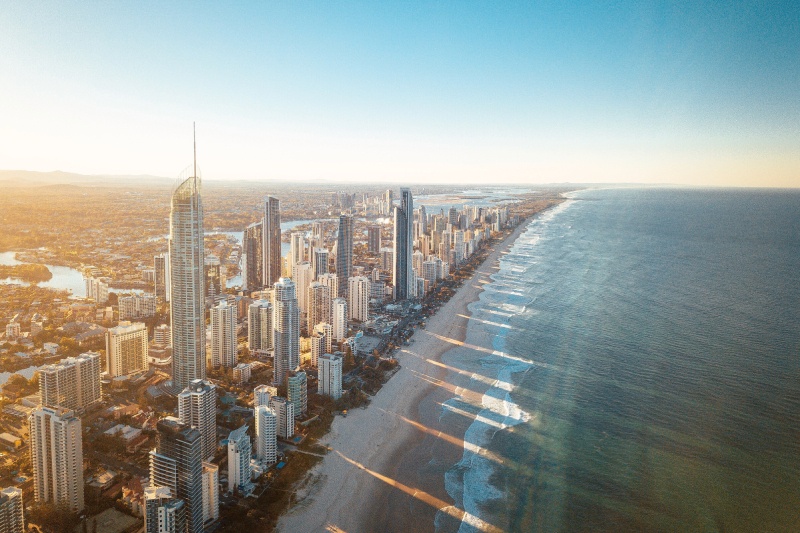 Surfers Paradise, Gold Coast, Queensland, Australia. Image credit: Getty Images.
Our list wouldn't be complete without mentioning one the most popular beach holiday destinations in Australia, the Gold Coast! From the theme parks to shopping, surfing, eating out or exploring the hinterland, there is a lot to see and do in the Gold Coast.
And when it comes to beaches, the Gold Coast is brimming with beautiful beaches to explore.

To help you plan your trip, here is a list of our top 10 best beaches in the Gold Coast:

- Burleigh Heads Beach: This beach has it all – the surf, the sand, a foreshore home to towering pines trees and parkland perfect for picnics and barbecues under the summer sun. Nearby James Street also offers a wealth of dining and shopping options, while Burleigh Heads National Park wraps the headland and offers a number of walking trails dotted with wildlife. 
- Currumbin Beach: Another favourite among locals, Currumbin offers great fishing, surfing and dining experiences. It's a top spot for all kinds of water sports, particularly stand-up paddle boarding and kayaking.  Make sure you also visit Surf World Gold Coast (Queensland's only surfing museum) displaying an extensive collection of surf boards.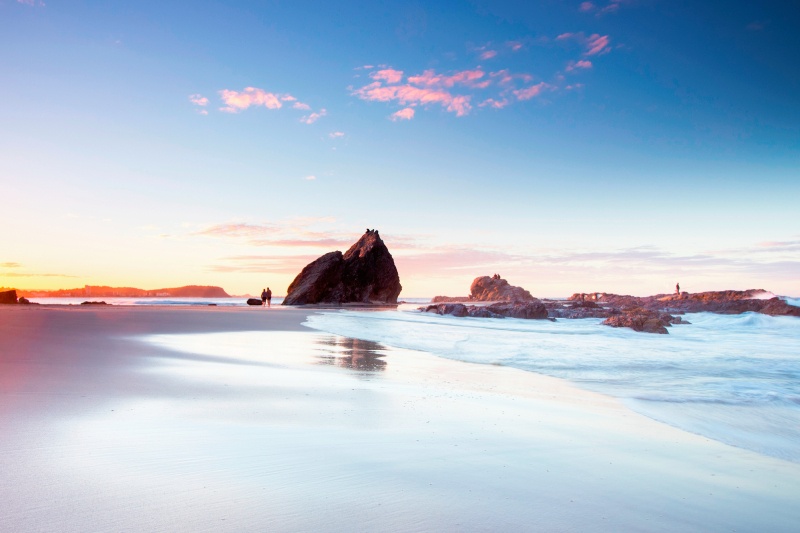 Currumbin Beach, Gold Coast, Australia. Image credit: Getty Images.
- Surfers Paradise: Revellers have long descended on Surfers Paradise for its nightlife, but during the day, the beach and foreshore is definitely a hotspot. Take a stroll along the esplanade overlooking the surf, and if it's a Wednesday, Friday or Saturday evening, hang around for the beachfront markets, operating from 4pm to 9pm.

- Tallebudgera Creek: Framed by Burleigh Heads National Park on one side and Palm Beach on the other, Tallebudgera Creek is a favoured spot for camping, swimming, picnicking, kayaking and fishing thanks to the calm creek. 
- Broadbeach: Besides hours spent splashing in the surf, there's much more to discover at Broadbeach. Bordering the golden shoreline are miles of parkland home to a children's play area, weekend markets and yoga classes. And just across the road is a variety of trendy restaurants, cafés, bars and boutique fashion finds.
- Main Beach: Head to Main Beach at the northern end of the Gold Coast and enjoy a feast of fish and chips on the foreshore. Back in the day, Main Beach was the main surf beach to the nearby town of Southport. Today, it's still a favourite among the locals who sunbathe on its white sands and call into the casual beach café that used to serve as a bathing pavilion.
- Snapper Rocks: This is arguably the Gold Coast's most popular surf beach. If surfing is your thing, head to this small rocky outcrop on the northern side of Point Danger at the southern end of Rainbow Bay and relish in its clean waves and unbeatable barrels.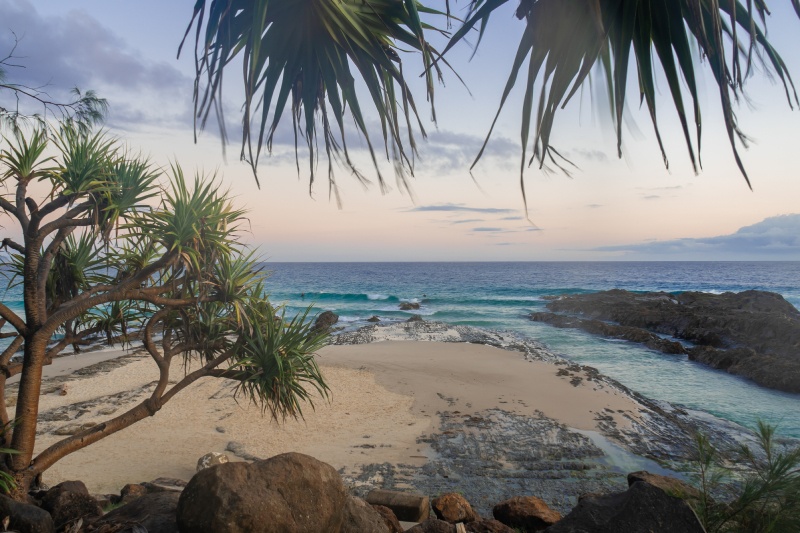 Snapper Rocks, Queensland, Australia. Image credit: Getty Images.
- Coolangatta Beach: Coolangatta is a slow-paced pocket at the end of the Gold Coast offering spectacular surf, beautiful headland around the neighbouring Greenmount Beach and the world-class surf break of Duranbah (or D'Bah as the locals call it). After a morning swim, walk one of the trails around Greenmount Hill and head up to Point Danger lookout for a spot of whale watching.

- South Stradbroke Island: Travel by private boat, charter boat, ferry or water taxi to the picturesque shores of South Stradbroke Island, a 22-kilometre-long, relatively narrow island of natural, unspoilt beauty. On one side of the island are calm, inner waterways and on the other, a pristine surf beach. In the centre, the island boasts virtually untouched, native bushland. 
- Nobby Beach: Grab a coffee from one of the trendy cafés in Nobby Beach and walk the few minutes to the parkland along the foreshore for a leisurely stroll while taking in the breathtaking views. There are picnic areas, free barbecues and playgrounds dotted along the park, and if you keep walking south along Marine Parade, you'll come to the iconic Miami Headland stairs. At the top, enjoy some of the most beautiful views over the coast.
 

6. Sunshine Coast Beaches, Queensland, Australia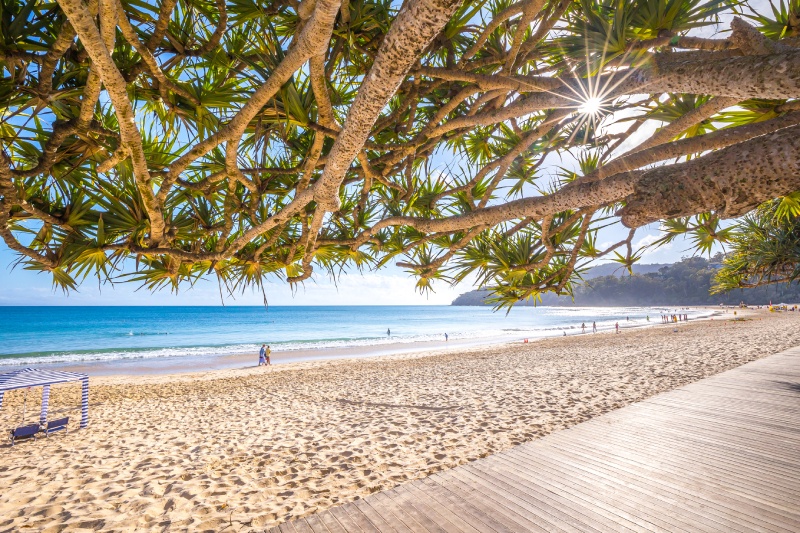 Noosa Main Beach, Sunshine Coast, Queensland, Australia. Image credit: Getty Images.
Another great relaxing beach holiday destination is the Sunshine Coast in Queensland. Again, there's lots to do in the Sunshine Coast, the hinterland is particularly amazing with some great walks and the opportunity to chase waterfalls! And otherwise, there are of course some great beaches.
At the very centre of the Sunshine Coast, Maroochydore is blessed with 25 kilometres of golden sandy beaches and an inviting ocean with famous surfing spots such as Mooloolaba, Alexandra Headland and Coolum.

For a truly Aussie experience, head to the Mooloolaba Surf Club, which couldn't get closer to the ocean! The club first opened its doors in the 1920s and is now a dining hot spot where you can grab a delicious cappuccino or a full meal on the deck.
Or head to Noosa, which is only two hours north of Brisbane where you'll find the classic stretches of white sand and great surf, but also a range of cycle ways that take advantage of the region's beach, river, creeks, forests and mountains. Choose from a short 5km ride starting from the Noosa Yacht Club and heading along the waterfront multi-million-dollar properties, a river ride along the bank of the Noosa River to the cafés of Hastings Street, or a more testing mountain bike track to the Mount Tinbeerwah lookout.
7. Tahiti Beaches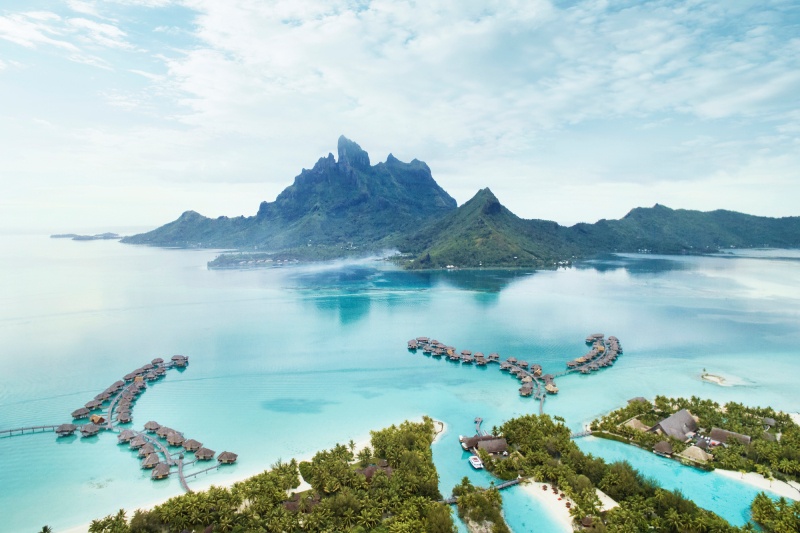 Bora Bora French Polynesia. Image credit: Getty Images
For those with a taste for luxury, Tahiti offers a lavish French Polynesian escape unlike any other. Get ready to be dazzled with crystalline clear waters, perfect sandy beaches and a friendly local vibe.
Discover the most luxurious Tahiti resorts on Bora Bora, including stunning over-water bungalows. Consider booking an all-inclusive Tahiti holiday package, so you can enjoy the exquisite natural surrounds, facilities, fine dining and leave all your worries behind. Outside of the capital, Papeete, you will find a multitude of land activities like hiking, horse riding, golf and 4-wheel drive safaris, helicopter tours as well as water-based activities such as snorkelling, scuba diving, kayaking and sailing. Boredom is simply not an option here!

 
8. New Caledonia Beaches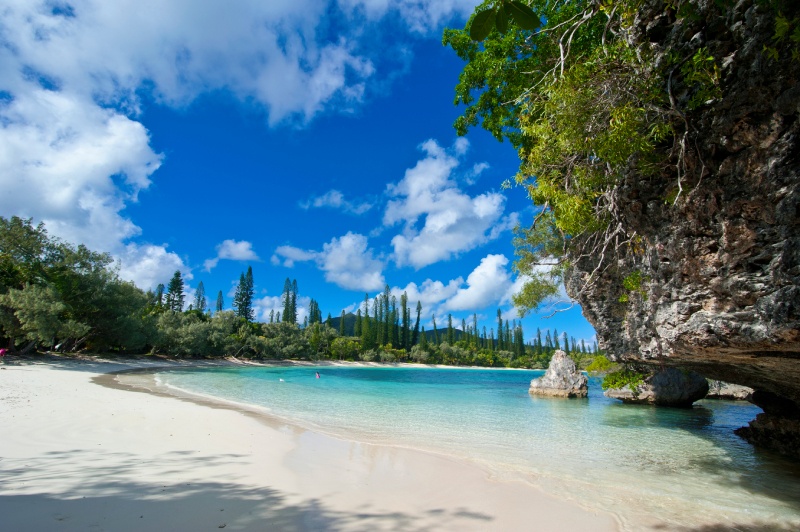 White sand beach on Isle of Pines, New Caledonia. Image credit: Getty Images.
For adventurous travellers looking for a different kind of Pacific Island holiday, New Caledonia can't be beaten. While an increasing number of hotels and resorts are popping up here, tourism infrastructure still isn't as developed as in places like Fiji and Rarotonga – which means fewer visitors and more opportunity to experience the remarkable culture and awesome landscapes that make New Caledonia so unique.
With the world's largest continuous barrier reef on its doorstep, New Caledonia is an obvious place to enjoy snorkelling or diving. Only two minutes by water taxi from the capital, Noumea, Duck Island is a popular choice for snorkellers; the tiny Signal and Larégnère islets are further away, but their surrounding sealife is possibly even more magical.

After Noumea, explore the main island, Grand Terre – a hiker's and adventure sports enthusiast's dream – or set out for the Isle of Pines and Loyalty Islands for breathtaking white sand beaches, excellent snorkelling and interiors teeming with wildlife. 

Make sure you also check out our blog on all the must-do experiences in Noumea. 
 

9. Niue Beaches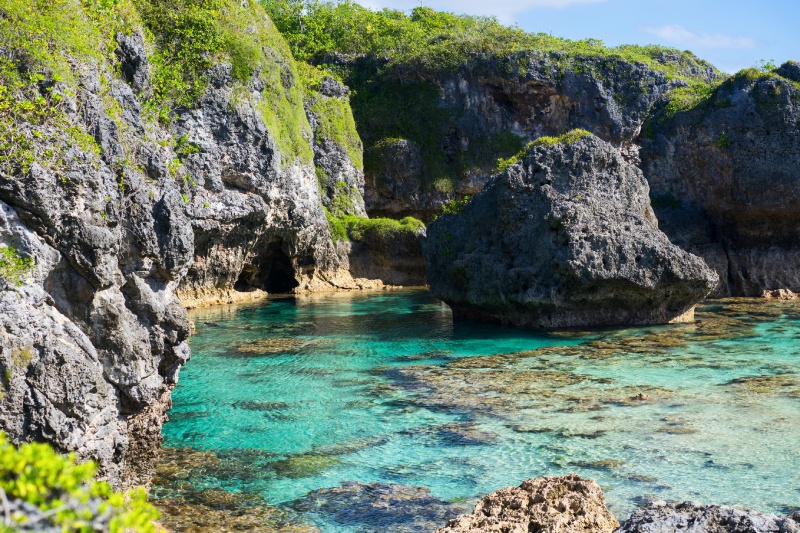 The crystal-clear water of Limu Pools, a popular place for swimming and snorkelling, Niue. Image credit: Getty Images.
It's one of the world's smallest nations, perched on one of the largest raised coral atolls on Earth. Home to just 1600 people, Niue is like no other Pacific destination, with rugged terrain that rewards any traveller with a sense of adventure.
Don't expect sandy beaches galore – there's only a handful. Instead head out, snorkel mask in hand, to explore sheltered pools (like Limu Pools in the photo above), spectacular limestone formations and dramatic sea caves.
Niue is a favoured spot for humpback whales to mate and calve during the winter months, often in waters that are surprisingly accessible from the shore. All interactions are closely monitored to ensure safe distances are kept and the whales are not stressed by their human guests.
Niue's climate is temperate and dry through the winter; daytime temperatures in the winter are around 27 degrees.
Plus read our blog on what you need to know before you visit Niue. 

 
10. Tonga Beaches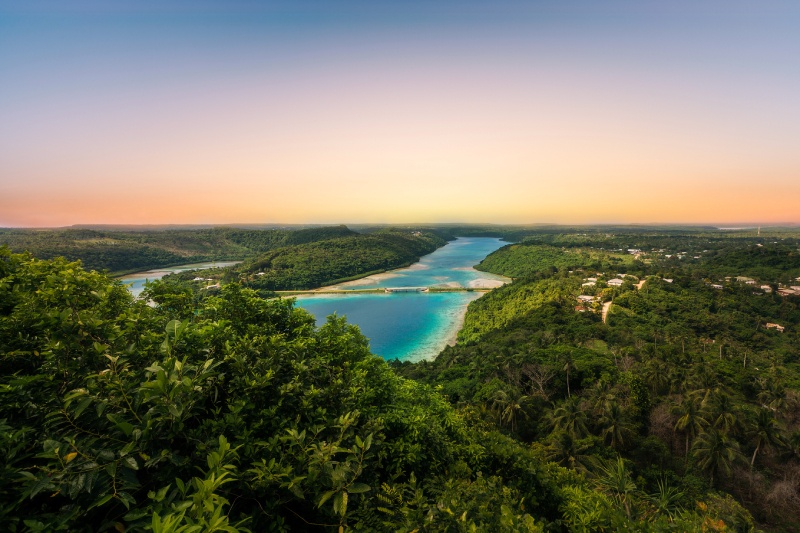 Vava'u, Tonga, twilight From Mount Talau viewpoint. Image credit: Getty Images.
Looking for an unspoilt and authentic Pacific Island experience but with all mod cons? Under-appreciated Tonga should be your first choice. The main island, Tongatapu, has many beautiful beaches and some good resorts, but most visitors spend at least some of their time on smaller island groups like Vava'u, where the snorkelling, sailing and swimming are sublime. Also check out Mount Talau National Park where you can hike and get some great views across Vava'u. 
In the winter months, the calm waters of Vava'u prove an irresistible draw for humpback whales ready to mate and calve. Pick a well-run and ethical excursion (your Flight Centre travel expert can help here) and you'll be able to see these magnificent creatures in their natural habitat.

If you like it hot, winter is a great time to visit Tonga as its temperatures stay remarkably stable throughout the year. Even in the 'coldest' months, the daily average will hover somewhere between 28 and 32 degrees.

 
11. Hawaii Beaches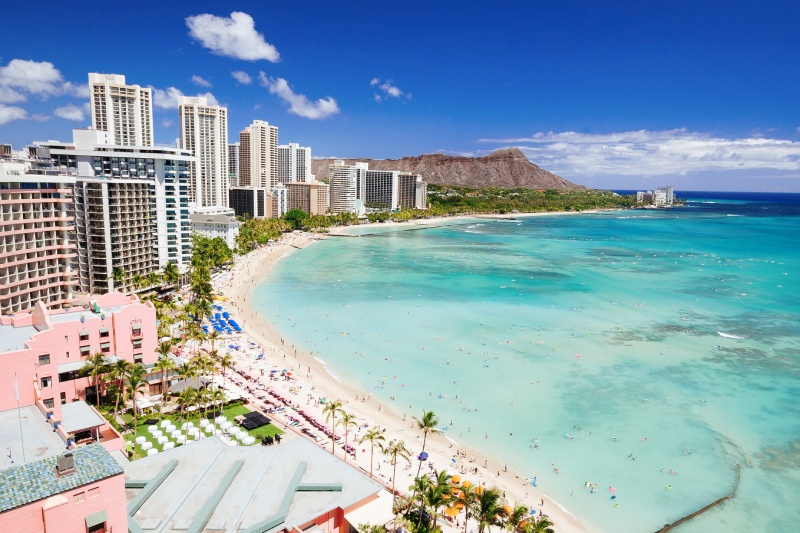 Waikiki Beach and Diamond Head Crater in Honolulu, Hawaii, USA. Image credit: Getty Images.
As a holiday destination, Honolulu in Hawaii has so much going for it: great shopping (with one of the lowest sales-tax rates in the United States), excellent restaurants and bars, and, at the centre of it all, the gigantic crescent of white sand, warm water and beautiful bodies known as Waikiki.
But what Honolulu doesn't specialise in is peace and quiet, so we would also recommend a day trip to Kailua. A quick 30-minute drive from the city, Kailua is the laid-back younger sibling to Honolulu's brash and confident adult. Come to Kailua for a change of pace – and to experience two of Hawaii's best beaches, right on your doorstep.
Kailua is almost laughably perfect with its great swoosh of crystalline sand lined with swaying palm trees. Beyond the sand, the cerulean water is bathtub-warm and barely rippling. No commercial activity is allowed in the park, which means no noisy watersports, no pestering soft-drink vendors and no tour buses discharging tourists straight onto the beach. The only sounds are of lapping waves, children's happy shrieks and the burble of a distant radio.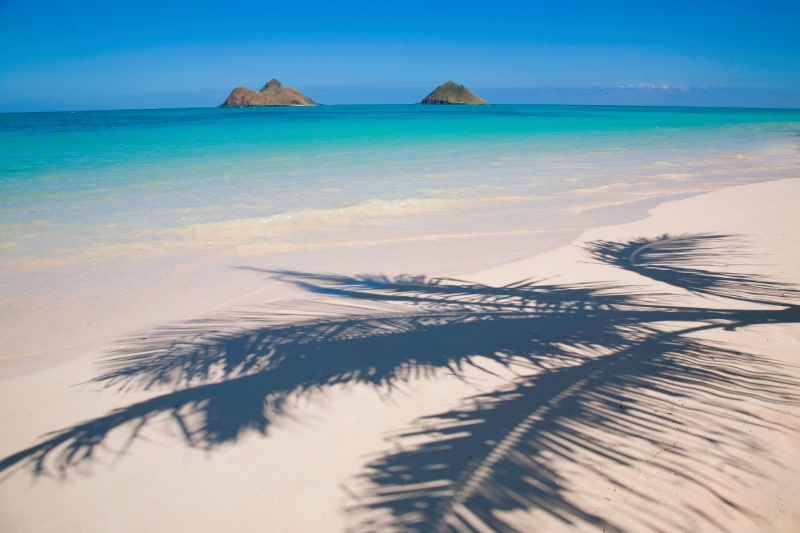 Lanikai Beach, Hawaii, USA. Image credit: Getty Images.
We also recommend checking out Lanikai ("heavenly sea"), Kailua's yet more serene southern neighbour. It's a public beach but it's not part of a state park, so you won't find restrooms or lifeguards here. Be aware, too, that there's no public parking close by. But if you're prepared to walk, it's so worth it.
Like Kailua, Lanikai is a former Best Beach in America. It's not hard to see why. The sand seems even whiter and more powdery than at Kailua, the water even bluer. And, thanks to that lack of easy access, there are even fewer tourists to share the beach with.
Just over a kilometre from the shore are the Mokuluas, a pair of tiny uninhabited islands commonly known as The Mokes. Both are an easy paddle by kayak, but it's only legal to stop at the larger island, Mokulua Nui.
bali cook islands fiji rarotonga samoa tahiti gold coast tonga new caledonia