Top 10 Fun & Unusual Things to Do in Samoa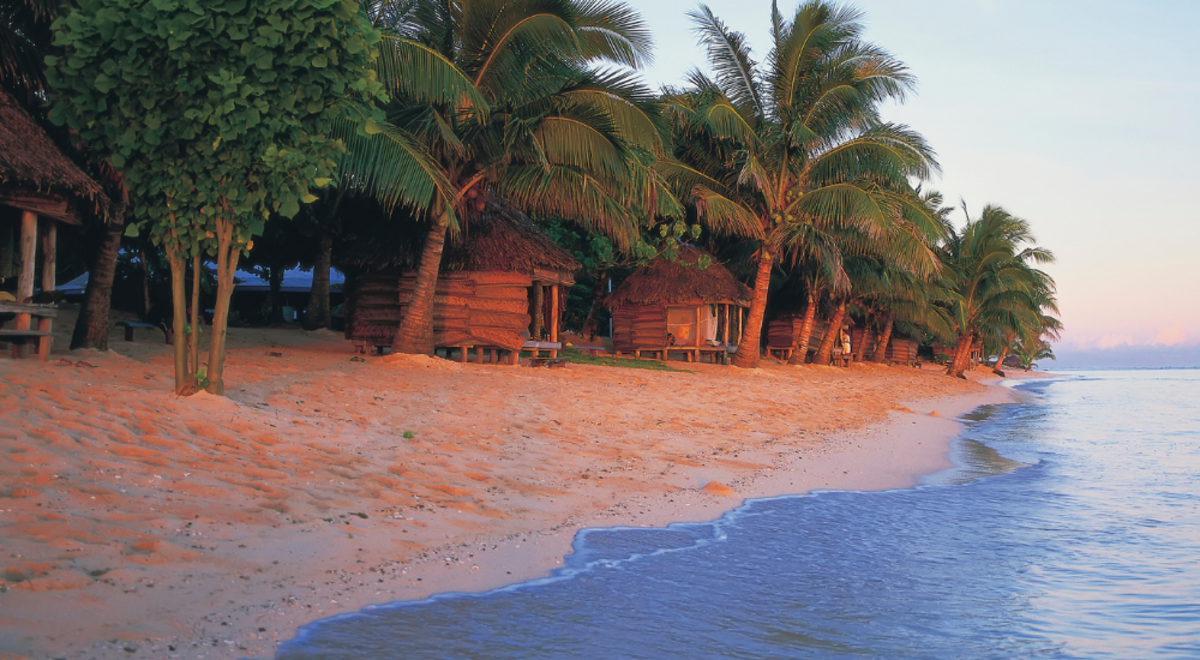 ---
---
It's no secret that Samoa is renowned for its pristine beaches and great resorts but what about Samoa activities to do? Don't worry, we have you covered - here is our top 10 things to do in Samoa - from off the beaten track, to the unusual and of course the popular must-dos! So what is there to do in Samoa you say? Turns out, quite a lot!
1. The Unusual - Spend a day in Namu'a Island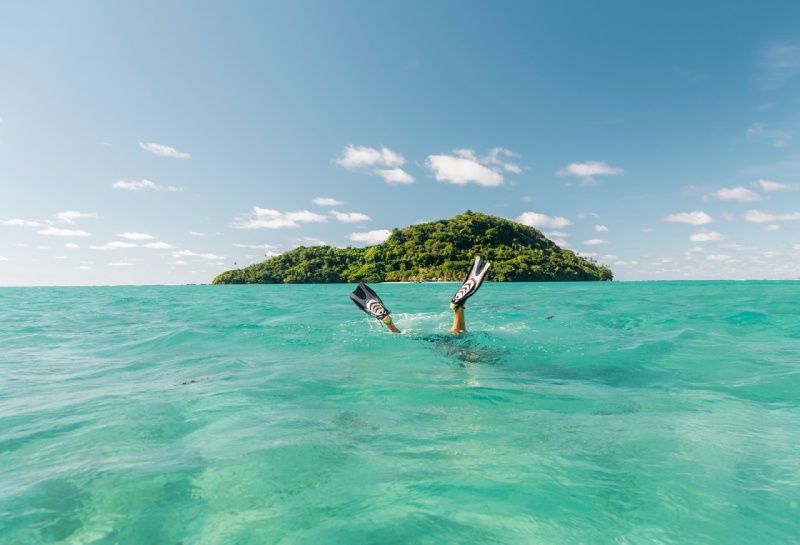 Snorkelling in Na'mua Island Lagoon. Image credit: Samoa Tourism Authority.
How to spend a day in Samoa? How about sailing to an uninhabited island? Sign us up! Namu'a Island is a postcard-perfect spot perfect for a day trip! Or to truly experience the magic and tranquillity of this little island, spend a night or two in a traditional fale right on the beach (swoon!). With white-sand beaches, turquoise blue waters, picturesque walks and a healthy population of green sea turtles you will be in awe.
 
2. The Fun - Visit the Papase'ea Sliding Rocks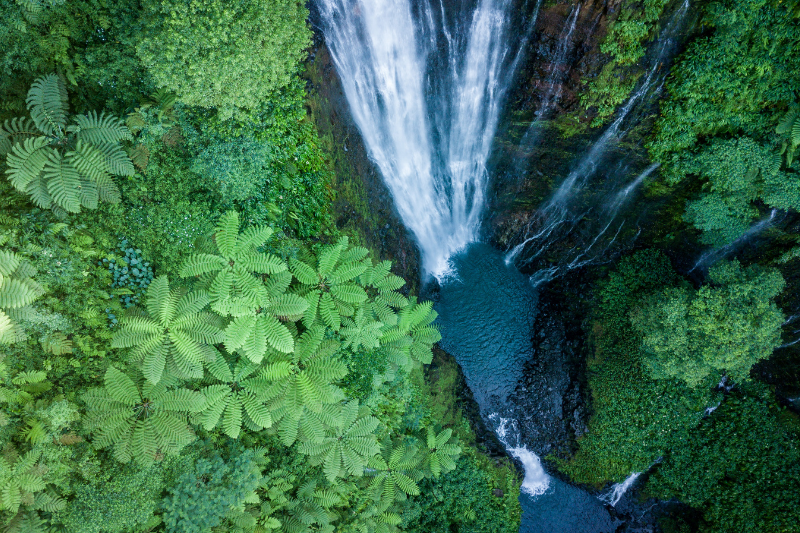 Papapapaitai Falls. Image credit: Getty Images.
If waterfalls and natural slides tickle your fancy then Samoa is the place for you. A highly frequented spot is Papase'ea Sliding Rocks located at Se'ese'e. These naturally formed rockslides have been smoothed over from thousands of years of running water and provide a thrill for those willing to take on the numerous slides. It is one of our favourite things to do in Samoa for families too because it's great on a hot day, super fun for the kids and it's a very affordable activity (just note that it is common in Samoa for natural attractions to be run by local families or villages and that there is often a small entrance fee and set opening hours). Other waterfalls to check out include Afu Aau Waterfall, perfect for a refreshing dip or Papapapaitai Falls, located 30 minutes from Apia this waterfall plunges 500 feet into a volcanic crater and is surrounded by lush rainforest – need we say more?
 
3. The Popular - Enjoy a Fiafia evening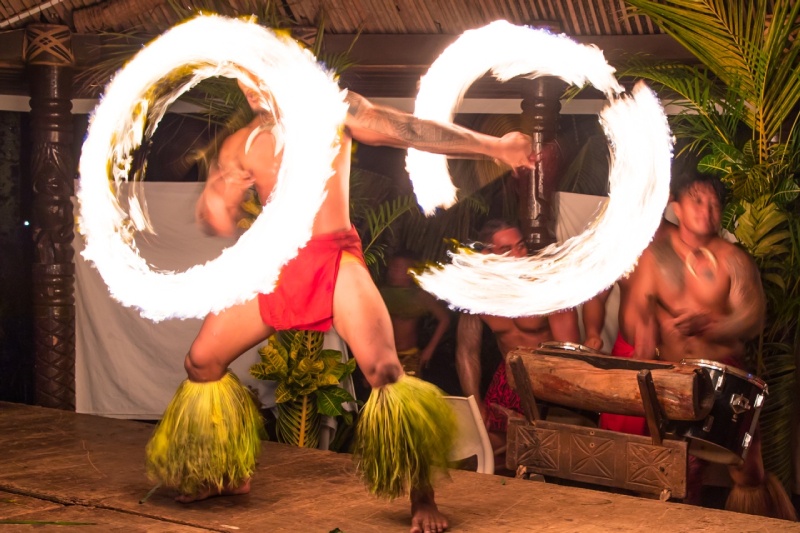 Fire Dancing Fiafia Show Samoa. Image credit: Samoa Tourism Authority
One of the best things to do in Samoa is to partake in a Fiafia evening, often held at your resort or easily sought out elsewhere. Not only will this be one of the highlights of the trip, but it will also leave you in awe. Celebration, song and dance are an integral part of the Samoan culture, and this is one of the ways to experience it. Expect a night filled with singing, dancing and a daring Siva Afi (fire knife dance) alongside servings of traditional food. If you're lucky, you may even be selected to take part!
 
4. The Memorable - Go to Tafua Peninsula Rainforest Reserve
Fortunately for the nature lover, these is no lack of breath-taking scenery around the islands. One that tops the list is Tafua Peninsula Rainforest Reserve. The tropical climate makes for a lush rainforest that is thriving with wildlife, especially an abundance of bird species. If you keep an eye out, you may catch a glimpse of a rare flying fox or the endemic (and endangered) tooth-billed pigeon! While there, ensure you make the short trek to the Tafua Savai'i Crater - the walls are cloaked with vegetation and have an out-of-this-world feel.
 
5. The Relaxing - Unwind at Lalomanu Beach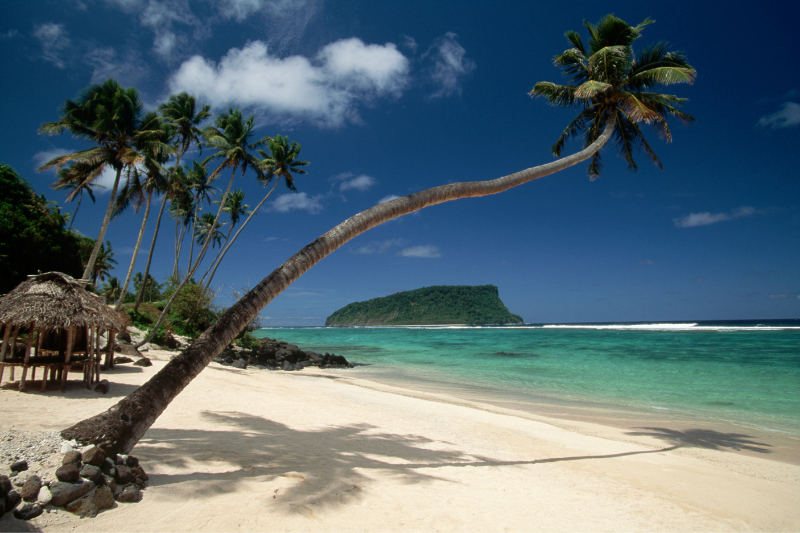 Lalomanu Beach in Western Samoa. Image credit: Getty Images.
After a day spent out adventuring, you deserve a great spot to stay! Whether you are travelling solo or with the family in tow, we can help you find the ultimate stay. Discover the best places to stay in Samoa, or let our Samoa Travel Experts assist you in selecting the ideal location. Our personal suggestion for the best relaxing spot in Samoa is saving a few nights to spend at Lalomanu, a dreamy stretch of beach lined with bright fales and swaying palm trees. If relaxing is what you're after, this beach is for you - it's very pristine and has the whitest sand and clearest water you've ever seen! 
 
6. The Must-Do - Try traditional Samoan food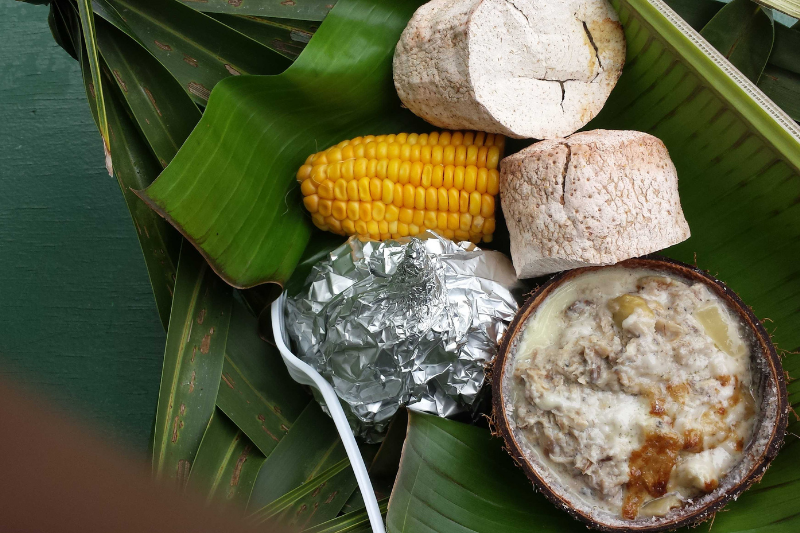 Traditional Samoan food from an umu. Image credit: Getty Images.

Sample the local cuisine, because the seafood doesn't get much fresher! One of our favourites is Oka, a traditional raw fish dish marinated in lime and coconut milk with chilli and onions. If that is a little out of your comfort zone opt for Palusami, a delicious treat of baked coconut cream wrapped in coconut leaves then baked in an umu (earth oven). For more Samoa travel tips check out Sensational Samoa - A Holiday with a Difference.
 
7. The Adventurous - Have a swim at To-Sua Ocean Trench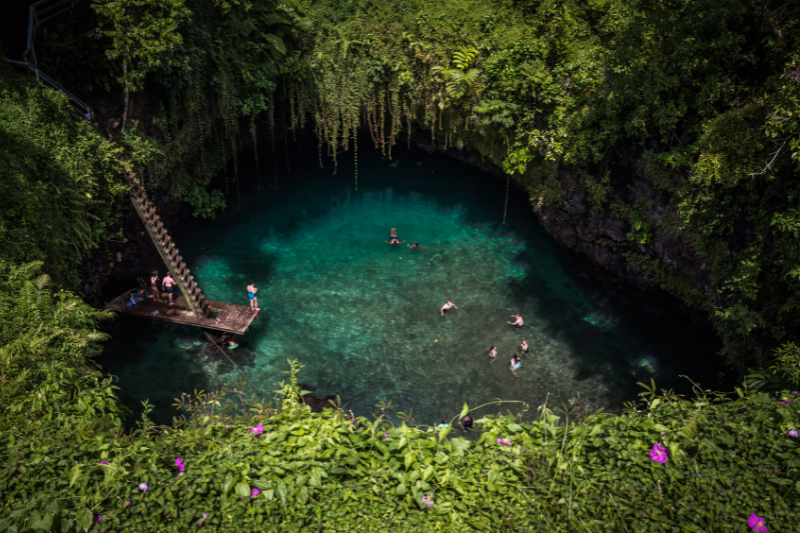 To-Sua Ocean Trench. Image credit: Getty Images
It wouldn't be a trip to Samoa without spending time at the super famous To-Sua Ocean Trench (please note there is small fee to get in). Make your way down the huge ladder and dive into the crystal-blue waters of this giant swimming hole. The trench is the perfect spot for escaping the humidity and you can also enjoy the magnificent views and lush surroundings from the top. Once you have gotten your fill of swimming, relax in one of the nearby fales, pop into the local restaurant for a bite to eat or explore the surrounding lava field and rockpools.
 
8. The Unique - Experience the Samoan culture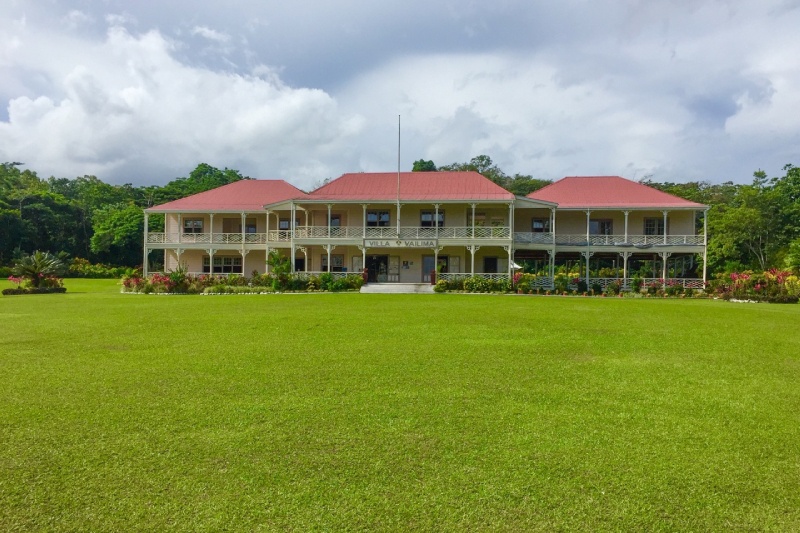 Robert Louis Stevenson Museum, Apia. Image credit: Samoa Tourism Authority.
Visit one of the many historical sites. Our top two picks you may ask? Firstly, The Robert Louis Stevenson Museum is the home and burial spot of the late Scottish poet and author of several well-known books such as Treasure Island, Kidnapped and The Strange Case of Dr Jekyll and Mr Hyde. A tour of the magnificent home and its accompanying history is a must. 
Secondly, get a taste of the local culture with a visit to the Samoa Cultural Village. Discover Samoa's age-old traditions and crafts interactively then end your visit with a sample of the local dishes – delish! Although it is free entry, ensure you bring cash to donate to the money collection basket at the end of the visit.
 
9. The Tour - See Samoa the easy way!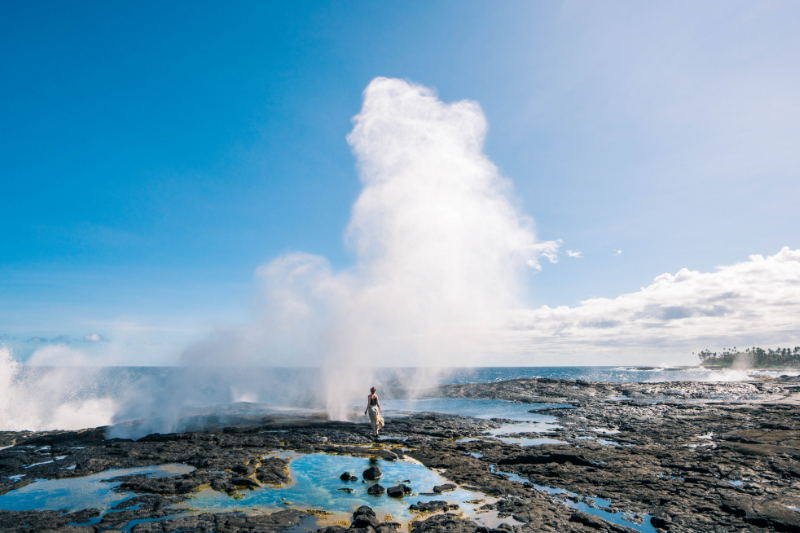 Alofaaga Blowholes. Image credit: Samoa Tourism.
The beauty of an organised tour is you see and experience so much in a short amount of time. Plus, the ease of not having to plan these activities is a mega bonus! Fortunately, Samoa offers an abundance of attractions to ensure your tour is one for the memory bank. One of the crowd-favourite stops, which is often part of Samoa tour itineraries, is The Alofaaga Blowholes in the village of Taga, this naturally formed attraction has numerous blow holes within the rocks, allowing for sea water to blast hundreds of meters in the air causing for a magnificent show and perfect photo op. For more information check out our Popular Tours in Samoa.
 
10. The Breath-taking - Snorkel at Palolo Deep Marine Reserve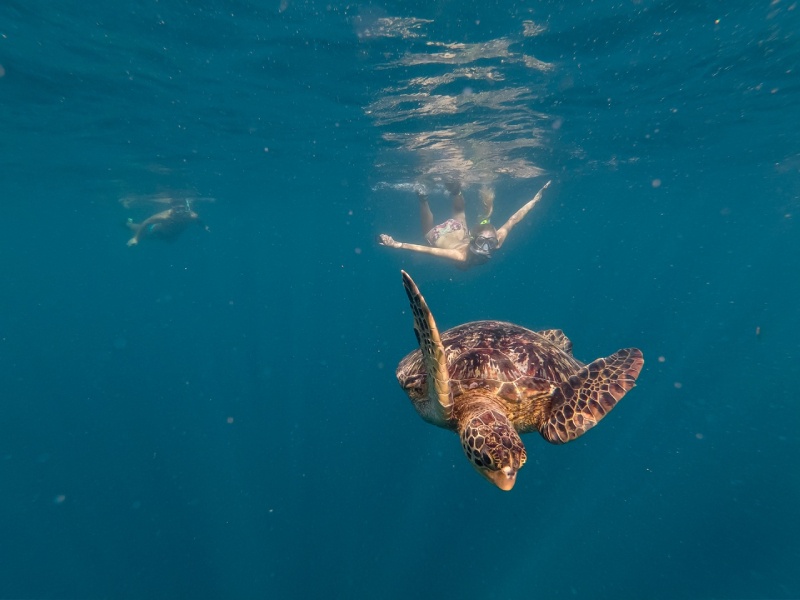 Snorkelling by a turtle in Samoa. Image credit: Samoa Tourism Authority.
Nestled just outside of Apia city is the protected Palolo Deep Marine Reserve. Lovingly run by a local caretaker family this natural dive spot boasts abundant marine life from sea turtles to reef sharks and plenty of tropical fish living in amongst the coral. With snorkel gear available for hire it makes visiting this spot a breeze!

 
Now that you're read about all the top things to do in Samoa, I know what you are thinking, I need to get to Samoa, pronto!! The first step, check out our Cheap Flights to Samoa then find the perfect holiday deal here Samoa Holidays. Alternatively, visit one of our wonderful Travel Experts for help in planning an action-packed or decadently relaxing trip (and everything else in between) to Samoa.