Top 10 Pride Events Around the World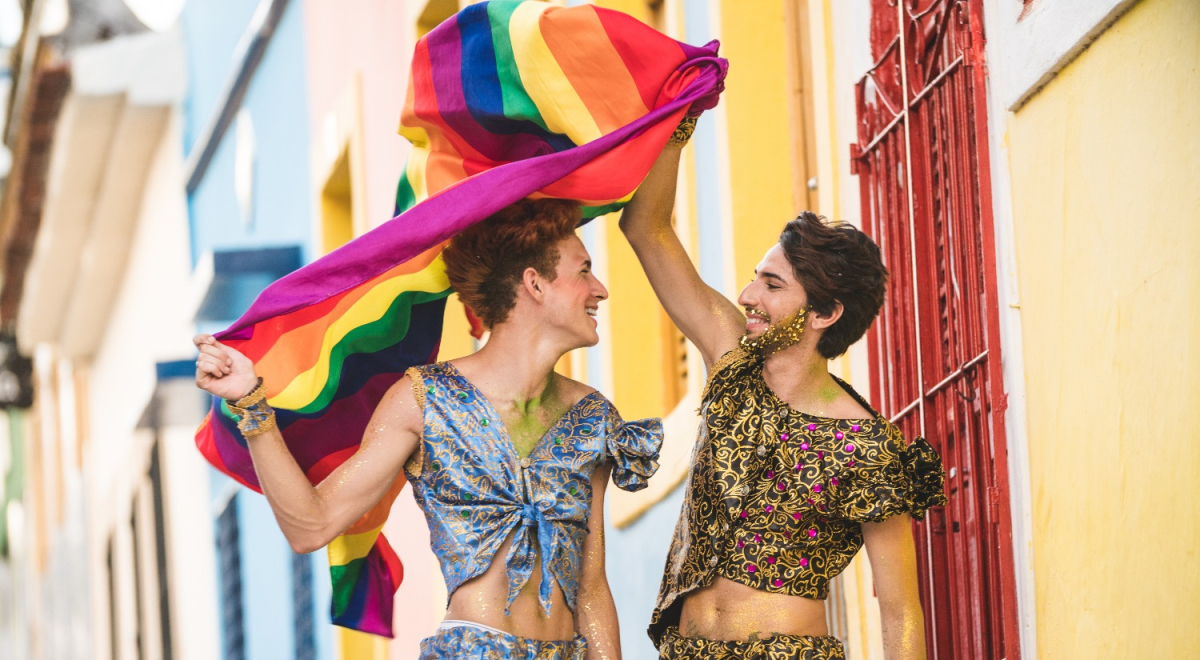 We're now in February, which means it's Auckland Pride Month! After being cancelled last year, the festival is back and better than ever with a wide spectrum of events, gatherings, and experiences to elevate the community. 
But if one month is not enough for you there are pride events all around the world that celebrate inclusion, love and humanity. 
Here are some of our favourite pride events to attend, where you're guaranteed to have a fun time. 
What's coming up:
New York: Where Pride was Born 
Sao Paulo: Largest Pride in the World
Sydney: Most Colourful Pride
Taipei: Largest Pride March in Asia
Amsterdam: The Most Unique Pride 
Toronto: The Pride Event Even the PM Takes Part In 
Copenhagen: Winter Pride
Madrid: Best Pride in Europe
Iceland: Reykjavik Pride
New Zealand: Big Gay Out
1. New York: Where Pride was Born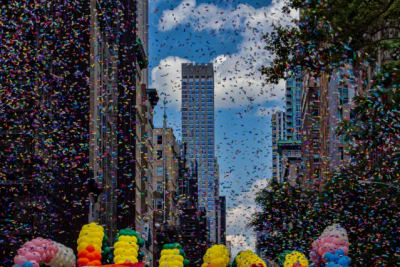 When it comes to Pride, you can't go more iconic than New York, the city where Pride was founded. The first Pride march was held in 1970 following the Stonewall Uprising and has since become an annual civil rights demonstration. Occurring in June during the US Pride Month in the American summer, the streets of Manhattan are filled with rainbow-clad activists and allies with roughly 5 million people attending in 2019.  
Alongside the march, Pride Island is the annual Pride weekend celebration of music, dancing and community. Previous performers have included Madonna and Grace Jones. There's also PrideFest, the ultimate LGBTQIA+ street fair that combines exhibitors, food, and activities for a day of fun and celebration in the name of equality. 
New York has one of the highest concentrations of LGBTQ people in the world. With multiple neighbourhoods, bars and businesses that cater to the gay community including the West Village, Greenwich Village, Chelsea, and Hell's Kitchen.  
The New York Pride parade will take place on 25 June 2023. 
2. Sao Paulo: Largest Pride in the World!
The Sao Paulo Gay Pride in Brazil is considered the biggest gay Pride parade in the world (holding the record in the Guinness Book of World Records). Officially a five-day event, the party starts 3 weeks before with events such as concerts and performances, cultural fairs, street markets and more.  
The parade takes place the Sunday after the Corpus Christi annual holiday. With captivating music, extravagant floats, and incredible costumes, this parade is truly unique and definitely one for the bucket list! 
Top tip if going to the parade, get there early; while the parade itself doesn't set off until the afternoon (normally around 2–3pm), crowds begin to gather hours before outside the Sao Paulo Museum of Art. 
Celebrations go well into the night at Sao Paulo's many LGBT clubs. The best part of town to stay in is Jardin, with all the shops on your doorstep, with the gay bars and clubs nearby.  
 
People flock from all over Brazil and South America to take part in Sao Paulo's Pride celebrations so plenty of people to mingle with! 
The Sao Paulo Pride parade will take place on 7 June 2023. 
3. Sydney: Most Colourful Pride
It's fair to say the biggest pride event in Oceania happens in Sydney with the Sydney Gay and Lesbian Mardi Gras, a glittering colourful explosion of self-expression, celebration and love. 
But this year is especially special, as Sydney is playing host to WorldPride this year. A global festival, WorldPride happens every 2-3 years and has been staged since 2000, with cities competing to host the event, Sydney being the first city in the Southern Hemisphere to have the honour. 
Alongside Mardi Gras, Sydney WorldPride will be a 200+ events festival from Friday 17 February to Sunday 5 March 2023, coinciding with the 50th anniversary of the first Australian Gay Pride Week, the 45th anniversary of the first Sydney Gay and Lesbian Mardi Gras, and the fifth anniversary of Marriage Equality in Australia. 
Alongside numerous shows and concerts with acts such as Kylie Minogue, Charli XCX and Kelly Rowland, there will be a human rights conference, Bondi Beach party, pride villages in the heart of Oxford Street, an arts and culture programme and WorldPride Sports, not to mention a lot of partying! 
---
---
4. Taipei: Largest Pride March in Asia
The biggest pride event in Asia is Taipei Gay Pride in Taiwan with more than 200,000 people attending the 4-day event from around Asia and the world. The parade takes place on the last Saturday in October and celebrates its 21st anniversary in 2023. Taipei has a vibrant and fun gay scene, with over 20 gay bars in the Red House district and 3 gay clubs, not to mention the big parties held over the pride weekend.  
 
Saturday night at the W hotel is one of the highlights of the weekend, especially as it coincides with the Halloween festivities. Stay in the trendy Ximending district, home to the city's best gay bars and nightlife. 
LGBT rights in Taiwan are regarded as the most progressive of those in Asia. Discrimination on the basis of sexual orientation, gender identity and gender characteristics in education has been banned nationwide since 2004. Taiwan also was the first country in Asia to recognize same-sex marriage at the state level.  
The Taipei Pride Parade will be on 28 October 2023. 
5. Amsterdam: The Most Unique Pride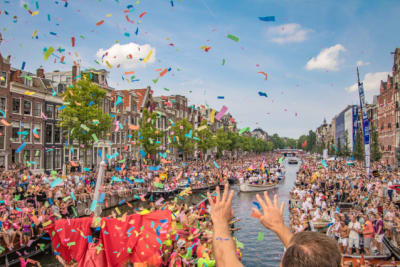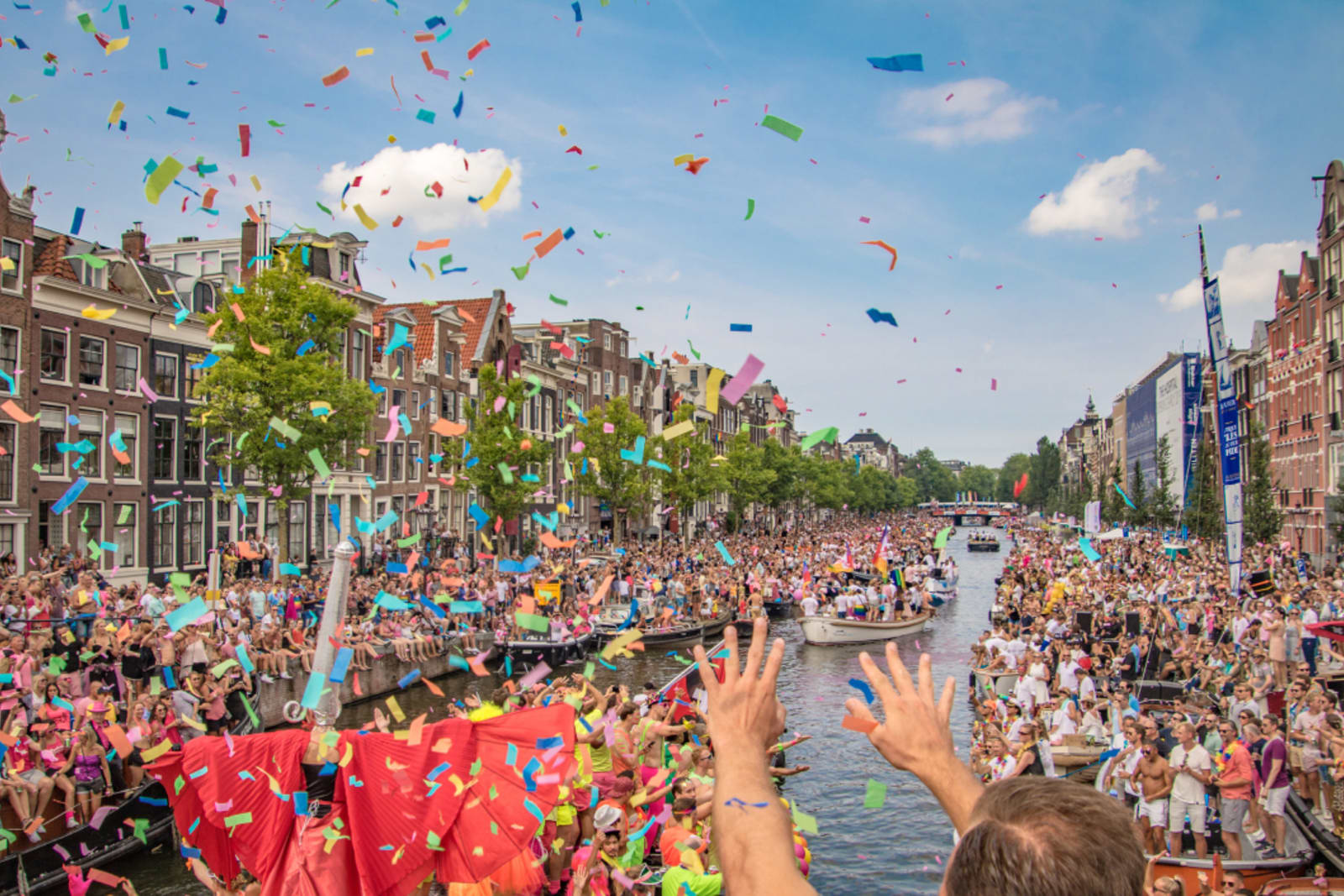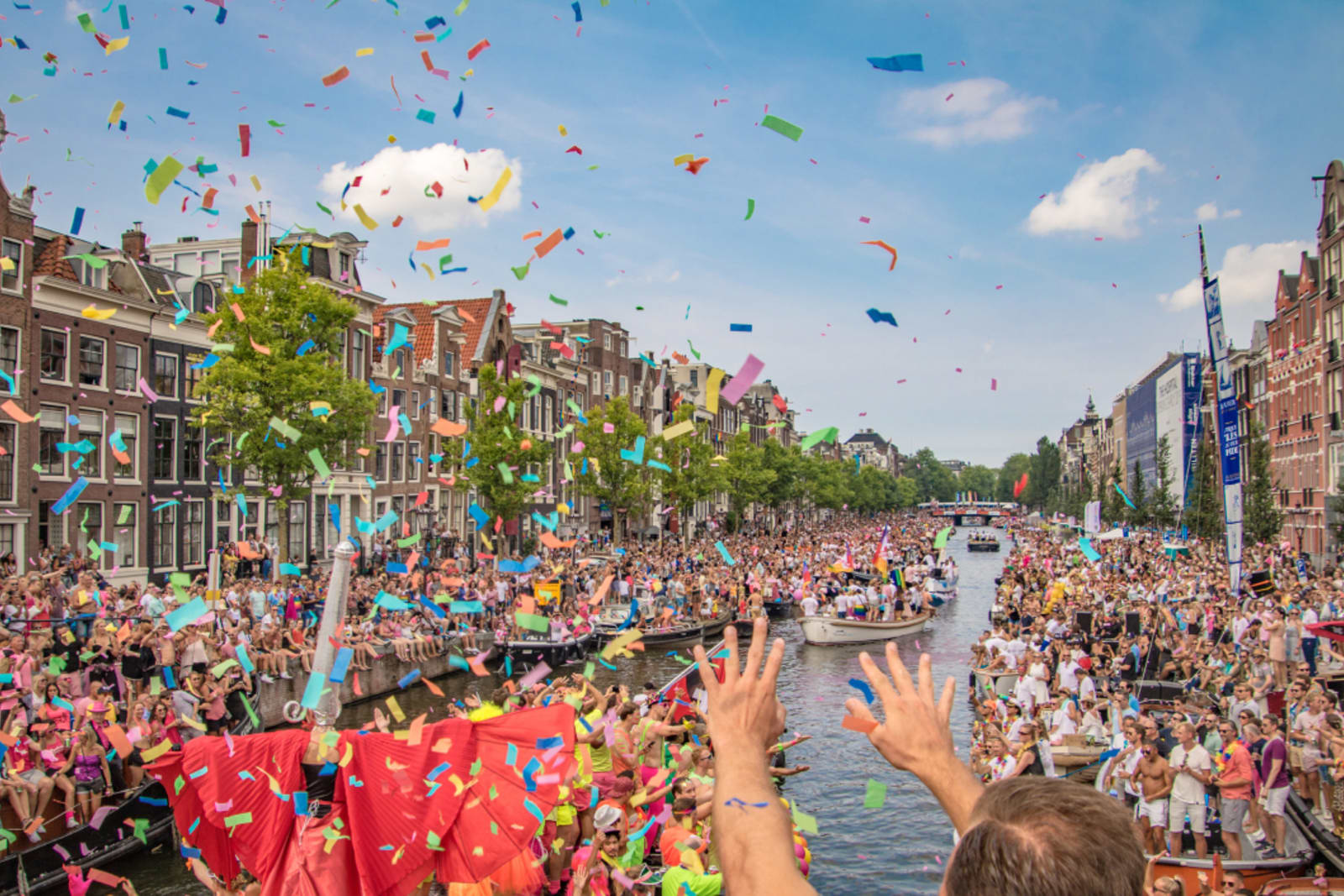 The Netherlands know how to celebrate pride differently!   
Have a waterful time at the Amsterdam Pride Canal Parade, one of the world's only parades on water! On the first Saturday in August each year the UNESCO-listed canals attract large parades with over 100 boats sweeping the city. Alongside the parade there are ten parties in the streets as well as the most important circuit parties such as Rapido. 
Pride Amsterdam runs over six days, and includes exhibitions, cultural and sport events. There are also street parties where there's a concentration of gay bars, like Reguliersdwarsstraat, Zeedijk, Warmoesstraat and alongside Amstel. On Rembrandtplein there's a closing party on the Sunday after the Canal Parade. 
LGBT rights in the Netherlands have been some of the most progressive in the world with same-sex "sexual activity" legalised way back in 1811.  
The Amsterdam Pride Canal Parade will take place on 5 August 2023.
6. Toronto: The Pride Event Even the PM Takes Part In
Flamboyant fun, colour, laughter, and amazing spectacles, Pride Toronto in Canada is definitely a vibe, and one that's not to be missed. 
For ten days in June, the city takes on a colourful hue as its diverse community celebrates solidarity through music, conferences and three incredible parades: Trans Pride, Dyke March and the massive Pride Parade, with floats, fancy dress and feathers.  
The centre of the festival is the city's Church and Wellesley village, an LGBT-oriented enclave home to the community centre, parks, bars, restaurants, and stores catering to the community. It's also a historic community with Victorian houses and apartments dating back to the late 19th and early 20th century.  
Come for the drag queens and ballroom culture, with dancehall and musical performances by celebrities like Deborah Cox and Kelly Rowland. The calendar is packed with a street fair showcasing queer artists, pool parties, performance art, Bi+ Pride happenings, and Black Pride. 
Another unique feature of Toronto is how the government not only enthusiastically supports pride financially, but their leader often gets involved. Prime Minister Justin Trudeau is a vocal LGBT supporter who has often marched at the pride parade, becoming the first sitting PM to do so. He even became the first PM to visit a gay bar. 
Pride Toronto will begin on 23 June 2023. 
7. Copenhagen: Winter Pride!
It's cold in Copenhagen. The twinkling lights of Christmas have been packed away, and the New Year's confetti swept up. But instead of a gray, dark and rainy Danish winter, the capital city gets full of rainbows and queer-centered coziness when Winter Pride rolls into town. 
The best pride celebrations in Europe during Winter, Copenhagen Pride is Denmark's biggest and most diverse human rights manifestation and for more than 25 years has brought the campaign for equality and diversity to the streets of Copenhagen. While LGBT culture is embraced and celebrated in Denmark year-round, for Copenhagen Pride the trend goes into overdrive when the entire town is decked out in glitter, rainbow flags fly from every flagpole, and the City Hall Square is even renamed Pride Square and becomes the focal point of action for the celebrations. 
While Copenhagen Pride started in 1999, an additional Winter Pride was first held in2015 and has continued ever since giving two occasions annually in Copenhagen to visibly celebrate Pride. 
Copenhagen Winter Pride will start on 20 February, while Copenhagen Pride will take place from 12 August 2023. 
8. Madrid: Best Pride in Europe
As an LGBTQ-friendly nation, it's no surprise that most Spanish cities (or even islands) have Pride. But Madrid Pride is simply the best city Pride in Europe. The event is one of the largest of its kind attracting over two million visitors over five days with a stunning parade, amazing parties and is open to all. 
Madrid is one of the most gay-friendly and welcoming cities in the world. The district of Chueca is the epicentre of gay life in the city and home to some of the busiest bars and clubs. 
As the city has grown, so too has the gay neighbourhoods. The local government of Madrid estimates the LGBT+ population to be around 500,000. Other gay-friendly districts you should also check out such as Malasaña, La Latina and Lavapies, all have their own unique charm and attractions. 
Madrid Pride is also one of the hottest pride events, and we're not just talking about the people! Held in July in the peak of the Spanish summer, it's definitely tank top weather, but remember to stay hydrated! 
Events include Feathers & Paws (where you can bring your pet), The High Heel race, Mr Gay Pride Spain (a personal favourite) and of course parade day in Plaza de Colón, where the centre of Madrid literally comes to a standstill as a million people line the streets to watch the parade. 
Madrid Pride will begin from 23 June 2023. 
9. Iceland: Reykjavik Pride
Safe to assume one of the most Northern places to celebrate pride, the Reykjavik Pride has become one of Iceland's most vibrant and popular events. Reykjavik Gay Pride is filled with exciting events such as queer cruises, gay walks, a family festival, concerts, gallery openings, parties and a huge dance party after the main Reykjavik Pride Parade.  
Reykjavik Pride has been celebrated annually since 1999. In 99', about fifteen hundred guests came together and it was promptly decided to hold a similar celebration here in the city every year. It's now evolved into a colourful ten-day celebration that attracts over 100 thousand guests from all over the world.  
One of the most progressive, liberal and welcoming cities in the world, Reykjavik is a captivating destination with beautiful design, a rich history, and a burgeoning nightlife scene.  
While many travellers will be drawn to Iceland for its stunning natural vistas - it is also extremely gay-friendly. They even elected Jóhanna Sigurðardóttir as Prime Minster back in 2009, making her the world's first openly LGBT head of government. 
Reykjavik Pride will start from 2 August 2023. 
10. New Zealand: Big Gay Out
Of course, no list would be complete without mentioning our own pride events here in Aotearoa. February is Auckland's Pride Month, and Auckland is full of events throughout the month. 
One highlight is the Big Gay Out, which is held annually in Auckland's Coyle Park. It's a day of queer music, markets, the gayest dance party ever and of course the fabulous Thirst Trap Vogue Ball by House of Aitu. 
Alongside this, The Pride Party is back and bigger than ever! Pride in the Square is a two-day event in Aotea Square with community groups, DJs, drag artists and musicians from across the motu. There's also the Pride March to remind people the fight is not over. Taking Pride back to its activist roots with the Pride March, it brings everyone together to elevate important issues for our communities in the fight for progress. 
Whether you want to celebrate pride closer to home, or at one of the flagship pride events around the world, Flight Centre can help you get there. Contact us today to help you wave your rainbow flag and celebrate pride!