Cheap Flights to Koh Samui
Koh Samui is part of an archipelago of more than 80 islands off the east coast of Thailand. Though it has been inhabited for hundreds of years, the first roads – and tourists – only came to the rainforest-covered, beach-fringed island in the early 1970s
What to know before you fly to Koh Samui?
Koh Samui off the eastern coast of Thailand is just one of many islands that make up the beautiful Ang Thong Marine National Park. Long stretches of idyllic beaches and swaying palm trees line the brilliant coast where colourful coral reefs lay enticingly close for an exciting day out snorkelling and swimming.
While the interior of the island is mostly dense rainforest, the setting lends itself to a beautiful scenic oasis rich in native flora and fauna. Na Mueang is a picturesque waterfall about 30 minutes outside of the city and neaby villages grow beautiful fruit where coconut trees tower over the landscape. Exclusive resorts pamper guests while exciting night life options range from bars and night clubs to trendy, soft lit lounges. No matter what time of day, there is plenty to see and do in this tropical paradise.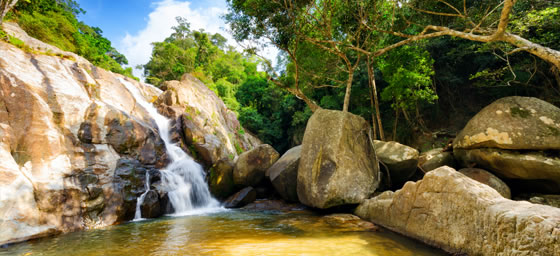 Our travel experts can assist you with