Fri, 15/05/2020 - 3:47pm
Looking to do a road trip around New Zealand? Consider a campervan. Swap your morning alarm for the sound of native birds, surround yourself with breathtaking scenery, and develop a new appreciation for our unique country. The mighty 'home on wheels' allows you to do so much, and at a fraction of the cost, read on below for everything you need to know.
An Itinerary for You: Relax, Adventure or Indulge?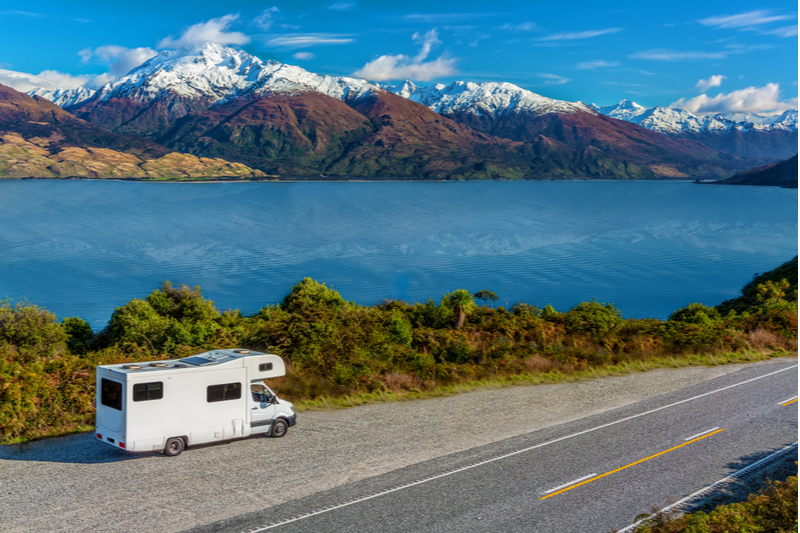 Campervan on the banks of Lake Wanaka, South Island, New Zealand. Photo: Shutterstock
Travelling by campervan means that you don't have to be strict with your itinerary, but having a plan is a great way to make the most of your trip.
Here are a few of our favourite seven-day campervan trips around New Zealand:
1. Coastal cruiser –Travel from Auckland to the golden beaches and pristine forests of the Coromandel Peninsula, then set off to Rotorua for unique nature walks. If you're looking to really relax, check out The Lost Spring in Whitianga, or visit Cathedral Cove for a glimpse of mother nature's finest work.
2. South Island adventure – Need more adventure? This one's for you. Visit Fox Glacier, Wanaka and Queenstown. There's a ton to try in this area. A Roys Peak Trek is a must-do. Next, chuck on a life jacket for a jet boat ride through the mountains – warning, you will be left both windswept and in awe. Lastly, get the perfect shot for the gram at the Wanaka Lavender Farm, a truly breathtaking spot.
3. North Island wine trail – Indulge while at the most popular wine regions of the North Island, including the sunny Hawke's Bay, and Martinborough. A walk (or drive – let's be honest), up Te Mata Peak is a must in Hawkes Bay, as are the wine tours - hire a bike, and cruise around the many wineries on offer. Then, stop in Rotorua and Taupo for a taste of nature. Make sure to check out the Huka falls while in Taupo, and of course, the geysers in Rotorua.

The Campervan: What to Know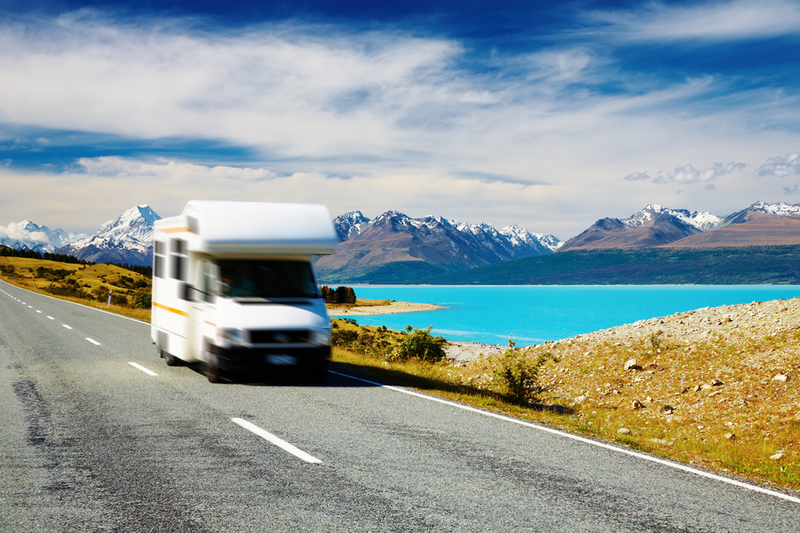 Campervan driving by Mount Cook, New Zealand. Photo: Shutterstock
There are many different types of campervans, ranging from vans containing the basic necessities to fully self-contained units. Our two most popular include:
• Highball campervan – suited for up to three, featuring one double bed and a single bed. Includes basic camping gear plus kitchen essentials such as a fridge, gas stove and microwave. This is one of our cheapest campervan on offer.
• Maui Cascade – suited for up to four, featuring two double beds. The Cascade features kitchen and bathroom facilities and an innovative bed design. A great campervan all around and very comfortable for families.
Rest assured, travelling by campervan is easy, but it does help to know a few helpful tricks.
• Less is more – pack only the essentials. While it may be tempting, space is limited!
• Plan your meals – if you're doing the majority of the cooking, plan dishes that use few ingredients and utensils, one pot meals are a great choice.
• Make the most of it – park up if you discover a breathtaking view. Part of the beauty of a campervan trip is that there is no real rush – so embrace it, but make sure not to stay overnight unless it is a designated freedom camping area.
Parking up: Where to stay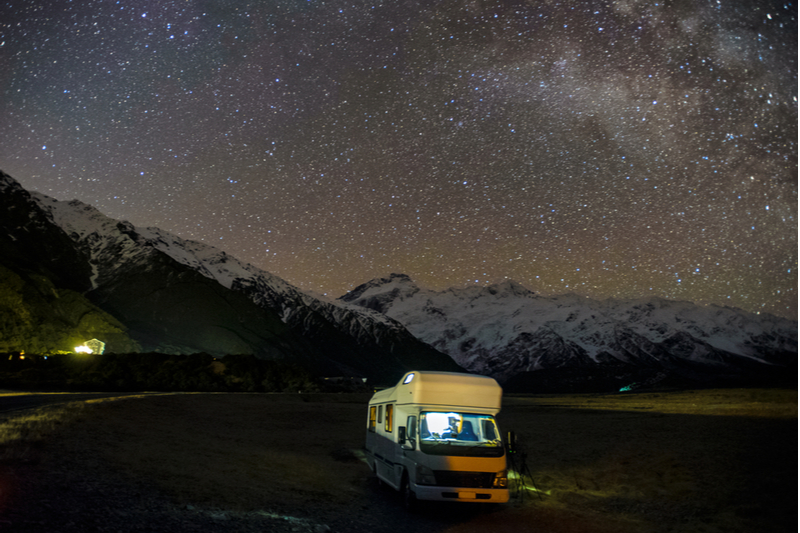 Campervan parked under Milky Way Galaxy, Mount Cook National Park. Photo: Shutterstock
While you might be travelling in your accommodation, you will still need to find suitable places to park up overnight. So, what are the options?
• Holiday Parks, or as some say, "resort campgrounds" have all the necessities and sometimes even a few extras (common areas, pools, hot tubs, playgrounds, etc).
• Private campgrounds – essentially land to set up camp on, with less amenities than a holiday park.
• DOC campsites – feature basic necessities and tend to be located in unique and beautiful locations (many being nearby, or part of national parks).
• Freedom camping – while this isn't for everyone, it can be well worth it for the experience! Be sure to only freedom camp in designated areas though.
You can also refer to apps for finding camping spots around NZ (thank you technology!) Rankers and Campermate are two that are worth downloading if you're planning a campervan trip.
Become a Campervan Native: Tips and tricks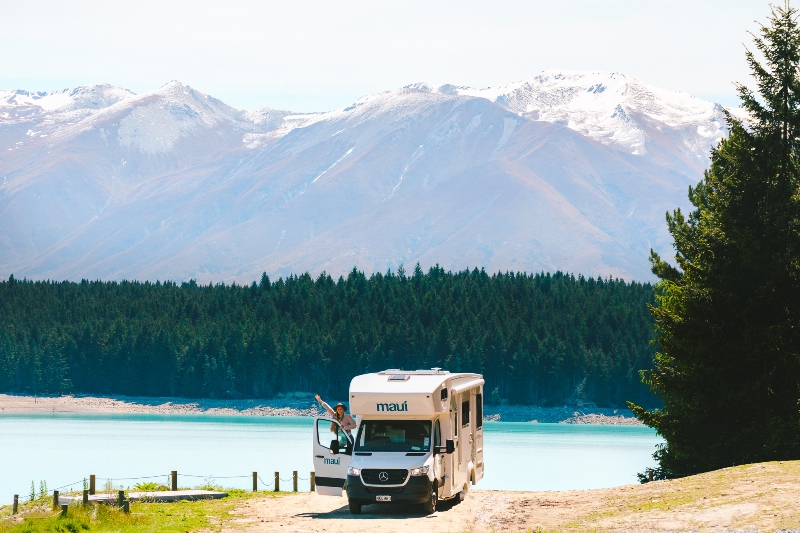 Maui campervan in the South Island. Photo: Maui Rentals
So, you're keen on exploring our backyard by campervan? We acknowledge that this convenient way of travelling does have a few…unique, aspects to it. Check out the below tips to help you become a campervan native.
• Going toilet, what's the deal? While some campervans are fully self-contained, others are not – and that's no problem. Public toilets can be found in all towns, at DOC sites and in other public domains.
• Laundry – If you're planning a 7-day trip, laundry likely won't be an issue, but if you're wanting to go for a little longer, you're likely going to need to wash a few things. Laundry facilities are accessible at holiday parks, some campgrounds, and in most townships (for a small fee).
• Shower essentials – a few handy extras will help you with your shower routine. If you're showering in public facilities don't forget your jandals! Soap bars are also recommended if you're travelling for a long period – they last longer and are much more compact. Other handy things to have on hand are baby wipes and dry shampoo for a quick refresh!

Feeling inspired? Check out our latest campervan hire deals here.
Other Travel Articles You Might Like...