Cheap Flights to the United Kingdom
Visit the land of pubs, rugby and the Queen. Take time to unwind in the Scottish countryside, soak in the literary history in olde English villages, or explore the sites of London
Personalised Expert Advice
Popular Destinations
Haven't decided? Get inspired by these related destinations.
What to know before you fly to United Kingdom?
The United Kingdom is a constitutional monarchy made up of England, Scotland, Northern Ireland and Wales. On your UK flight you will most likely fly into London, England's capital and a major travel gateway to the UK. It is here that you will find most of England's famous landmarks, from Buckingham Palace to Big Ben and all the streets on the Monopoly Board. London is a dynamic and historic city well worth a few days of exploration. England's other major entrance point is Manchester, a metropolitan city found in the North West. The city is best known for its football teams, multicultural community and lively nightlife.
For the romantic side of the UK, Scotland is a land of rolling green hills, historic castles, charming accents and mythical creatures. Start your Scottish holiday in Edinburgh, the country's culturally rich capital. Time your visit to coincide with one of the city's festivals or enjoy your own celebration by taking a tour of a whisky distillery or three.
Scottish Highland Cow
South of Scotland is Wales, a country full of spirit and rich in natural beauty. Despite joining the United Kingdom in 1282, Wales still holds onto its Celtic culture and own dialect. Its spectacular scenery also remains strongly protected by numerous national parks such as the Brecon Becons National Park, beloved for its mountainous terrain and castles. Cardiff is the country's capital and a great place to begin your Welsh journey. While there, visit the Cardiff Castle, learn more at the National Museum of Wales and browse the Victorian Arcades.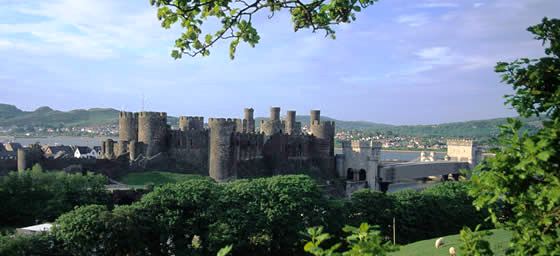 Conwy Castle, Wales
Northern Ireland completes the United Kingdom line-up. Though its history has been tumultuous, today Northern Ireland is a peaceful place where natural beauty shines brightly and urban development is progressing. In its capital Belfast you'll find Victorian streets and historic pubs within close proximity of Michelin Star restaurants and Children's playgrounds.
Our travel experts can assist you with