Cheap Flights to Wellington
Perched at the southern tip of New Zealand's North Island, Wellington has the honour of being the southernmost capital city in the world. The city's performing arts thrive and it boasts an attractive blend of art, culture and cuisine
Popular Destinations
Haven't decided? Get inspired by these related destinations.
What to know before you fly to Wellington?
Arguably the performing arts centre of New Zealand, the country's capital, Wellington presents fascinating sights to explore during the day and innovative theatrical productions to appreciate at night. The New Zealand Parliamentary Buildings, with the unique design of the Executive Wing resembling a beehive, are must see structures. With such a wide range of Wellington tours available, it's possible to be guided around the official Parliament House and view the architecture from the inside. Now home to the Victoria University Law School, the Old Government Buildings is one of the largest wooden buildings in the world.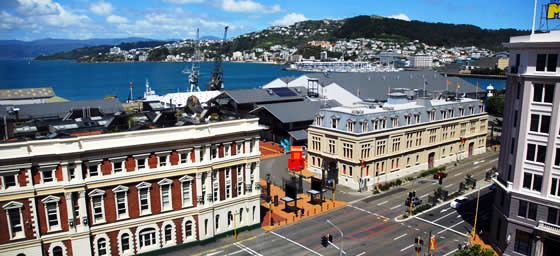 Streets of Wellington
The city boasts a wide array of Wellington accommodation options and is enclosed by picturesque hills; each offering spectacular views over the capital and the harbour. To save the walk, the historic Wellington Cable Car is an exciting way to be transported to the botanic gardens. Other vantage points include Mount Victoria with 360 degree views, Mount Kaukau and the Brooklyn Windmill. A stroll along the water-front promenade overlooking Lambton is a satisfying wander.
Cityscape View
Wellington boasts a number of performing arts ensembles committed to producing thought-provoking productions. Consider investigating what's on at the Circa Theatre, Embassy Theatre or the Bats Theatre. The acclaimed Royal New Zealand Ballet is based in Wellington and is well worth considering. Te Papa is the country's national museum, while the Museum of Wellington City & Sea offers a comprehensive history of the city. You can explore these sights and more with our cheap flights to Wellington.
Best times to fly to Wellington
Wellington, the capital of New Zealand, is well-known as one of the windiest cities due to its location beside the Cook Strait, so you can expect a breeze any time you visit! The long hot days during the Spring/Summer months from September through March make outdoor activities more enjoyable. From April through August those Autumn/Winter months will have an icy chilly wind, so take a coat and prepare to rug up. Whatever the time of year, there are plenty of indoor and outdoor activities that will keep you busy. Take a look at our Wellington Travel Guide for inspiration.
Wellington flight times
The scheduled flight time for Auckland to Wellington flights is 65 minutes; Christchurch to Wellington flights takes 60 minutes and Dunedin to Wellington flights take 75 minutes.
Activities and things to do in Wellington
Finding things to do in Wellington is blissfully easy. Nestled as it is between mountains and the seaside, the city prides itself on having a little bit of everything – from hiking to sailing, from adventure to relaxation. Wellington is also the beating heart of New Zealand's art and culture scene, meaning it's a hive of creativity and home to some of the best attractions in the entire country. Our Wellington Travel Guide will give you some more ideas on things to do in Wellington.
Health
Your health is always our priority here at Flight Centre. Speak to us about current health and safety considerations you'll need to factor in when visiting Wellington. You can also learn more about New Zealand's COVID-19 updates here or view our Customer Support page for the latest developments.
Our travel experts can assist you with