Wed, 11/09/2019 - 3:34pm
With its dramatic, lush landscapes, diverse wildlife and warm hospitality, Sri Lanka truly deserves its title 'the pearl of the Indian Ocean'. Destinations like Sigiriya, Kandy and Galle are at the top of many travellers' wish lists, but there exists a lesser-known coast-to-coast trail offering all the wildlife, beaches and adventure one could ask for – with fewer crowds to boot.
Colombo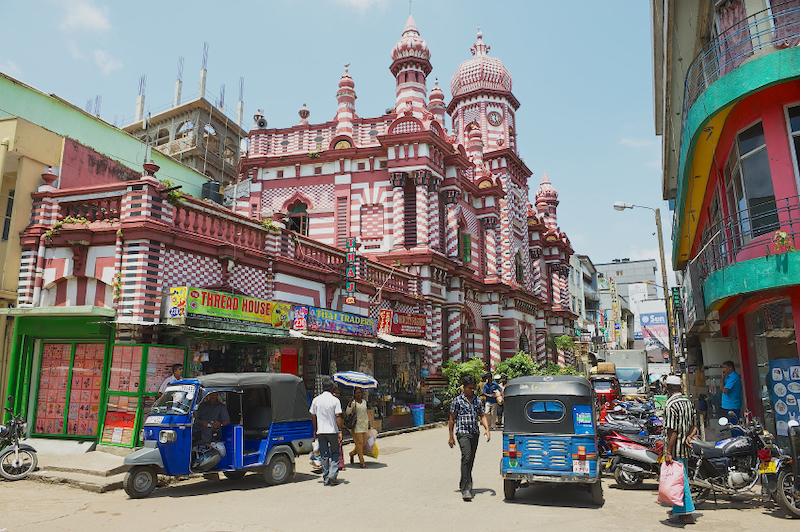 A street scene in Colombo. Photo: iStock
After landing at Bandaranaike International Airport, get over your jet lag with a day's sightseeing in Colombo, the country's bustling capital. Ride a tuk-tuk through the chaotic streets, take a tour through Seema Malaka, Colombo's famous floating temple, and visit the candy-cane-coloured Red Mosque.
After a day of exploring, dine at Palmyrah, which offers traditional Tamil cuisine and where the hoppers (a tasty type of pancake made with fermented rice batter and coconut milk) are a must.
Colombo to Ella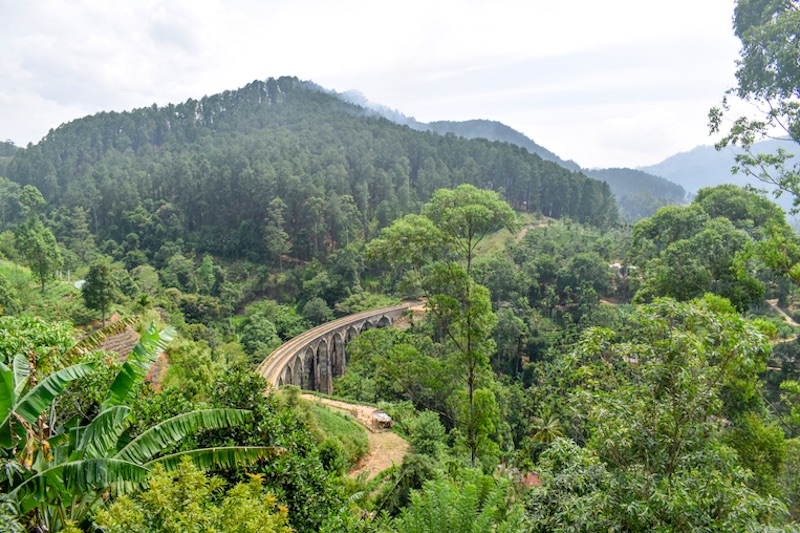 On the road to Ella. Photo: Chloe Milne
Before too long in Colombo you'll likely be craving the peace and serenity that only the mountains can offer. It's time to hit the road to Ella, snaking your way through majestic countryside, passing through charming towns, and stopping at roadside fruit stalls for refreshments.
Drivers in Sri Lanka are unafraid of many things, including driving fast, using their car horns and overtaking on blind corners. Expect to grip your seat tightly a few times during the windy five-hour drive into the mountains. While the journey can be a little hairy, the views – and your destination – are worth it.
Ella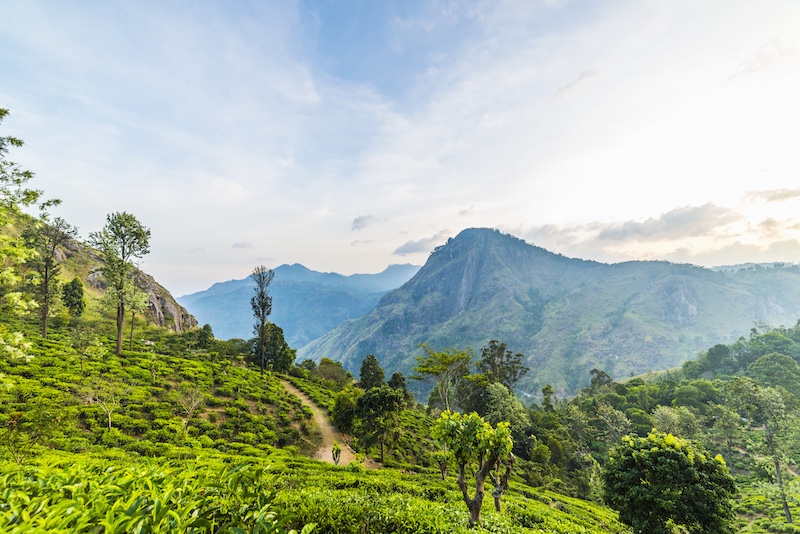 The countryside around Ella. Photo: Getty Images
Ella is a quaint, laidback mountain town known for its natural beauty. Accommodation overlooking Ella Gap will give you views of native forest, perfectly kept tea and rice plantations, and the famed local trains chugging through the valley on an hourly basis. Wake to the call to prayer, then listen to children singing at the forest school in the bottom of the valley. At breakfast, enjoy coconut roti, tropical fruit and local tea while a troop of purple-faced leaf monkeys play in the avocado trees around you. A walk through the forest is a chance to spot grey langur monkeys, Indian palm squirrels, baby deer and an array of birdlife.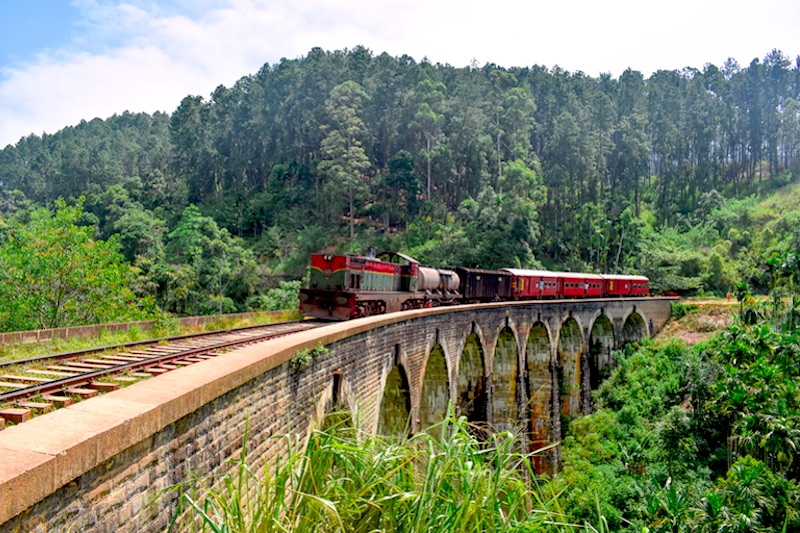 The famous view of a train on the Nine Arches Bridge, Demodara. Photo: Chloe Milne
The famed Nine Arches Bridge in Demodara is just a short tuk-tuk drive away from Ella town and makes a perfect afternoon trip. There are few places in the world where walking on train tracks is not only legal, but necessary – you must brave the wooden tracks, and hope that an oncoming train doesn't arrive, in order to gain the most spectacular views of the bridge. If you're lucky you'll get a photo of the train as it makes its way across the bridge.
Many travellers go to Ella for the hiking. Little Adam's Peak and Ella Rock are the most popular with visitors, and both offer stunning views. Make sure you do at least one hike before leaving the mountains and heading to Sri Lanka's remote east coast.
Ella to Arugam Bay
The 3,500 foot descent from Ella is windy, precarious and magnificent. The road winds along cliff edges, offering panoramic views across huge valleys bisected by the Kirindi Oya River. As you pass through lush rice paddies on your way to the coast, keep your eyes peeled for buffalo, monkeys and elephants crossing the road. Photographs cannot do the views justice; the drive from Ella to Arugam Bay may be one of the most beautiful in the world.
Arugam Bay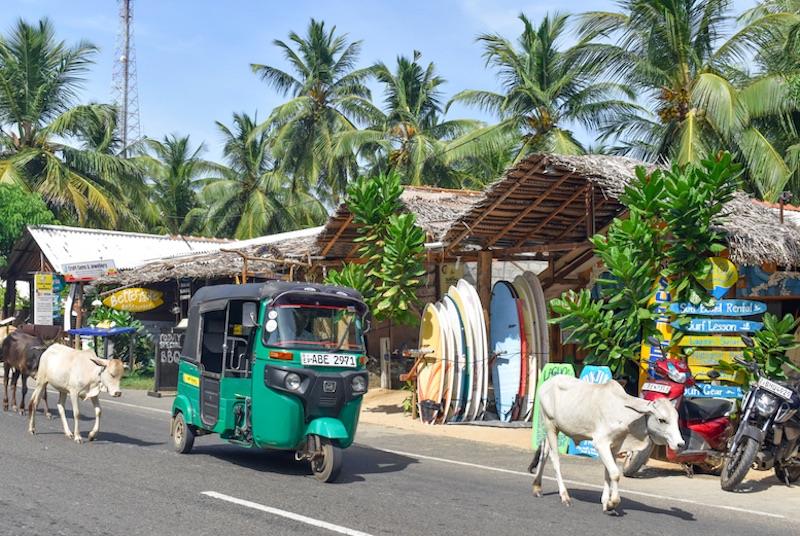 On the street in Arugam Bay. Photo: Chloe Milne
Arugam Bay, located on the less-developed east coast, is a town of vegan cafés, fresh fruit stalls, free-roaming cows, beachside yoga and barrelling Indian Ocean surf. The half-moon bay is bordered with a canopy of palm trees; on the water, fishing boats bob while surfers from around the world do their best to catch the swell.
Surf schools abound and if you pick a good one (look for ISA accreditation) you could easily be up on your board and surfing small waves on your very first lesson. Baby Point and Panama Beach offer waves for beginners, while more experienced surfers head to the bigger swells at Main Point and Peanut Farm.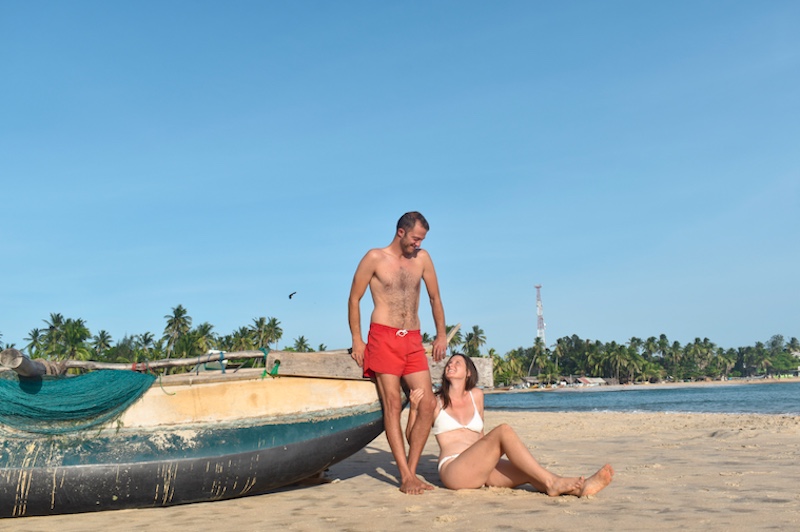 Arugam Bay: a place where time stands still. Photo: Chloe Milne
Like Ella, Arugam Bay is teeming with wildlife. Peacocks, baby monitor lizards, geckos and Indian chameleons are frequently sighted, and monkeys are known to steal food from unsuspecting tourists on the beach. The true wildlife wonders, however, are just an hour drive away in East Yala National Park. There visitors often spot leopards, elephants, sloth bears, crocodiles, diverse birdlife, snakes, giant monitor lizards, deer, buffalo and wild pigs.
In Arugam Bay time slows down to almost a standstill. With lazy days of twice-daily ocean swims, hammock naps and the occasional surfing lesson, one can almost forget there is a 'real world' to get back to. Many travellers spend months in Arugam Bay and it's easy to see why: this remote coastal town may be the best place in all of Sri Lanka, and the coast to coast drive to get there makes it all the sweeter.
Other Travel Articles You Might Like...