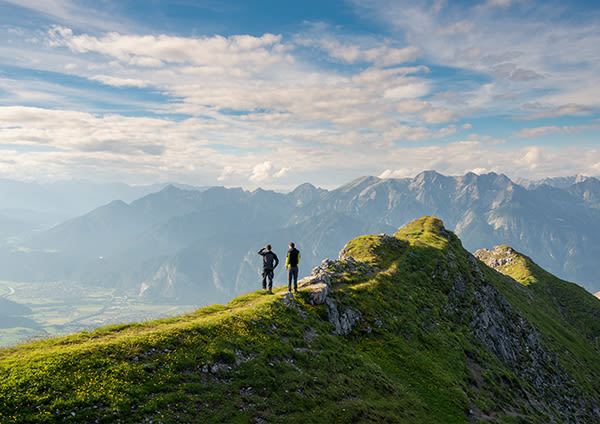 Known for Alpine mountain ranges, cinematic landscapes, palaces and architecture, Austria is a postcard-perfect country. One of its most notable natural wonders, the Alps, covers 62% of the country! So you just know they've got world-class ski resorts. Stunning scenery and snow-covered slopes are not all Austria has to offer. They're a country rich in art, music, and food. Plus, Red Bull energy drinks were founded there! For those of us on that caffeine train, Austria is also home to many premium coffee houses. Get those skis and reusable coffee cups packed, your Austria holiday is ready.
A Travel Expert Service Fee will be applied to bookings made in store, over the phone or via email.
Deals with your name on them...
Explore holidays by interest
Frequently asked questions
What to take on holiday to Austria?
Your hiking shoes for exploring the breathtaking Austrian Alps, your sense of adventure, and some stretchy pants so you can eat your bodyweight in Austrian Wiener Schnitzels. The rest will depend on the time of year you plan to travel, so best to do some specific research once you've locked in your travel dates.
---
Where to go on holiday in Austria?
This could be a whole book unto itself! For rich history, architecture and quaint coffeehouses, head to Vienna. Salzburg is famous for breathtaking mountain views and classical music (it is, after all, the birthplace of Mozart) while Salzkammergut is where you will find the fairy tale village of Hallstatt, which is widely regarded as one of the most beautiful places in Austria.
---
How do I go about cancelling my Austria holiday package?
---
When is the best time to visit Austria?
It depends, if hiking, biking, boating and outdoor activities are your ideal holiday activities, aim for summer (June to August). If you're keen on winter sports, December to February is the best time to visit Austria.
---
What is there to do in Austria?
From skiing and hiking in the Alps to getting wonderfully lost exploring historic cities like Vienna and Salzburg, Austria offers something for every kind of traveller. Add in some seriously delicious food, world-class museums and awe-inspiring scenery and you've got yourself a memorable holiday. One thing is for certain; you won't be bored in Austria.
---
How to find the best holiday package to Austria?
Sign up to get the hottest deals sent straight to your phone & emails. You can also check out our deals online, or speak to one of our Travel Experts.
---
...loading
Popular holiday destinations