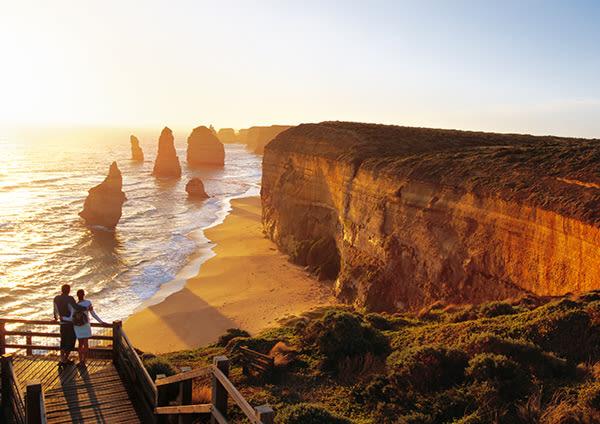 Melbourne tends to take the spotlight regarding Victoria Holiday Packages, but many don't realise that there is so much outside of the city to explore. Don't get us wrong - we love spending days meandering through Melbourne's vibrant alleyways, discovering new places to eat and drink while lapping up the city's rich cultural footprint. But a car trip can take you out of the urban jungle, opening up a world of wonder for tourists and locals alike. If wine is your love language, we recommend hitting up some of the 21 wine regions scattered across the state. If you're keen to witness the full force of mother nature, plan the ultimate scenic road trip along the Great Ocean Road, stopping in at small town pubs and BnBs. Victoria is also home to stunning beaches, pink salt lakes, lush hikes, and so, so much good food. Overwhelmed with choice? Don't stress, the Travel Experts at Flight Centre can get you sorted with the perfect Victoria Holiday Package today.
A Travel Expert Service Fee will be applied to bookings made in store, over the phone or via email.
Deals with your name on them...
Explore holidays by interest
Frequently asked questions
What to take on holiday to Victoria?
Be prepared for evening winds, so take a jacket no matter the time of year! We also recommend a raincoat, walking shoes & an empty stomach to taste all the delicious food!
---
Where to go on holiday in Victoria?
Carve up the slopes on Mt Buller, relax in farm country in charming Walhalla or retreat to Melbourne city for the ultimate culinary escape.
---
How do I go about cancelling my Queensland holiday package?
---
When is the best time to visit Victoria?
If you love the cold then Jun-Aug is perfect for you! Otherwise, the shoulder seasons (Sep-Nov & Feb-Apr) are the best time to see the sights with less travellers & great weather.
---
What is there to do in Victoria?
Take the ultimate road trip down the Great Ocean Road, relax by St Kilda beach or stay in the centre of Melbourne City - there's so much to see & do.
---
How to find the best holiday package to Queensland?
We've got that covered too! Sign up to get the hottest deals sent straight to your phone & emails here. You can also check out our deals online, or speak to one of our Travel Experts.
---
...loading
Popular holiday destinations