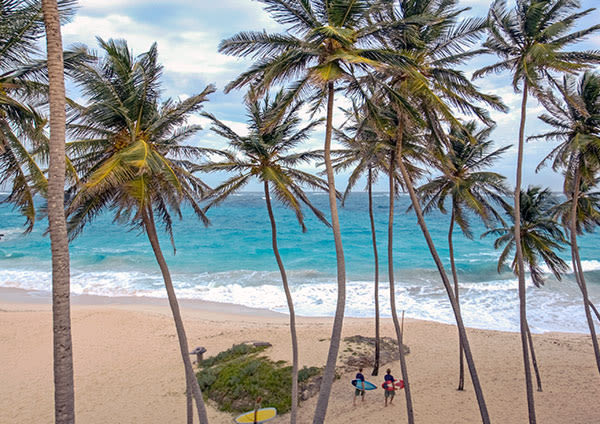 With more than 92 kilometres of white sand beaches, it's easy to understand why Barbados draws crowds of people chasing relaxation. A hub for sunbathing, swimming and indulging in delicious seafood - no trip is complete without visiting Oistins Fish Fry. Our Barbados holidays provide a prime opportunity to spend your days daydreaming by the coast and working on your tan, and then by night, immersing yourself in Barbadian culture and cuisine. Come on, let's make those sun kissed dreams reality!
A Travel Expert Service Fee will be applied to bookings made in store, over the phone or via email.
Deals with your name on them...
Explore holidays by interest
Frequently asked questions
What area of Barbados is best to stay?
Barbados is full of so many great spots. One of our favourite costs is the West Coast, home to pristine beaches, warm waters and stunning cliffs.
---
What to take on holiday in Barbados?
When you're packing for a trip to Barbados, don't forget the essentials like your passport, visa, phone, chargers, camera, sunblock, some Barbados Dollar (BBD) and the correct power adaptor. From there, we recommend packing a towel, plenty of bathing suits, insect repellent, a hat, flip flops, some walking shoes and a great book to enjoy as you relax by the water.
---
Where to go on holiday in Barbados?
Each coastline offers something very different and unique. We recommend visiting the West Coast, home to pristine beaches, warm waters and stunning cliffs. It's also home to the island's capital Bridgetown.
---
Which side of Barbados has the best beaches?
The West Coast is known for it's pristine beaches.
---
When is the best time to visit Barbados?
Barbados is a year round destination. However, you'll likely experience less rainfall if you visit between December and April which is typically the dry season.
---
How do I go about cancelling my Barbados holiday?
---
...loading
Popular holiday destinations