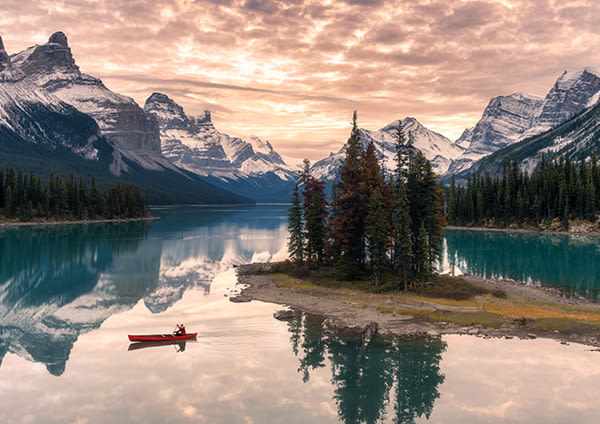 Jasper, in the midst of the beautiful Canadian Rockies, is a stunning town surrounded by glaciers, lakes, and forests. Whether you spend Winter at a ski resort or opt for an outdoor Summer holiday, Jasper packs a punch. Can't decide between wanting to hike through Jasper National Park or hit up the ski slopes of Marmot Basin? Let us assure you, either way you've won the breathtaking natural scenery lottery. What do you say, let's create that dream Jasper holiday package!
A Travel Expert Service Fee will be applied to bookings made in store, over the phone or via email.
Deals with your name on them...
Explore holidays by interest
Frequently asked questions
What to take on holiday to Jasper?
Don't forget your universal power adaptor, passport & the most comfortable pair of shoes you own to explore. For main character vibes, we recommend headphones & a great playlist!
---
Where to go on holiday in Jasper?
There is so much beauty to behold in Jasper, it'd be a waste to not visit places like Athabasca Falls, Maligne Canyon and Pyramid and Patricia Lakes.
---
How do I go about cancelling my holiday package?
---
When is the best time to visit Jasper?
September has been dubbed the golden month for Jasper - enjoy the transition of Summer into Autumn with smaller crowds than that of June-August.
---
What is there to do in Jasper?
If your heart is set on a Winter Jasper holiday, there is of course skiing and snowboarding aplenty. Otherwise, sign up for wildlife watching, a lake cruise or hike through a national park or canyon.
---
How to find the best holiday package?
Sign up to get the hottest deals sent straight to your phone & emails here. You can also check out our deals online, or speak to one of our Travel Experts.
---
...loading
Popular holiday destinations