Looking for Cancun Holiday Packages?
We can't find any online Cancun holiday deals at the moment but one of our helpful Travel Experts can help you find what you're after! Send us an online enquiry or call us on 0800 24 35 44.
Powdery white beaches and a deep, azure ocean await
The foreshore is lined with restaurants offering some of the best dining in the world, hosting everything from traditional Mexican cuisine to chic European-inspired dishes. Following dinner you can salsa and samba the night away or relax in a more laidback lounge bar – nightlife is in no short supply in Cancun.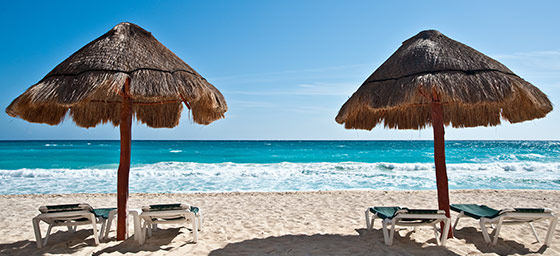 Beach Palapas
Water sports enthusiasts can try their hand at water skiing, windsurfing, parasailing, snorkelling and scuba diving, while those who prefer exercising their credit cards can hit up any of the world-class shopping facilities the city has to offer, or go to the local markets for something a little different. For another view of Cancun, try snorkelling or diving down to the Cancun Underwater Museum, where 450 statues act as an artificial reef. The city is also home to the Tequila Herradura Sensort Museum, where a 90 minute tour takes visitors through the distilling techniques of Mexico's unofficial national drink – taste tests are included.
Ik Kil cenote near Chichen Itza
If you need to escape the energy of the city, it's an easy day trip to the ruins of Chichen Itza, the laidback beach town of Tulum or the island of Cozumel in the heart of the Caribbean sea. Cancun is the perfect place for exploring Mexico, and with so much culture, energy and luxury packed into one place, it's hard to go wrong.