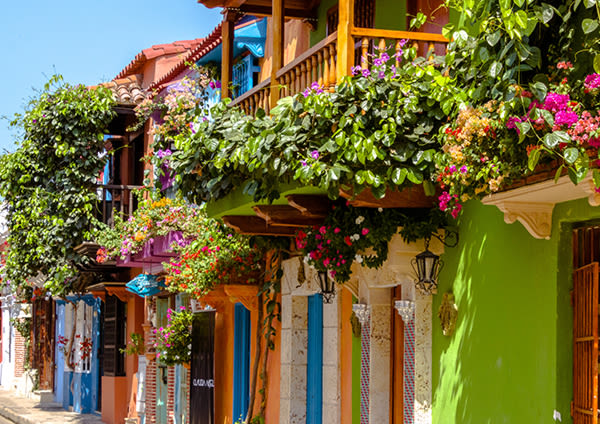 If you've been dreaming of an adventure that's off the beaten track, a Colombia holiday is right up your alley. Colourful, charismatic and utterly captivating, Colombia is a world away from your every day. Once considered a no-go for visitors, a lot has changed in recent years and the country is fast becoming one of South America's favourite holiday destinations, and for good reason too. Intrepid travellers can fill their days gazing at awe-inspiring colonial architecture in Bogotá, discovering fascinating facts in the historic district, immersing themselves in South America's rich cuisine and culture, soaking in the sunshine on postcard-worthy beaches in Tayrona National Park and reconnecting with Mother Nature on hiking adventures in Cocora Valley. Our holiday packages are the ideal way to experience this exceptional part of the world while it remains relatively unchanged by mass tourism. Base yourself in Medellín, the City of Eternal Spring, and you're well placed to enjoy everything this enchanting destination has to offer.
Talk to our team about our Colombia holiday packages today, because no good story ever started by staying at home.
A Travel Expert Service Fee will be applied to bookings made in store, over the phone or via email.
Deals with your name on them...
Explore holidays by interest
Frequently asked questions
What to take on holiday to Colombia?
It's the Amazon so pack for every climate but make sure you pack mosquito repellent, sunscreen, a filtered water bottle & at least two pairs of shoes (if you are heading off the beaten track).
---
Where to go on holiday in Colombia?
Visit the colonial architecture in Bogotá, soak up the sunshie on the Tayrona National Park beaches or head off on hiking adventures in hiking adventures in Cocora Valley.
---
How do I go about cancelling my Colombia holiday package?
---
When is the best time to visit Colombia?
While the rainforests are wet year-round, the general dry season runs from December to March - the perfect way to finish the year or start the new year!
---
What is there to do in Colombia?
Immerse yourself in South America's rich cuisine and culture with historic cities to explore, ancient valleys to hike & epic post-card worthy beaches to relax by.
---
How to find the best holiday package to Colombia?
We've got that covered too! Sign up to get the hottest deals sent straight to your phone & emails.  You can also check out our deals online, or speak to one of our Travel Experts.
---
...loading
Popular holiday destinations