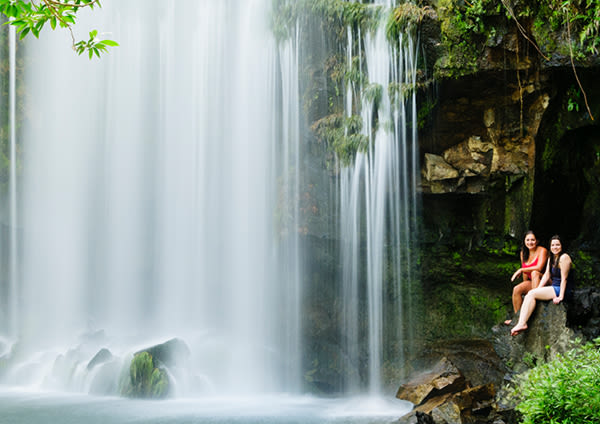 Get back to nature with a trip to the lush rainforests and pristine beaches of Costa Rica. Serving as a mecca for adventure tourism and eco-lovers, Costa Rica is a paradise for surfing, hiking, yoga retreats, and all things outdoors. With 25% of the country set aside for national parks and reserves, travellers can head to places like Manuel Antonio and witness sloths, monkeys, sea turtles, toucans, macaws and other creatures in their natural habitat. Wildlife aside, visitors to Costa Rica are encouraged to step into the slow lane, disconnecting from the hustle and bustle at scenic beach resorts and luxury hotels, soaking in hot springs and embracing the opportunity to be pampered. Sound like your idea of a good time? Book your Costa Rica holiday package with Flight Centre's Travel Experts today.
A Travel Expert Service Fee will be applied to bookings made in store, over the phone or via email.
Deals with your name on them...
Explore holidays by interest
Frequently asked questions
What part of Costa Rica is best for vacation?
Costa Rica is a small country which packs a big punch. Costa Rica is one of the most diverse places on the planet, where you spend your morning on the beach and be deep in the mountains by evening. There are over 100 beaches to explore in Costa Rica on both the Pacific Ocean and the Caribbean sides, each offering beachgoers a unique experience. Surfers will want to head to the Pacific Ocean side where you can find world-famous wave breaks, while those seeking calmer waters will want to find lodgings on the Caribbean sea side. The capital, San Jose, makes a great base from which to explore Costa Rica, particularly if you're visiting for the first time. Believe us when we say you won't want it to be your last!
---
How many days do you need in Costa Rica?
Do yourself a favour and make sure you spend at least two weeks discovering Costa Rica. There is so much to discover here – from untouched beaches, to volcanoes and cloud forests, wildlife spotting, hiking and adventure sports – you name it, Costa Rica has it.
---
When is the best time to visit Costa Rica?
Generally, December to April is generally the best time to visit Costa Rica, during the high and dry season.
---
What is there to do in Costa Rica?
Costa Rica is a paradise for nature lovers. Spend your days relaxing on Costa Rica's pristine beaches, explore the cloud forests, spot macaws and sloths in the jungle, scale volcanoes and take a dip in natural hot springs. If you're feeling adventurous, strap on your hiking boots and go for a walk or get the adrenaline going with ziplining or rafting. There really is something for everyone to enjoy in Costa Rica.
---
How to find the best holiday package to Costa Rica?
---
Where should I stay in Costa Rica for the first time?
San Jose provides a 'soft' introduction to Costa Rica. The capital of Costa Rica, San Jose has all the conveniences of a modern city, while also being close to some of the sights that entice you here. Beautiful beaches, cloud forests, volcanoes and hot springs are all within easy distance of San Jose, making it the perfect base from which to explore Costa Rica.
---
What to take on holiday to Costa Rica?
Think four seasons in one day! Bring all the gear you need to enjoy some downtime at the beach (swimwear, sunnies, hat and sunscreen), smart casual clothes and comfortable shoes for wandering around towns, long sleeved clothing and hiking shoes for visits to the cloud forest, and a light jacket for when temperatures drop in the mountains or in the evenings. You also want to make sure you have some decent insect repellent handy, particularly when visiting the mountains.
---
Where to go on holiday in Costa Rica?
It really depends on what brings you to Costa Rica. San Jose is a great place to get your bearings before venturing further afield. Surfers will want to head to the Pacific Coast, while families and those seeking more calmer waters will want to hit the beaches on the Caribbean sea side. You're definitely going to want to visit the Monteverde Cloud Forest, as well as Manuel Antonio National Park.
---
How do I go about cancelling my Costa Rica holiday package?
---
...loading
Popular holiday destinations