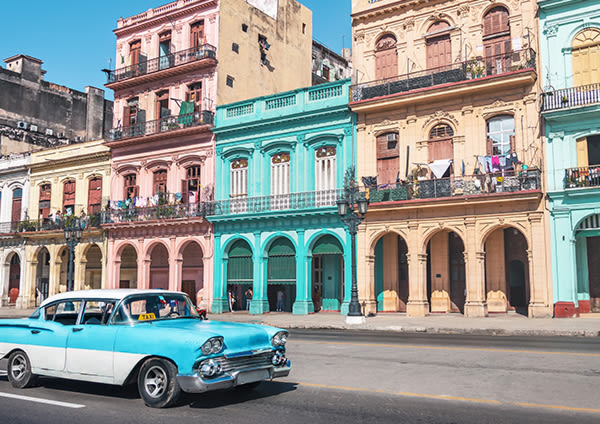 Take a step back in time and immerse yourself in the vibrant energy of Cuba, a Caribbean island with a rich history and cultural heritage. Start your Cuban adventure in Havana, where you can learn about the country's fascinating past among crumbling art deco colonial buildings and vintage cars. Wandering is a popular pastime here in Havana, so consider this your invitation to embrace a slower pace and explore on foot. If you're looking for some coastal relaxation, Cuba has plenty to offer. The island boasts some of the Caribbean's most stunning beaches, with crystal-clear waters and powdery white sands. You can unwind at a beach resort, complete with luxury hotels that offer all-inclusive packages and family-friendly activities. If you're feeling adventurous, lace up your boots and hike through tobacco plantations in the heritage-listed Vinales Valley, or don't and learn to muddle the perfect mojito instead. Cuba is famous for its cigars, and you can learn all about the process at one of the many cigar factories on the island. Culture seekers, be sure to add a visit to the Museum of the Revolution to your to-do list, but perhaps the best way to experience Cuba is to simply soak up the vibrant culture, dance the night away to salsa music, try some delicious local cuisine and revel in the warm hospitality of the Cuban people. Ready for the Caribbean adventure of your dreams? Talk to our team today about our Cuba holidays and packages.
A Travel Expert Service Fee will be applied to bookings made in store, over the phone or via email.
Deals with your name on them...
Explore holidays by interest
Frequently asked questions
Which part of Cuba is best for a holiday?
It all depends on what you want out of your Cuban holiday! Cuba has it all – world-famous beaches, living history cities, rolling hills covered in tobacco shrubs and lush rainforests. Start your Cuban holiday in Havana, where you can learn about Cuba's fascinating history among crumbling art deco buildings and classic cars, then head toward Viñales and check out the tobacco plantations. Make a beeline for the coast and lose days to the sun, sea and sand – Cuba has some of the most beautiful beaches in the world.
---
Where is the best place in Cuba to stay?
Start your Cuban holiday in Havana, a delightful city to get your bearings and learn about the history and culture of Cuba. Then make your way to the mountains or the beaches to experience dramatic landscapes, untouched beaches, and some of the friendliest locals you'll ever meet. There is a range of accommodation to suit all styles and budgets – from luxury hotels to budget casas particulares (or Cuban bed and breakfast).
---
When is the best time to visit Cuba?
Cuba is a great holiday destination all year round. November to April brings dry weather, hot days and cool nights. May to September is regarded as the rainy season, but the sun still shines and showers don't last long so just make sure you bring a raincoat.
---
What is there to do in Cuba?
Wandering will become a favourite pastime in Cuba. Taking in Cuba at a slower pace and happening upon hidden gems – like a secondhand book market with some first-edition classics, or an ensemble of Cuban musicians rehearsing for an event – will quickly become highlights of your trip. Other than immersing yourself in Cuban life, you can get your toes wet in the Caribbean sea at a beachside resort, hike through tobacco plantations in the heritage listed Vinales Valley, learn to muddle the perfect mojito and puff on a Cuban cigar (or don't, because health).
---
How to find the best holiday package to Cuba?
Sign up to get the hottest deals sent straight to your phone & emails here. You can also check out our deals online, or speak to one of our Travel Experts.
---
What is the most beautiful part of Cuba?
Beauty is in the eye of the beholder, but you really can't look past Cuba's white sand beaches and turquoise waters. When you step on to the sand in Cuba you will quickly understand why Cuba's beaches are world-famous. If you're more of a tree-change type, the Viñales Valley is world heritage listed for its lush tobacco plantations set amongst dramatic rocky outcrops. Even the metropolis is beautiful – the crumbling art deco buildings and classic cars are a nod to a bygone era, thanks to the long-standing economic embargo by the United States.
---
What to take on holiday to Cuba?
Comfortable walking shoes and everything you need for a beach holiday (swimwear, sunnies and sunscreen). It's also a good idea to take a warm jacket. It can get surprisingly chilly in the mountains so make sure you come prepared.
---
Where to go on holiday in Cuba?
You could spend weeks (months!) discovering all of what Cuba has to offer, but if you are pressed for time you are going to want to make sure you experience the living history cities, the world heritage protected Vinales Valley, and the beach. With plenty of beaches to choose from within an easy drive of Havana, you should be able to tick off some of Cuba's highlights in one epic holiday.
---
How do I go about cancelling my Cuba holiday package?
---
...loading
Popular holiday destinations