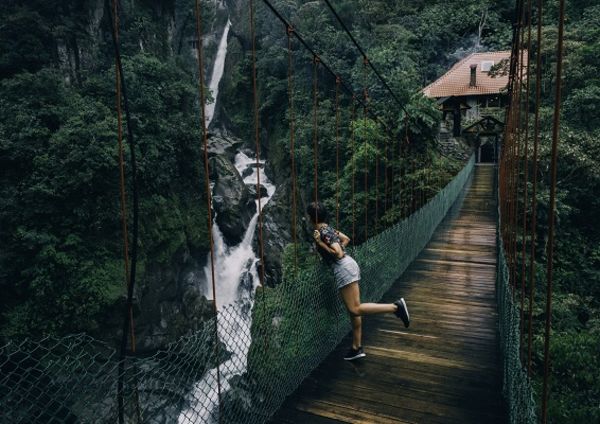 Ecuador may be small, but it's guaranteed to leave a lasting impression. Though famous for the Galapagos Islands, Ecuador is no one-trick pony. Sure, the promise of breathtaking wildlife encounters and playing the lead role in your very own nature documentary is an excellent draw card, but there's so much more to this quaint South American country that meets the eye. From the majestic peaks of the Andes Mountains to the wild Amazon rainforest – Ecuador is a place of beauty. Visitors can spend time exploring Quito, Ecuador's capital, and marveling at the well-preserved colonial center. Then, as the sun sets, Ecuador's nightlife takes hold. Ecuador truly is an experience unlike any other on Earth. Talk to the team today about our holiday packages to make the most of our limited-offer travel deals and see for yourself if Ecuador earns its rightful place as one of the world's most interesting and unique holiday destinations.
Just be sure to practice your very best David Attenborough voice, you're going to need it. 
A Travel Expert Service Fee will be applied to bookings made in store, over the phone or via email.
Deals with your name on them...
Explore holidays by interest
Frequently asked questions
What to take on holiday to Ecuador?
It's the Amazon so pack for every climate but make sure you pack mosquito repellent, sunscreen, a filtered water bottle & at least two pairs of shoes (if you are heading off the beaten track).
---
Where to go on holiday in Ecuador?
From the majestic peaks of the Andes Mountains to the wild Amazon rainforest and adventures to the colonial center of Quito - you'll be the main star of your nature documentary.
---
How do I go about canceling my Ecuador holiday package?
---
When is the best time to visit Ecuador?
While the rainforests are wet year-round, the general dry season runs from December to March - the perfect way to finish the year or start the new year!
---
What is there to do in Ecuador?
Wildlife adventures in the Galapagos Islands should be top of your list but if it's not, let the smaller cities show you the best of local life, food & traditions!
---
How to find the best holiday package to Ecuador?
We've got that covered too! Sign up to get the hottest deals sent straight to your phone & emails here. You can also check out our deals online, or speak to one of our Travel Experts.
---
...loading
Popular holiday destinations