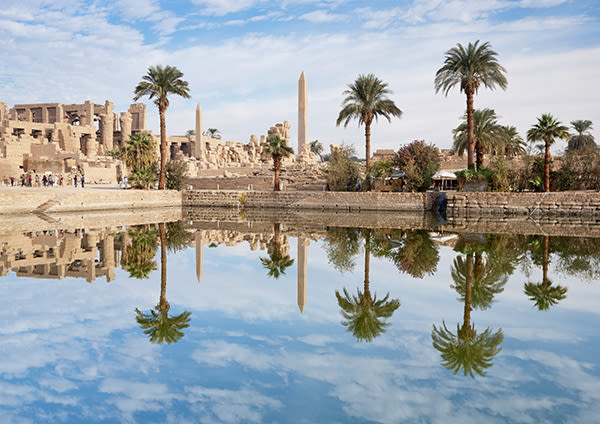 Dreaming of beach days, Arabian nights and a holiday that serves up cultural and historical experiences of a lifetime? You must be planning an Egypt holiday! Famous for its ancient wonders, you can enjoy a city break in Cairo against a backdrop of the Great Pyramids and the famous Sphinx. If antiquities excite you, sail down the Nile toward the Valley of the Kings to discover the magnificent cultural heritage site and burial place of Pharaohs. For a more relaxed beach holiday, the Red Sea coast offers visitors white sand beaches, colourful coral reefs and plenty of water sports and activities to enjoy. Makadi Bay and Marsa Alam offer excellent snorkelling and scuba diving and an abundance of marine life. The fusion of ancient and modern paired with the sounds and smells of Egypt is sure to delight!
A Travel Expert Service Fee will be applied to bookings made in store, over the phone or via email.
Deals with your name on them...
Explore holidays by interest
Explore Egypt
Where to stay in Egypt
Where to stay in Egypt
Need a few suggestions of the best area to stay in Cairo? From glitzy five-star hotels to family-friendly resort towns, there's something for all types of travellers:  
Read travel guide
Cairo Marriott Hotel & Omar Khayyam Casino
Situated in the pulsating heart of downtown Cairo, the Cairo Marriott Hotel forms the perfect base from which to explore. It also offers all the mod cons you could want and need, from ultra-fast Wi-Fi and air conditioning to a wide range of eateries suited to every palate. It's a stone's throw from the Egyptian Museum and the Khan el-Khalili bazaar. Oh, and did we mention prime views over the Nile?  
Kempinski Nile Hotel Garden City Cairo
Towering above the shimmering Nile River, a stay at the Kempinski Nile Hotel ensures that you're never too far from the main attractions in Cairo. After a busy day of exploring, there's really no better place to put your feet up. Comfort is the name of the game here, with a list of added features like the Jazz Bar, rooftop pool and Chocolate Lounge. Yes, you read right! This hotel has its own Chocolate Lounge!  
Four Seasons Hotel Cairo at Nile Plaza
Welcome to one of the finest residences in the city. The Four Seasons Hotel lives up to its reputation of high-calibre service and swanky suites.  It also boasts a stellar location, and there's really no better place to kick off your shoes and watch the city change colour at sunset. When you're in the mood for a quick dip, head upstairs to the three-tiered rooftop pool – no kids are allowed here if that's your travel preference.   
Frequently asked questions
What is the best area to stay in Egypt?
If you're planning on a multi-city Egyptian adventure, you are most likely to pass through Cairo and Luxor. Both cities are well catered for tourists and there are plenty of accommodation options to suit your style and budget. The Red Sea coast has several resorts to choose from. We can help you tailor an itinerary to your needs.
---
How many days are enough to see Egypt?
Allow at least two to three weeks if you plan on exploring Cairo (pyramids), Luxor (Valley of the Kings, Abu Simbel) before heading to the Red Sea coast for some R&R – the more time you have, the more you can immerse yourself in enchanting Egypt.
---
When is the best time to visit Egypt?
October to April is the best time to visit Egypt, when the sun's out but it's not stiflingly hot.
---
What is there to do in Egypt?
Discover antiquities, learn about the expansive history of Egypt, wander the bustling streets of Cairo, stopping to sip some mint tea and observe the chaotic city scape, float along the Nile River, discover a whole new (underwater) world in the Red Sea – you are really spoiled for choice when you visit Egypt!
---
What are the best tourist attractions in Egypt?
No trip to Egypt is complete without visiting Egypt's ancient wonders. The Pyramid of Giza and the Sphinx can be seen in downtown Cairo, but you will need to travel further afield to see the Valley of the Kings and Abu Simbel. A package holiday is a great way to ensure you tick off your bucket list!
---
What to take on holiday to Egypt?
Light clothing, a hat and sunscreen, water bottle and sunglasses are a must. The heat and the glare can be formidable, so make sure you are prepared! Oh and don't forget comfortable shoes – you'll be doing a lot of walking!
---
Where to go on holiday in Egypt?
If you're going to travel all the way to Egypt you want to make sure you see the highlights. Cairo is a great starting point for your Egyptian holiday, before heading south along the Nile to Luxor and Aswan. If you want to dip your toes in the Red Sea, travel back up towards Hurghada. Of course, you can go off the beaten track and explore the western desert and Sinai regions as well. Whatever piques your interest, we can tailor a trip for you.
---
How do I go about cancelling my Egypt holiday package?
---
...loading
Popular holiday destinations