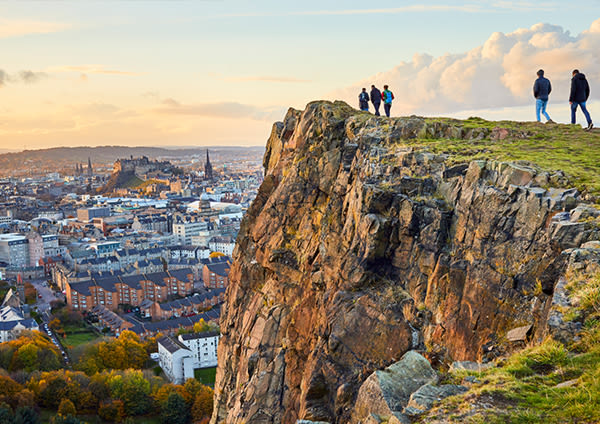 More than just kilts, haggis and lager, holidays in Scotland offer travellers the chance to enjoy a diverse range of seasons while soaking in world-class scenery. From the picturesque landscapes and artisan produce in the Outer Hebrides to the bustling cityscape and medieval history in Edinburgh, Scotland holidays are sure to tickle the travel taste buds of almost everyone. You can spend your days frolicking through the fields and feeling the salt air in the West Highlands quaint waterfront villages, camping out for a selfie with the infamous loch ness monster, or treating yourself to a city break and tuning your ears to the iconic accents in Edinburgh and Glasgow. See what the fuss is about and include Scotland in your UK holiday package today.
A Travel Expert Service Fee will be applied to bookings made in store, over the phone or via email.
Deals with your name on them...
Explore holidays by interest
Frequently asked questions
When is the best time to visit Scotland?
While Scotland isn't winning any prizes for year-round sunshine, it does give travellers the chance to experience all four seasons. Summer offers the hottest temps and long, sunny days between June and August, while winter will bring the cold, fog and snow between December and February. If you're not a fan of the cold and are keen to make the most of your days in Scotland, we recommend visiting between March and August.
---
What is there to do in Scotland?
Beyond sampling haggis and shopping for your next kilt, Scotland packs a mighty punch when it comes to holiday activities. Take your pick from days spent exploring bustling cities like Edinburgh and Glasgow, enjoying some fresh air in the West Highlands, visiting the famous Loch Ness and sampling artisan produce in the Outer Hebrides.
---
How to find the best holiday package to Scotland?
Flight Centre's travel experts are well versed in the art of decoding thick Scottish accents, and have worked hard to curate the best Scotland holiday packages on the market. Sign up to get the hottest deals sent straight to your phone & emails here. You can also check out our deals online, or speak to one of our Travel Experts.
---
Where to go on holiday in Scotland?
Scotland offers travellers a bounty of experiences, from city's overflowing with medieval history to roadtrips through lush countryside. Hire a car or camper and take your time meandering through green hills, stopping in at cities like Glasgow and Edinburgh before cosying up at coastal towns like Aberdeen and Dundee.
---
How do I go about cancelling my Scotland holiday package?
---
...loading
Popular holiday destinations