Looking for Hong Kong Holiday Packages?
We can't find any online Hong Kong holiday deals at the moment but one of our helpful Travel Experts can help you find what you're after! Send us an online enquiry or call us on 0800 24 35 44.
Industrious, vibrant and culturally diverse
If you do nothing else in this city, be sure to catch the tram up to The Peak – it's the highest point on Hong Kong Island and affords a magnificent vista. Shopaholics will love the colour, bargains and luxury to be sampled here; trading is a perfected art. Antiques, silk, porcelain, handicrafts, electronics and fashion may be found amid a 'Honkers' haul.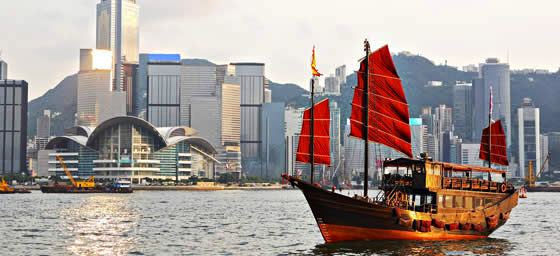 Hong Kong's Harbour
Hungry? This city offers thousands of tasty morsels, frequently consumed as dim sum – steamed, fried or baked parcels. There are about 2,000 items in the full range; more than enough to whet the largest appetite! A holiday in Hong Kong needn't be all about the city either. Try heading to Lantau Island to visit the Po Lin Monastery and 'big Buddha'; laze on Silver Mine Bay Beach or hike 2 hours to Lantau Peak. Back in the city, Hong Kong Island's Victoria Park can give you some 'green time' too. If you're there early enough there are free tai chi classes.
City View from Peak Tram