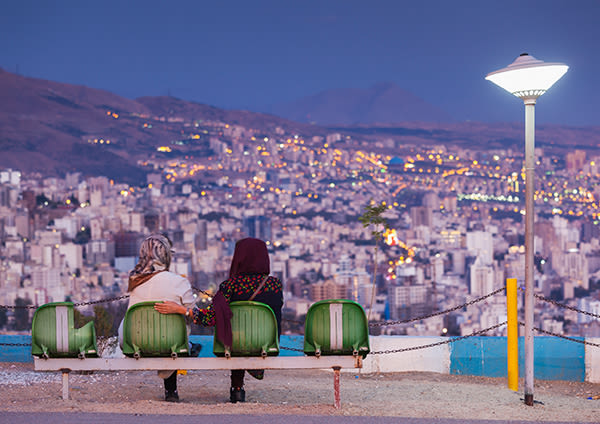 If you're looking for a holiday that is rich in history and culture and is a bit off the beaten track, you can't go past an Iran holiday. Charming and complicated, Iran is the jewel of the Middle East and the heart of the old Persian empire. Steeped in history, Iran was the link between the East and the West on the ancient Silk Road, and the remnants of the old trade route can still be seen today. To get the most out of your holiday, we recommend booking an Iran tour. Start your journey in Tehran at the Golestan Palace to learn about the history and culture of Iran. Travel south to Esfahan and Shiraz, where you can marvel in the magnificent mosques. The intricate mosaics and colourful stained glass of the Nasir al-mulk mosque in Shiraz are simply awe-inspiring. The iconic Abbasi Great Mosque in Isfahan is perhaps the most recognisable picture of Iran today. With mountains to trek and beaches by the Caspian Sea to explore, this colourful and complex country should be visited at least once in your lifetime.
A Travel Expert Service Fee will be applied to bookings made in store, over the phone or via email.
Deals with your name on them...
Explore holidays by interest
Frequently asked questions
Is Iran safe for tourists?
Generally, Iran is safe for tourists. Iran has a complicated history and sometimes protests break out (as in recent times) but the crime rate in Iran is similar to, say, the UK. If you assimilate and stay away from politics and protests you are less likely to come into trouble.
---
What to take on holiday to Iran?
A modest wardrobe is advisable and for women, you want to ensure you have a headscarf and closed in shoes.
---
Where to go on holiday in Iran?
If you have limited time in Iran, we suggest visiting Tehran, Esfahan and Shiraz. With a little more time you may wish to visit Tabriz or head towards the coastline for a holiday by the Caspian Sea.
---
How do I go about cancelling my Iran holiday package?
---
What is the most visited place in Iran?
The 'pink mosque' in Shiraz (Nasir al-mulk) and the 'blue mosque' in Tabriz (Masjed-e Kabud) are iconic images of Iran. Persepolis, the remnant capital of the Persian Empire, in Shiraz is also very popular with tourists.
---
When is the best time to visit Iran?
Autumn and Spring are generally the best seasons to travel to Iran. Aim for travel during March, April or May, or September, October and November.
---
What is there to do in Iran?
In Shiraz visit the Nasir al-mulk mosque and check out Persepolis, the remnant capital of the ancient Persian empire. In Tehran, visit Golestan Palace to learn about the history and culture of Iran. While in Tehran, make sure you check out the bazaar.
---
...loading
Popular holiday destinations