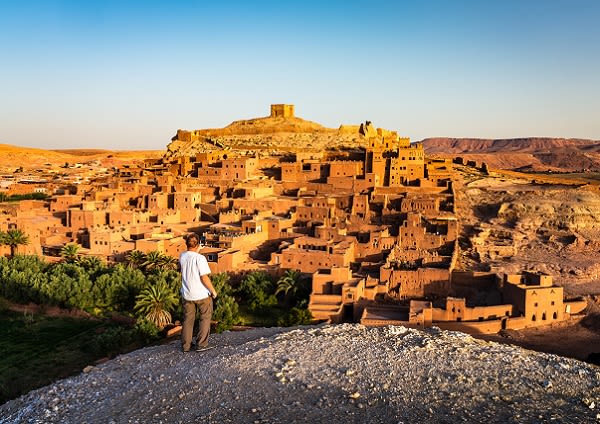 A Morocco holiday is a feature on many bucket lists for very good reason! Ancient medinas, bustling markets, exquisite cuisine, expansive deserts and an Atlantic coastline lure travellers who want to pack in a lot of different experiences into one holiday. Where else can you experience a vibrant city break, relaxing beach holiday and mountain trekking in the one place? For travellers, Marrakesh is the city heart of Morocco – home to the famous Jemaa el-Fna square where you'll find street performers, food stalls and traditional healers. Visit the 19th century Bahia Palace and then retreat to your very own palace at La Mamounia hotel. While in Marrakesh, wander by the enchanting Koutoubia Mosque and learn about Morocco's rich culture. Casablanca, Essaouria, Fez and the 'blue city' Chefchaouen all serve up a different side of Morocco, including the chance to experience an authentic desert holiday. If you are seeking a colourful and inspiring getaway, you simply must visit Morocco!
A Travel Expert Service Fee will be applied to bookings made in store, over the phone or via email.
Deals with your name on them...
Explore holidays by interest
Frequently asked questions
What is the best area to stay in Morocco?
It really depends on what you want to see! Marrakesh offers visitors a taste of Morocco and serves as an easy launchpad for other Moroccan experiences. Make a beeline for the coast and visit Essaouria and Casablanca for a beach holiday, or head inland toward the mountains and desert if you are seeking an authentic cultural experience.
---
Is Morocco a good place for tourists?
Whether you're a beach person, a mountain person, or a desert person, Morocco has your measure. With its diverse landscapes, signature cuisine, and rich culture, Morocco is an incredible place for tourists to discover.
---
When is the best time to visit Morocco?
Morocco has two high seasons – March through to May, and September to October.
---
What is there to do in Morocco?
There is no shortage of things to discover in Morocco. Explore its colourful cities, enjoy the rich taste of Moroccan cuisine, uncover Morocco's rich cultural heritage with a visit to ancient ruins and castles, head for the mountains, or hit up the sandy deserts or beaches – Morocco has something for everyone.
---
How to find the best holiday package to Morocco?
We've got that covered! Sign up to get the hottest deals sent straight to your phone & emails here. You can also check out our deals online, or speak to one of our Travel Experts.
---
How long should my trip to Morocco be?
You really could spend months uncovering the mystique of Morocco, but if time is not on your side you can hit all the high points in about two weeks. If you want a more authentic experience outside the cities or you like to travel slow and immerse yourself in a new part of the world then plan for longer.
---
What to take on holiday to Morocco?
Make sure you pack comfortable walking shoes and light clothing for the hot and dry climate in Morocco. A hat, sunscreen and water bottle are essential. If you plan on getting to altitude in the Atlas mountains you may want to check in with your healthcare professional before you go.
---
Where to go on holiday in Morocco?
Marrakesh and Casablanca are must-sees on your Moroccan itinerary, but there are so many jewels you might want to check out. From the beautiful coastal town of Essaouria, the southern kasbahs around Ouarzazate and the Saharan Desert around Fez, there is so much to pack in to your Moroccan holiday.
---
How do I go about cancelling my Morocco holiday package?
---
...loading
Popular holiday destinations