Looking for Netherlands Holiday Packages?
We can't find any online Netherlands holiday deals at the moment but one of our helpful Travel Experts can help you find what you're after! Send us an online enquiry or call us on 0800 24 35 44.
A mix of bustling cities and sprawling countryside
The capital, Amsterdam, has come a long way since its 12th-century fishing village origins and is culturally and architecturally rich. The work of the Dutch Masters is proudly displayed here and the canals are beautiful to cruise and walk by. Further afield, many of Utrecht's medieval structures remain; Leiden was Rembrandt's birthplace and is home to the oldest university in the Netherlands. Maastricht is one of the country's most beautiful cities. For a sense of wild places, be sure to explore the pretty Hoge Veluwe National Park in the Gelderland province.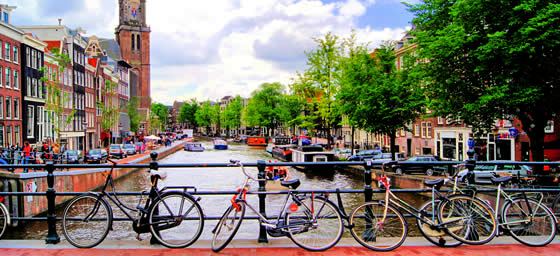 Bikes are a Popular Means of Transport
Wherever your holiday in the Netherlands takes you, you're bound to leave more relaxed than you arrived and the Dutch will be very pleased for their role in that.
Maastricht