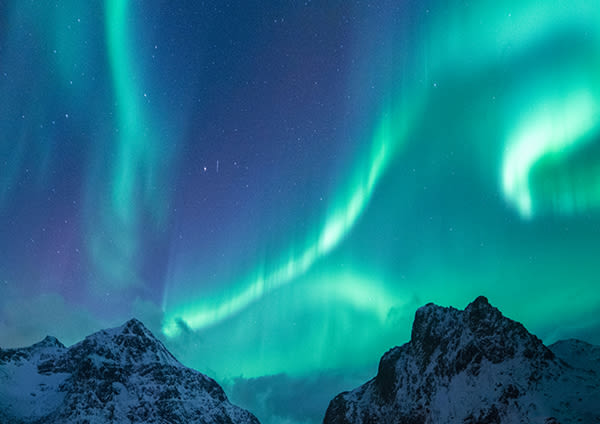 The natural beauty of Norway needs to be seen to be believed. Live your best life whale watching along a pristine coastline then swap the sandals for boots and hike up a towering mountain or glacier (yes, glacier hiking exists!). The country's capital, Oslo boasts innovative architecture and world-class museums, offering a rare blend of trendy neighbourhoods and historic towns within walking distance of one another. With so much on offer, what would be our must-do on a Norway holiday, we hear you ask? We'll be venturing to the country's northernmost point, The North Cape, to stargaze under a dancing sky of Northern Lights. Time to start living your best life? Let our experts know, we'll make it happen.
A Travel Expert Service Fee will be applied to bookings made in store, over the phone or via email.
Deals with your name on them...
Explore holidays by interest
Frequently asked questions
What to take on holiday to Norway?
What to pack depends on the time of year you plan to travel, but Norway has a reputation for being cold and rainy, even in summer! Be prepared for whatever Mother Nature has in store by packing a raincoat and weather appropriate footwear. If you're planning on making the most of the thermal baths (definitely do) be sure to pack a swimsuit or two.
---
Where to go on holiday in Norway?
From bustling cities to the awe-inspiring northern lights and remote villages, Norway is jam-packed with incredible things to see and do. Norway's capital Oslo is ideal for those seeking a cosmopolitan holiday with a buzzing food scene, must-visit museums and cultural attractions in upmarket neighbourhoods. If your Norway bucket list includes the Northern Lights, midnight sun and breathtaking natural scenery, Tromsø is where you will find it. If you're keen to check out the glittering Fjords, head to Bergen.
---
How do I go about cancelling my Norway holiday package?
---
When is the best time to visit Norway?
If you immediately picture snow-capped scenes when you think of Norway, it may come as a surprise that the summer months (from June to August) are actually the most popular time to visit Norway. Generally speaking, the weather is mild and there's plenty of daylight to make the most of outdoor activities such as hiking, biking and camping. If, however, you're here for the aforementioned snow-covered landscapes and the Northern Lights, winter (December to February) is ideal.
---
What is there to do in Norway?
Kayak along the world-famous Fjords, witness the magic and splendour of the Northern Lights, brush up on Viking history, take a hike (literally), experience the incredible customs and traditions of Sami culture, enjoy a scenic train ride, eat and drink your way around Oslo, the list is endless!
---
How to find the best holiday package to Norway?
Sign up to get the hottest deals sent straight to your phone & emails. You can also check out our deals online, or speak to one of our Travel Experts.
---
...loading
Popular holiday destinations