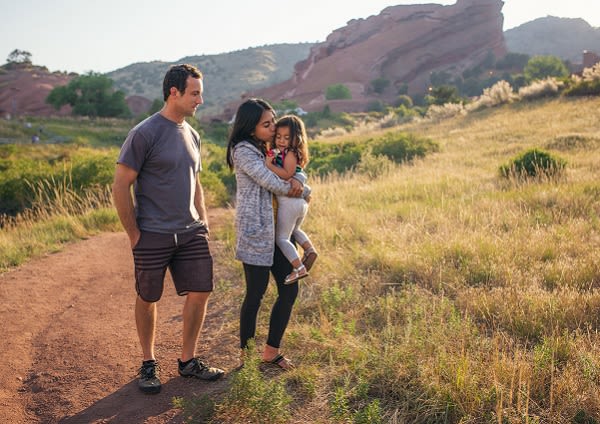 If you think life is best lived outdoors, stop what you're doing and book a Colorado holiday package stat. No, seriously, Colorado is a nature-lovers mecca, serving up varied landscapes to suit every adventure sport under the sun. Take your pick from hiking, skiing, camping and mountain biking through rocky mountains and the breathtaking scenery of the state's national parks. In winter, places like Beaver Creek become a beacon for snowboarding fiends seeking fresh pow and back-country bliss, while summer turns it into the ideal place for festivals amongst the wildflowers. Beyond its draw as an adventure holiday haven, travellers are encouraged to take a break from the scenic views and hiking trails to enjoy the diverse culture, food and drink offerings available in cities and towns. So, what are you waiting for? Dust off those hiking boots - we've got a bounty of Colorado holiday packages just waiting for you to explore.
A Travel Expert Service Fee will be applied to bookings made in store, over the phone or via email.
Deals with your name on them...
Explore holidays by interest
Frequently asked questions
How many days do you need in Colorado?
This is one of those 'how long is a piece of string' questions because it depends on how much you want to see and how attached you are to sleep. If you are planning to visit all four national parks, you could possibly squeeze it into 10 days. If you can stretch it to two weeks you'll be able to enjoy some much-needed downtime in between.
---
What to take on holiday to Colorado?
What to pack depends on the time of year you plan to visit and what you hope to do while you're in Colorado. The weather can change quickly, so be prepared with lightweight layers and a rain jacket. If you're planning on exploring the national parks, be sure to pack your hiking gear.
---
Where to go on holiday in Colorado?
The great news is that Colorado is jam-packed with incredible experiences and awe-inspiring scenery so you could literally go anywhere and have a wonderful holiday. If you're looking for a cosmopolitan city break, look no further than Denver. Colorado Springs is great for nature lovers, while Aspen and Breckenridge are ideal for winter sports enthusiasts. If you're keen to take a hike, Rocky Mountain National Park, Great Sand Dunes National Park and Preserve, Mesa Verde National Park, Garden of the Gods and Black Canyon of the Gunnison National Park offer breathtaking views and once-in-a-lifetime adventures.
---
How do I go about cancelling my Colorado holiday package?
---
Is it better to stay in Denver or Colorado Springs?
Colorado Springs boasts a small-town vibe, with plenty of locally owned restaurants, watering holes and cafes to keep those pesky pangs at bay. If you're after that cosmopolitan city life, Denver is it. Generally speaking you need a car to get around Colorado Springs, while Denver offers more public transport options. Denver also has an aquarium, a zoo as well as museums and restaurants.
---
When is the best time to visit Colorado?
If you're looking to explore the great outdoors and make the most of Colorado's hiking trails and water sports, from mid-June to September is ideal. If you're keen to hit the slopes, aim for December through to early March.
---
What is there to do in Colorado?
Take a hike (literally) or fly head-first down snow-covered mountains, spot some wildlife in the Rocky Mountain National Park, drive the Trail Ridge Road, explore Denver and spend the day museum hopping, get up close with some furry friends at Denver Zoo, see street art, catch a gig, sled down some enormous sand dunes, wander around the Garden of the Gods, the list is endless!
---
How to find the best holiday package to Colorado?
Sign up to get the hottest deals sent straight to your phone & emails here. You can also check out our deals online, or speak to one of our Travel Experts.
---
...loading
Popular holiday destinations