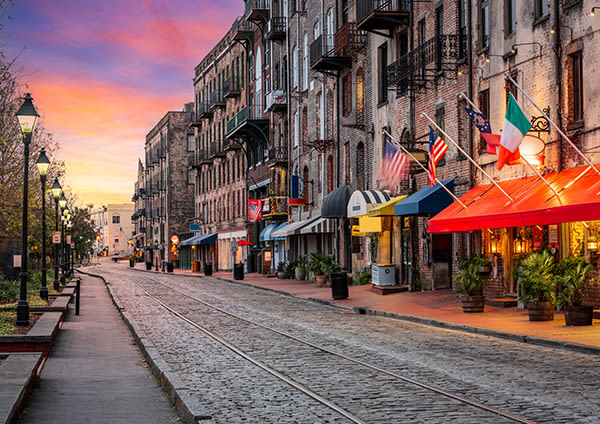 If you're in desperate need of some good, old-fashioned southern hospitality, then it's time to take a trip to Georgia. Nestled into America's deep south, Georgia offers travellers seaside resorts, vast mountains, vibrant cities and a hearty serving of soul food. Head to the coastal city of Savannah, home to cobblestone-lined squares and antebellum architecture. Alternatively, explore the state's capital of Atlanta, with its unique downtown scene, Auburn Historic District and famous botanical gardens. No trip to the south is complete without a bite or two of the famous Georgia peaches! Ready to inject some southern charm into your American itinerary? Book your Georgia holiday package with the Travel Experts at Flight Centre today.
A Travel Expert Service Fee will be applied to bookings made in store, over the phone or via email.
Deals with your name on them...
Explore holidays by interest
Frequently asked questions
What should I know before booking a Georgia travel package?
Every state and city has its little quirks and Georgia is no exception. The first thing you need to know is that there's a European country called Georgia, so be sure you're researching the right place before you go too far down that rabbit hole. Another thing you should know is that things don't necessarily make sense to out-of-towners, like the fact that there are 70 roads called Peachtree in Atlanta, but that's part of the fun of experiencing Georgia for the first time. It was also the birthplace of Martin Luther King Jr.
---
What to take on holiday to Georgia?
Your appetite! Georgians are generous when it comes to meals (and hospitality), so be prepared for big portions of everything. In terms of a packing list, it will depend on the time of year you plan to travel, but comfortable shoes are a must as you're likely to do a lot of walking in Georgia.
---
Where to go on holiday in Georgia?
Savannah is a charming coastal city with cobblestone streets, rich culinary culture, horse-drawn carriages and historical landmarks, while Atlanta offers cosmopolitan city vibes with a southern heart. As Georgia's capital, Atlanta is steeped in history but there's a buzz to the city that makes it exciting and elegant at the same time. Tybee Island, just 20-minutes from Savannah, is ideal for water sports and outdoor activities.
---
How do I go about cancelling my Georgia holiday package?
---
What is the prettiest place to stay in Georgia?
It depends on your definition of pretty! If you're a sucker for cosmopolitan life, Atlanta delivers in spades while Georgia's Golden Isles (St. Simons Island, Sea Island, Jekyll Island and Little St. Simons Island) are a popular pit-stop for sunseekers. Savannah is a historic beauty while Blue Ridge Mountains is a dream destination for nature enthusiasts keen to camp, kayak and go fishing.
---
When is the best time to visit Georgia?
It depends, if you're here for water-based activities and don't mind the heat, high season stretches from March to August. If however, you're keen to explore the city when the temperature is a little more mild and the crowds have subsided, aim for the shoulder season from September to November.
---
What is there to do in Georgia?
Pay tribute to Martin Luther King Jr. at his former home, picnic in Centennial Olympic Park, check out the Georgia Aquarium, spike the heart rate with a trip to Six Flags White Water park, visit the High Museum of Art, spend a day rafting, kayaking or tubing along the Chattahoochee River (also known as the Hooch), take a self-guided movie and television tour and see places from Stranger Things, Ozark, Forest Gump and parts of The Hunger Games, to name a few. Eat your bodyweight in shrimp and grits, mouth-watering slow-cooked meat and fried chicken, sip from the source at one of the state's many craft breweries that are popping up like mushrooms after a storm, and that's just the beginning.
---
How to find the best holiday package to Georgia?
Sign up to get the hottest deals sent straight to your phone & emails here. You can also check out our deals online, or speak to one of our Travel Experts.
---
...loading
Popular holiday destinations