Fri, 11/10/2019 - 12:05pm
Thanks to its location in the heart of Asia, Kuala Lumpur is an ideal stopover on the way to Europe or other Asian destinations. While many travellers transit straight through without ever leaving the airport, those who decide to stopover rarely regret it. This global city, the cultural and financial centre of Malaysia, is more than worth a two-day stay.
Day 1
4:30pm Land at Kuala Lumpur International Airport and take the speedy airport train to the city centre. Once you arrive, the reliable underground train system will usually take you where you need to go. If you go by taxi expect to spend around $30 getting into town.
5:30pm Arrive at your hotel, ideally one equipped with a rooftop infinity pool – a surprisingly affordable hotel extra. In Kuala Lumpur space isn't at as much of a premium as in some bigger global cities, so you'll notice that luxury is significantly more attainable.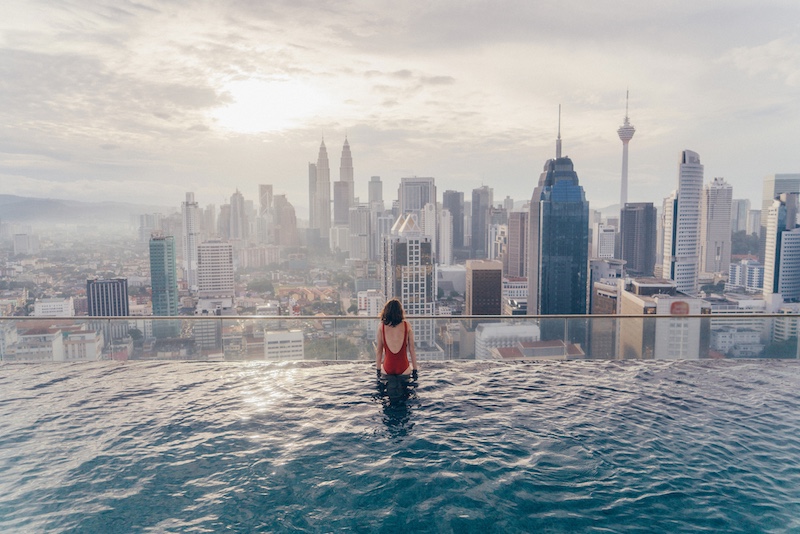 The view from a rooftop pool in Kuala Lumpur. Photo: Getty
6:30pm Enjoy a sunset swim in the pool while taking in panoramic views of the city skyline. Retreat to your lounger with a mojito or Tiger beer in hand and spot landmarks like Kuala Lumpur Tower and the Petronas Towers – some of the tallest buildings anywhere on the planet.
7:30pm Local cuisine in Kuala Lumpur is world-class and the choices are endless. Try the bean curd rolls at Foong Foong Yong Tau Fu or the banana leaf rice at Sri Nirwana Maju. Another option, popular with locals, is Cameleon Bean Curd, a completely plant-based Malaysian restaurant where all meat replacements are made with tofu. Be sure to try the sweet and sour "pork" and "prawn" Tom Yum.
Day 2
7am Unlike other big cities, Kuala Lumpur actually does sleep, meaning that early birds will be rewarded with peace and calm. Head to the rooftop pool for another swim, or take a walk in centrally located KLCC Park to enjoy the city before it fully wakes up.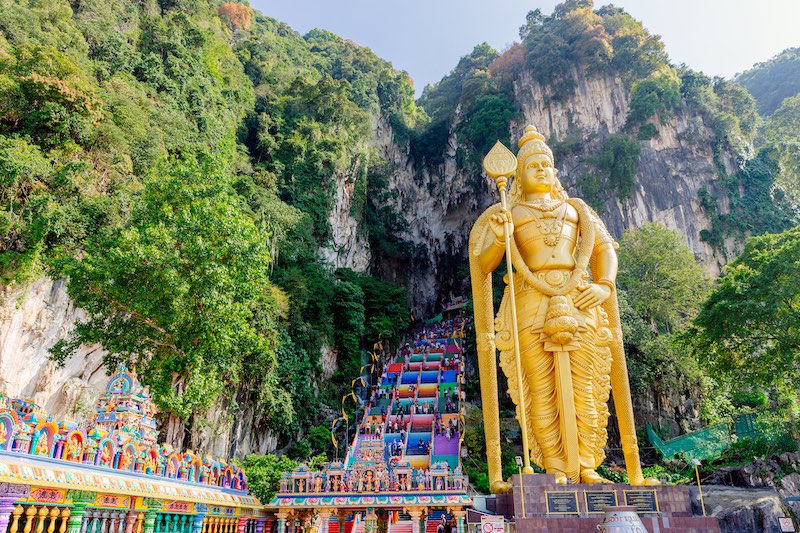 The Batu Caves are around half an hour by train from downtown. Photo: Getty
9:30am A visit to Kuala Lumpur isn't complete without a visit to the Batu Caves. These naturally-formed limestone rock caves are said to be 400 million years old and today, they're home to a number of sacred temples. The colourfully painted stairway entrance is both steep and magnificent, attracting travellers from the world over. Once inside the caves, keep an eye out for macaque monkeys who call the area home and can often be seen traversing the steep limestone cliffs. Because the caves are a sacred site remember to cover both your knees and shoulders before visiting, otherwise you'll be forced to pay for sarong hire.
1pm Arrive back in the city centre to visit Kuala Lumpur's most magnificent landmark, the Petronas Towers. The structures have a reflective steel and glass facade and are decorated with Muslim motifs, making them a truly one of a kind architectural attraction. While no longer ranked as the tallest buildings in the world (an accolade taken from them in 2004) they do remain the tallest twin towers in the world and have featured in their fair share of Hollywood movies. Grab a selfie at the bottom of the structure before wandering through the immaculate Park Gardens nearby where you'll find awe-inspiring views of the towers without the crowds. For those who are a little braver, visiting the Skybridge – which connects the two towers on the 41st floor – is a pricier but more thrilling option.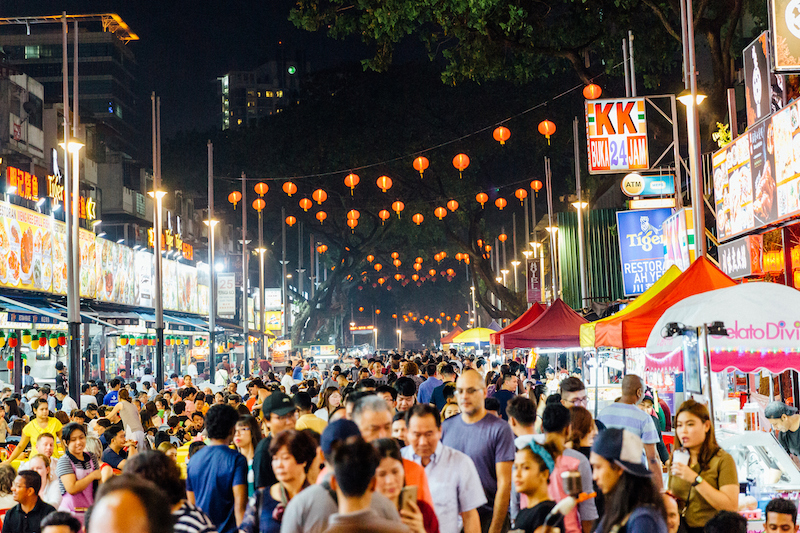 Kuala Lumpur's Chinatown at night. Photo: Getty
6:00pm Journey to Petaling Street, the heart of Kuala Lumpur's lively and colourful Chinatown. Wander through the produce market, browse the handicraft shops, and stop into a salon for a relaxing massage or reflexology treatment. For dinner, order up a curry laksa at Madras Lane or try one of the tasty vegetable buffets at Jalan Tun Tan Cheng Lock.
Day 3
8am Take a morning stroll through the Perdana Botanical Gardens, an ideal respite from the city's concrete jungle. With so much to see, you could easily spend hours exploring. But if you're short on time, don't miss the Hibiscus Garden, Fish Pond and the exotic species collection.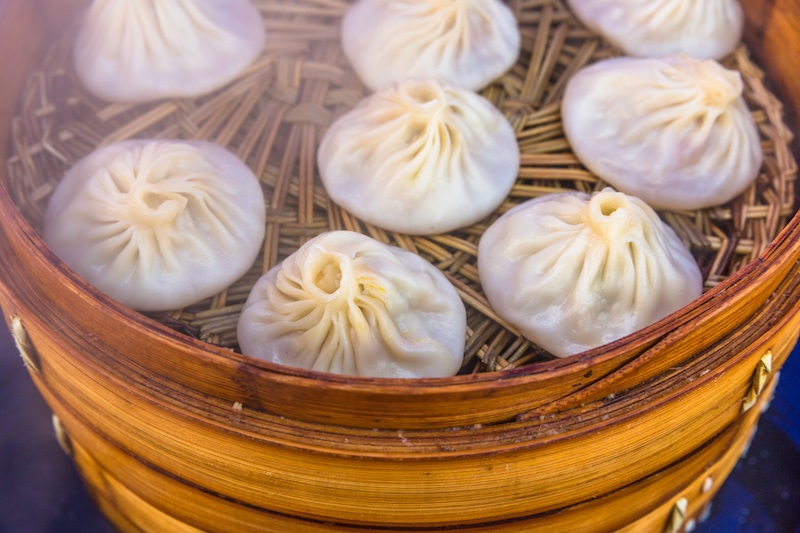 Xiao long bao dumplings are a specialty at Din Tai Fung. Photo: Getty
11:00am With so many dining options in Kuala Lumpur, it can be difficult to choose where to eat next. One that should be on every visitor's list is brunch at Taiwanese institution Din Tai Fung. At Din Tai Fung, their specialty is xiao long bao – delicious soup-filled dumplings – but there's also a huge variety of Chinese food to satisfy most appetites. The open kitchen, where dozens of chefs prepare, fill and wrap dumplings at a dizzying pace, is a spectacle all on its own.
1pm If you're a lover of shopping and want to capitalise on the city's retail scene, then the Pavilion KL shopping centre is the place to be. With a mix of designer and high-street stores, this is retail therapy to suit any budget. Spend the afternoon exploring some of the best shopping Kuala Lumpur has to offer before heading to the airport to catch your flight – though be warned, you may not want to leave.
Other Travel Articles You Might Like...