South Pacific Destination Guide
Explore
Sail into the South Pacific, the ultimate cruise destination
The South Pacific is a smattering of islands that, while small in size, are big on enjoyment. Samoa, Cook Islands, Fiji, French Polynesia, New Caledonia, New Zealand, Papua New Guinea, Tonga and Vanuatu add up to a hearty serve of flawless beaches, secluded island hideaways and adrenaline-fuelled action against dramatic natural backdrops.
Featured Destinations
Gallery
Language
Language
Language varies from one archipelago to the next in the South Pacific. English is the official language of New Zealand with Maori is also spoken widely. English is spoken in the Cook Islands, Vanuatu, Fiji, PNG, Samoa and Tonga (as well as native languages) while Vanuatu New Caledonia and French Polynesia speak French.
Language Guides
To Go Guides
Hundreds of Essential Words and Phrases for Every Situation
French »
In-Flight Guides
Learn Before you Land
French »
Copyright © 2013 Living Language, a Division of Random House, Inc. All rights reserved.
Featured Destinations
Travel to the South Pacific
Relax, recharge or ramp up the excitement in the South Pacific
Images of white sandy beaches, shimmering blue oceans and lush palm-fringed coves are never far from the mind when South Pacific holidays are on the agenda. Sprinkled with some of the world's most idyllic tropical locations, names like Fiji, Tahiti and Bora Bora simply roll off the tongue for anyone planning a relaxing island getaway.
Fiji is one of the best known archipelagos in the region, as any South Pacific Travel Guide will be quick to point out. Capital Suva is a bustling tropical metropolis, but it's Fiji's pristine beaches and world-class resorts that keep visitors coming back time after time. There are plenty of diving and snorkelling opportunities to entice those with a penchant for underwater activities, while the popular Yasawa Islands are renowned for quality hiking trails, which reward the adventurous with spectacular views over the surrounding hills and out to other islands.
French Polynesia may be synonymous with adventurers astray, but long gone are the days when wayward seafarers feared running adrift on one of the region's islands. Nowadays Tahiti – the most populous and best known of the French Polynesian islands – is regarded as one of the most exotic island getaways in the world. Hugged by stunning azure lagoons and lush tropical beaches, cheap South Pacific flights make it easy to be transported a world away from the hustle and bustle of modern life.
Shopping, snorkelling and so much more to savour
Though smaller than Tahiti, what Bora Bora lacks in size it more than makes up in style. One of the world's most exclusive and romantic destinations, the island is famous for its iconic overwater bungalows perched over the warm South Pacific waters. Snorkelling, scuba diving and jet ski tours are all popular water-based activities along the island's coastline, while inland you can shop up a storm at some the world's glitziest retail outlets.
If the high cost of French Polynesia is too taxing on the purse strings, consider a holiday in the Cook Islands instead. Renowned for the friendliness of the locals, the Cook Islands are an archipelago of 15 islands scattered across a vast expanse of the South Pacific. The island of Aitutaki is particularly beautiful, with One Foot Island beach boasting sparkling white sands and pale blue lagoons.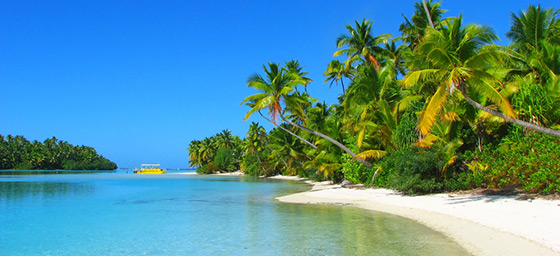 If lazing on the beach doesn't tickle your fancy, heavily populated New Zealand lies due south of Fiji and is home to all of the amenities expected of a bustling modern nation. Unlike its tropical island counterparts, New Zealand is one of the most popular ski destinations in the world and beckons adventure enthusiasts across the globe to its staggering array of outdoor activities including the ubiquitous bungee jump.
From relaxing beach holidays to enchanting mountain hikes and the fresh white powder of pristine ski fields, the South Pacific is as diverse as it is rewarding. And with ultimate port cities like New Caledonia's Noumea and Vanuatu's Port Vila, it's little wonder the region is one of the world's most popular holiday destinations.
Adventure awaits
Step outside your comfort zone and get your heart pumping with an abundance of adventure activities in the South Pacific. New Zealand is a thrill seeker's dream – the birthplace of commercial bungy jumping and home to towering volcanic peaks, NZ offers you the chance to tackle white water rapids, see the landscapes from the sky, explore ancient lava tubes, ski cross-country terrain and more. Take to the water in Fiji with a game fishing tour, windsurfing, jet skiing or wakeboarding, or watch the daring display of naghol, the original bungy jump, on Vanuatu's Pentecost Island. Alternatively, go on your own adrenaline-inducing adventure in Vanuatu by abseiling down a waterfall, zip-lining through the jungle or blokarting (land sailing) along the beach.
A trip for two
It's easy to fall in love in the South Pacific. Secluded beaches, radiant sunsets and sweet, tropical breeze add to the romance of the atmosphere, making the islands ideal for special getaways. Whether you're planning to tie the knot with the sand between your toes, celebrate your nuptials island-hopping across the shimmering blue seas or are in need of a little quality time with your special someone, you can't beat the charms of the South Pacific. If you're looking to explore off the beaten track, the Cook Islands are a delightful mix of rustic and luxury. Fiji and Vanuatu have something for everyone, from rainforest walks to reef trips and duty free shopping. For the ultimate French Polynesian experience, Tahiti and Bora Bora offer the complete five star treatment.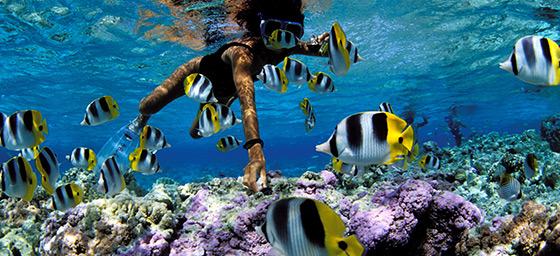 Authentic island culture
One of the South Pacific's most fascinating elements is its diversity of culture. Indigenous Maori culture still plays a big role in New Zealand, from the traditional war dance 'the Haka' practised by the national rugby team, to striking tribal tattoos and hongi, the act of pressing noses to say hello. Tradition lives on in Samoa too, where you can take part in a kava ceremony and be amazed by tribal fire knife dancing or 'Siva Afi'. Fijians are famous for their hospitality, welcoming visitors into their villages to share their customs. Enjoy a lovo feast cooked in the earth as you listen to meke, traditional song and dance. Vanuatu is a melting pot in itself, with over a hundred different languages and time-honoured rituals still practiced by the local Ni-Vanuatu.
Getting there and around
If you can't shake the images of tropical island paradise from your mind, give in to your wanderlust and book your flights to the South Pacific. Fly across the pond to New Zealand, make your way to Vanuatu or New Caledonia, just a stone's throw from Queensland's east coast, or reach a little further out to the Cook Islands and French Polynesia with Flight Centre's wide variety of airfares.
Get ready to for warm welcomes and long, sun-soaked days in paradise – with our holiday packages on offer, you won't be able to resist the lure of the South Pacific. Flights, hotels, transfers and tours are bundled together so you can do all your holiday planning in the one place. How easy is that?
It goes without saying that one of the best ways to experience the South Pacific is on a cruise. Port cities like Port Vila, Noumea, Auckland, Papeete and Christchurch are gateways to the South Pacific's boundless beaches and vibrant cultural offerings. Once you're on the mainland, consider hiring a car to explore at your own pace.
Featured Destinations
Ideas & Inspirations